Contemporary Jazz Saxophonist Michael Paulo Releases New Single "Here Is Happiness" | LISTEN!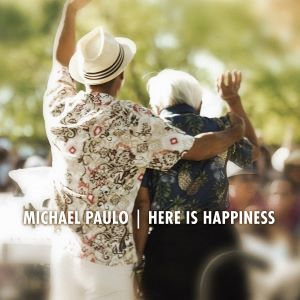 A legacy of "Happiness"
Contemporary jazz saxophonist Michael Paulo honors his late father on the new single he produced with two-time Grammy winner Paul Brown.
MURRIETA (For Immediate Release): It was a number one hit for his father in 1962, becoming "Hawaii's Favorite and Most Famous Pianist" Rene Paulo's signature tune. Nine months after Rene's passing, his son, contemporary jazz saxophonist Michael Paulo, makes the song his own, paying homage to his father's enduring legacy. Producing the track with two-time Grammy winner Paul Brown, the saxman's second Woodward Avenue Records single begins collecting playlist adds on Monday (October 2).
There's vibrant joy inherent in "Here is Happiness," which is evident to the ears on the new version. Brown's nylon string guitar sets a gleeful tone before Paulo's warm and welcoming alto sax ushers the listener along an ebullient path fragrant with verdant melody.
"'Here is Happiness' is one of the most special songs in my life. It was the number one pop song as an instrumental in Hawaii. Whenever my father would go anywhere that there was a piano, people would always request him to play the song. Then my mother sang it on her first solo recording with my dad and it became a hit song for her, too. I could not do a recording in his memory without recording 'Here is Happiness.' I'm sure my dad would be very happy if he was still alive to hear my version. Whether it becomes a hit song for me remains to be seen, but in my heart, it's already a hit because every time I play it live from here on, I will remember him and the legacy he left in me," said Michael Paulo.
The family concept behind the emotional single continued in the recording studio. Paulo surrounded himself with his second family, his longtime band members, to play on the track, including three Hawaiians: keyboardist Kimo Cornwell, guitarist Fred Schreuders and bassist David Inamine. Paulo's drummer Land Richards constructed the gentle rhythmic groove.
Born and raised in Hawaii and a long-established resident of Southern California, Paulo is a first-call sideman and recording session player who has forty-five years of experience accompanying Al Jarreau, James Ingram, Patti Austin, Jeffrey Osborne, Kenny Loggins, Johnny Mathis, Bobby Caldwell, Rick Braun and Peter White. He debuted as a solo artist in 1977 and he's balanced session and touring gigs with his own recordings ever since. Paulo's production company, Apaulo Productions, has been producing concerts and festivals in Hawaii and California for more than twenty-five years. In the wake of the fires that devastated Maui, Paulo put together a benefit concert featuring more than twenty artists at the South Coast Winery in Temecula earlier this month.
"My mom and dad were kind and giving people. Following in their footsteps, I make it a point to do many charitable events every year. Recently, we raised over $80,000 at our Jam for Maui concert that my wife, Terri, and I produced," said Paulo, who spent a lot of time in Lahaina while growing up.
"Here is Happiness" follows Paulo's Woodward Avenue Records debut, "Hang Time," a funky, Brown-produced single that put the saxophonist back on the charts at the top of the year. It was Paulo's first new record in nearly a decade.
For more information, please visit https://michaelpaulo.com.
Great Scott P.R.oductions