Singer-Songwriter JHart Releases New Single "Ripe" | WATCH NEW VIDEO!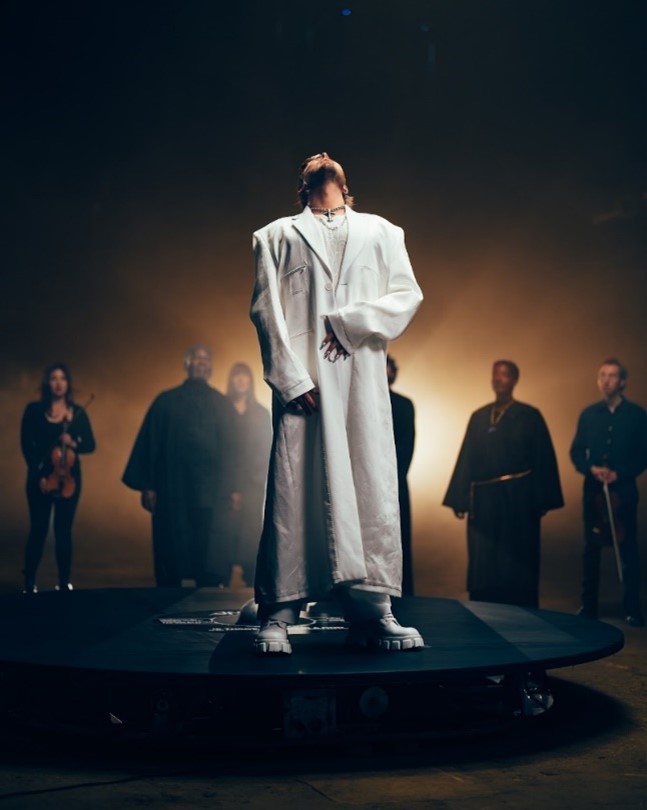 SINGER-SONGWRITER JHART SHARES NEW SINGLE "RIPE" OUT ON SEPTEMBER 29th
"RIPE" IS THE THIRD SINGLE FROM JHART'S DEBUT EP 'THE WISHING, THE WANTING, THE LONGING'
SET FOR RELEASE ON OCTOBER 27TH
PRODUCED BY GRAMMY AND OSCAR WINNING PRODUCER D'MILE
JHART IS THE FEATURED ARTIST ON JOEL CORRY'S 'DO YOU MIND' TAKEN FROM HIS DEBUT ALBUM 'ANOTHER FRIDAY NIGHT' DUE TO BE RELEASED OCTOBER 6TH.
Los Angeles, CA: On September 29th, JHart will release his new single "Ripe," the third installment from his debut EP, The Wishing, The Wanting, The Longing, set for release on October 27th via his distribution partnership with United Masters.
"Ripe" is pop infused ode to the feeling that your love is in its prime a complete and mutual embrace of love without constraints. The inspiration behind the record was to balance the EP as a full body of work while showcasing JHart's versatility, having presented elements of strength and resilience in his first two singles, the man behind the music wanted to share his inner hopeless romantic.
"Don't Find Someone You Can Grow Old With, Find Someone You Can Stay Young With." – JHART
Chances are you've heard the work of British-born, US-based singer, songwriter and producer JHart before. On both sides of the pond, JHart's ability to write and produce hits, has established his reputation as one of the most sought-after topliners. Since 2008 (following a 12-month internship with super-producer Polow da Don,) the artist born James Abrahart in Brentwood Essex, has co-written songs for some of music's biggest names.
The list is a who's who of global pop stars, including Justin Bieber, Jason Derulo, Rita Ora, Little Mix, Charlie Puth, Keith Urban, Camila Cabello, Usher, TLC, OneRepublic, Troye Sivan, 5 Seconds of Summer, Jennifer Lopez, Cher and many others. But after years of helping other artists achieve unparalleled success, and following a period of personal growth in which Abrahart started living proudly as a gay man, JHart is ready to step into the limelight on his own terms.
It was in 2020, during the pandemic, that JHart was inspired to pursue his own artistry after reconnecting with Grammy and Oscar winning producer D'Mile, known for being a heavyweight in the R&B and Pop genres working with artists like HER, Silk Sonic, Lucky Daye, Rihanna and Janet Jackson. The two had already collaborated in the past on other artists' projects, cultivating a bond that would later be the driving force behind JHart becoming a solo artist.
With the support of D'Mile, JHart was able to come to terms with his sexuality, which enabled him to discover a new sense of freedom. With this the two began to explore various sounds, enforcing elements from various genres to find JHart's distinctive sound that showcases every aspect of both James Abrahart the songwriter and JHart: The Artist.
After years of supporting other people's musical endeavours, JHart is finally ready to stand up and be counted as an artist. With a suite of songs showcasing both his incredible vocals and his hitmaking songwriting abilities, it feels like the world is his for the taking, and his goals for the future are typically lofty. Continuing is collaborative efforts working with artists across all genres, JHart is set to feature on DJ and producer Joel Corry debut album 'Another Friday Night' alongside the likes of MNEK, Charlie XCX, Saweetie, Bryson Tiller, Becky Hill and Tom Grennan providing vocals for the track 'Do You Mind'.
JHart is managed by Lucas Keller, Danny Herrle and Nic Warner at Milk & Honey Music + Sports and is in partnership with United Masters for the distribution of his forthcoming EP The Wishing, The Wanting, The Longing, due out on October 27th.
Follow JHart:
YouTube: https://www.youtube.com/channel/UC6aRAia4hnPVv1kWt2HsdrQ
Instagram: https://www.instagram.com/jhartmusic/?hl=en-gb
Twitter: https://twitter.com/JHartMusic
Spotify: https://music.apple.com/gb/artist/jhart/219909628
Apple: https://music.apple.com/gb/artist/jhart/219909628
TikTok: https://www.tiktok.com/@jhart?lang=en
DRPR