Laranah Phipps Ray & La Funkalicious Release New Single "Power Of Love" | LISTEN!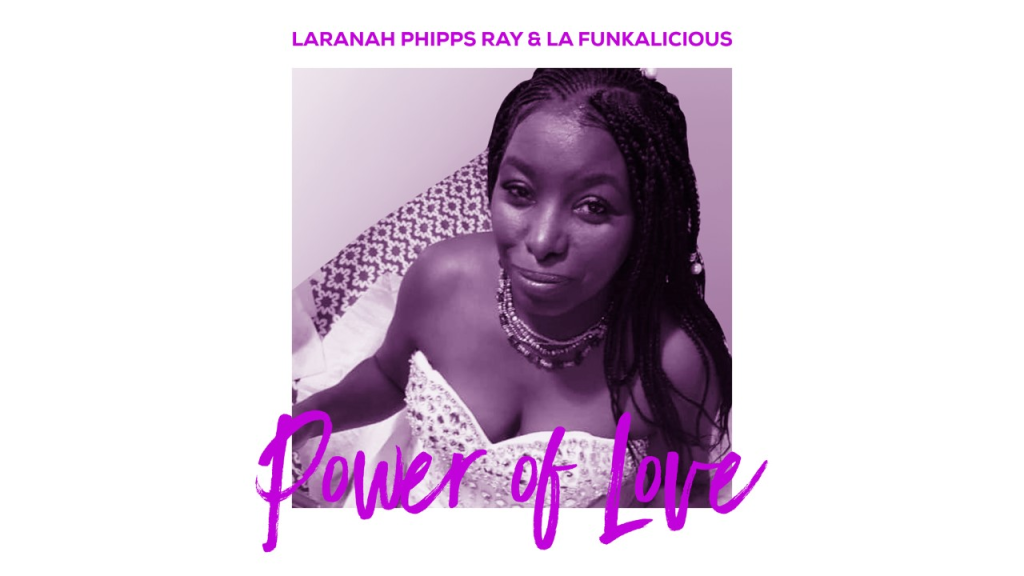 Renowned R&B Musicians Laranah Phipps Ray & La Funkalicious Debut Cosmically Congenial Anthem Of Love with New Single, "Power Of Love" – Available Now!
Best classified as an awe-inspiring stroll through musical mastery and celestial R&B voicings, Laranah Phipps Ray and La Funkalicious debut an efficacious anthem championing the virtue of love with their newest single, "Power Of Love" – available now!
Critically acclaimed for her uniquely blended stylization of jazz, R&B, and Afrofuturism, Laranah Phipps Ray has continued a family tradition of boundary bending and barrier-breaking. This multi-talented vocalist, songwriter, producer, and influencer continues to deliver on her promise of groundbreaking and uplifting music with the release of her newest single.
Laranah's vocalizations throughout "Power Of Love" are characterized by their soulful presence, graced by a richness that is best described as a cosmic blessing. Boisterous yet humbling, her vocals nestle closely to a sonorous ensemble that compliments her colorful timbre, providing a silky foundation for the entire production.
Teasing the release of her highly anticipated album release set for January 2023, Laranah brings her distinctive sound, phrasing, and storytelling to the table. Most noted for her "far from mainstream" scat-styling, five-octave range, improvisational facility, and volcanic grasp of groove, her voice is laced with a certain ancient richness and her instrument soars with a distinct yet familiar soul and power.
Born into the home of jazz legend Gene Phipps, Laranah Phipps Ray was introduced to music very early on. Coined as Newark's First Family of jazz, Gene Phipps say it best to pass his legacy on to Laranah. She received an unparalleled education in jazz and entertainment at a young age, laying the foundation for her high-energy performances, regal stage presence, and mesmerizing vocals today.
Laranah's love for the arts doesn't stop at the studio either – she is married to renowned trumpeter Michael Ray — known for Sun Ra Arkestra, Kool & The Gang, Cosmic Krewe, and more. Affectionately referred to as the 'Cosmic Couple,' the duo consistently co-writes and collaborate with A-List artists. Their most recent collaborations featuring famed saxophonist Marshall Allen of Sun Ra Arkestra on "Mayan Temple," Kym Miller of Instant Funk on "Covid-19," and Kevin Hearn of Barenaked Ladies on "Hello Hello."
It didn't take long for her to become an international hit.
Laranah's proliferous music career is no mistake, either. While she is best known for her music, Laranah has proven herself as a savvy media entrepreneur and a vital voice in the fight for racial justice. Her resume includes writing several powerhouse songs as a recording artist, including the singles "I Rule the Night," "Love in Santiago" "Sudden Love," and "Save Me Now."
In addition to her smashing hits, she is an accredited stage manager, live event producer, and multimedia influencer, working with brands like Rayborhood TV, Behind the Cosmic Grind, and Down the Rabbit Hole; she is an Executive Producer for the series "Tales from the Stage", a series where A-List stars unearth the secrets of the entertainment series, while also Co-Producing and Co-Hosting "kNOw Justice kNOw Peace."
Laranah Phipps Ray and La Funkalicious' new single, "Power Of Love," is available now. A Flat 5th Dimension Records (b5D) project, Game Changer is set for release January 2023.
Eric Alper