R&B Vocal Trio AFTER 7 Returns With New Single "I Want You" | LISTEN!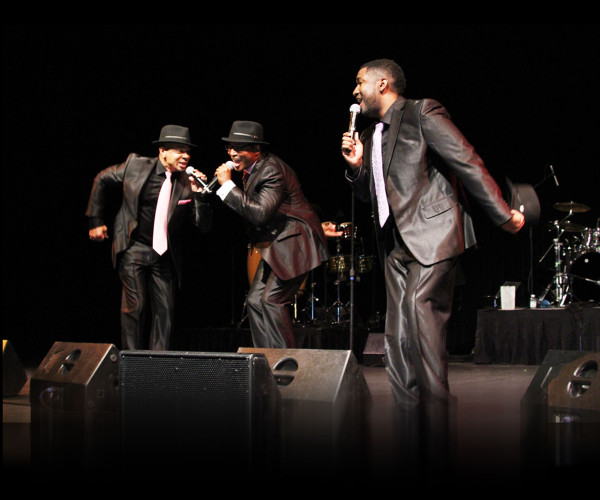 Fresh off their Soul Train performance R&B trio After 7 return with the new Babyface & Daryl Simmons produced single "I Want You," a smooth uptempo groove currently riding high on Billboards Adult R&B Songs Chart
TAKE A LISTEN BELOW!
(Los Angeles, California – December 12, 2015) It's been said that true talent never dies. And in the midst of a classic R&B revival, the original group line up of platinum R&B vocal trio After 7 makes a remarkably dynamic return with their unmistakable sound. Riding the wave of their new Billboard Adult R&B hit "I Want You" and an upcoming performance at the 2015 Soul Train Awards, the group is primed for one of the most notable comebacks of the coming year. Reunited with esteemed Grammy winning producer/ songwriter Kenneth "Babyface" Edmonds and Daryl Simmons after a 20-year hiatus, After 7's new single and forthcoming album marks a fine return to form of a vocal group that adeptly distills the essence of soul.
While the tides in musical trends had ebbed and flowed in their absence, true R&B fans remained hungry for After 7's patented formula of silk & soul. And the catalyst for their imminent return was the same person responsible for their introduction: Babyface. But as Babyface entered a prolific creative period while preparing material for his own upcoming solo release, his thoughts drifted back to his brothers' group with every composition. And after Kevon, Melvin, and Keith heard some of the songs he had in mind for them, that missing element was clear and apparent: After 7. To shore up After 7's vocal prowess, a somewhat familiar face was added to the family affair: nephew Jason Edmonds.
After 7 entered Babyface's Los Angeles recording studio Brandon's Way in the summer of 2015 to begin work on a few tracks. The result was "I Want You," a smooth uptempo groove and an unshakable testament to a group whose vibrant vocal performance has consistently engaged fans over the decades.
"It's about wanting and accepting every part of that special person," says Keith. "It's that inspiring; it's that energetic."
With the favorable renewed interest in their reunion in hand, the group returned to the studio to begin work on their upcoming album. In the meantime, the single "I Want You" began to make waves at radio stations across the country – helping the tune reach #19 on the Billboard Adult R&B Songs chart. This was confirmation that the group's audience was eagerly anticipating a new After 7. As a follow up and contrast to the lead single, the seductive "In And Out" bears the mark of a classic Babyface slow jam which showcases the group's tradition as robust balladeers. Offering a delightfully surprising change of pace, "Loving You All My Life" finds the group challenging themselves vocally while effortlessly delivering in the vein of a tender love.
"It's probably the most different of any song that people have heard from After 7," affirms Kevon. With work on their new album nearly complete, the group's new material is certain to be rooted in the old while adeptly referencing the new. And with the success of songstress Jazmine Sullivan's 2015 single "Let It Burn," which uses a prominent sample of their 1989 hit "Ready Or Not" as a foundation, there's no doubt that the R&B/ soul world-at-large has undoubtedly been primed for the return of their classic sound. Planned for a 2016 release, the album promises to repatriate the group to its rightful place as R&B royalty in a musical landscape yearning to be refreshed.
"Historically, Babyface and Daryl Simmons have a lock on the ability to take raw talent and guide it in the proper direction," Kevon says with confidence. "With their guidance, we're taking every diamond, pearl, and precious stone that we have in terms of creativity and putting it all into this record. The moment is now."
About After 7:
Founded in Indiana by brothers Kevon and Melvin Edmonds along with friend Keith Mitchell, After 7 began as a trio intent on refining their live show at local venues. Some years following the group's inception, Kevon and Melvin's younger brother Kenneth "Babyface" Edmonds began to take the R&B charts by storm with his unique and unparalleled musical prowess. As one half of songwriting/ production duo L.A. & Babyface, the younger Edmonds brother racked up a bevy of hits with new and established artists such as Karyn White, Paula Abdul, and Bobby Brown.
However in 1988, fate was on the group's side. After relocating to Los Angeles to join L.A. & Babyface, they scored a recording contract with Virgin Records and began work on their eponymous debut album. Released the following year, After 7 was an instant success. The album was eventually certified platinum and produced two #1 Billboard R&B singles: "Can't Stop" and "Ready Or Not." The two singles subsequently reached the top 10 of the Billboard Hot 100 and were both certified gold.
On the heels of their outstanding debut album, the group spent the better part of the next three years on tour with the likes of Patti LaBelle, Gladys Knight, The Whispers, and Whitney Houston. Along the way, they released a top 10 R&B hit with "Nights Like This," a slice of throwback soul which served as the lead single from the soundtrack of the 1991 motion picture The Five Heartbeats. Yet when they prepared themselves to return to the studio to record a follow up, approaches to R&B music production and songwriting had already begun to shift around them. In addition, L.A. & Babyface were preoccupied with starting a new venture in Atlanta that would become LaFace Records – a torchbearer for the city's burgeoning music scene and stable for some of the industry's future legendary artists. After 7 found themselves charged with the great task of commanding of their own ship.
The group went to Atlanta and enlisted the help of producers such as a then up and coming Dallas Austin to help shape their sophomore effort Takin' My Time. Released in 1992, the album proved to be a rite of passage for After 7. It required the group to strike a delicate balance between updating their sound to reflect the times while maintaining their rich, soulful core. The group employed just the right blend as Takin' My Time reached #8 on the Billboard R&B Albums chart and was eventually certified gold. The hip hop flavored lead single "Kickin' It" reached #6 on the Billboard R&B Singles chart while the follow up "Baby I'm For Real/ Natural High" – a reeling dual remake of two classic soul ballads by The Originals' and Bloodstone, respectively – reached #5.
For their third album Reflections, After 7 looked to the rear view mirror to map their direction going forward. With a refined dynamic and enhanced sense of purpose, the group was more in possession of itself than ever before. The album, released in 1995, spawned the lead single "Till You Do Me Right." Produced by Babyface and co-written by Kevon and Melvin, the song garnered the group a top 40 hit in three countries – including reaching #5 on the Billboard R&B Singles chart.
Following an astonishing six year run at Virgin Records, the group entered into a hiatus as Kevon embarked on a solo career – releasing two albums: 1999's 24/7 (RCA Records) and 2009's Who Knew (Make Entertainment). But as the years rolled on, it was apparent that something was indeed missing.