R&B-Jazz Saxophonist Shawn Raiford to Release New Single "Vallejo" | LISTEN!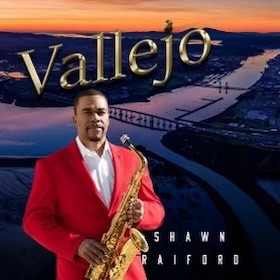 There's no place like home: R&B-Jazz saxophonist Shawn Raiford taps Grammy-winning producer Derek "DOA" Allen to honor "Vallejo."
The new single going for playlist adds on Monday is from the upcoming album, "The Next Step."
SACRAMENTO (1 September 2023): Home sweet home. Using his lyrically expressive horn to pay homage to his hometown, R&B-jazz saxophonist Shawn Raiford teamed up with Grammy-winning producer Derek "DOA" Allen (Lionel Richie, Janet Jackson, Tyrese) to create a musical love letter to the Bay Area city located thirty miles north of San Francisco. Written by Raiford, Allen, Ashley Jemison and Eddie Mininfield (Prince, Sheila E., Aretha Franklin), "Vallejo" will begin collecting playlist adds on Monday (September 4).
"Vallejo" is the third single released from Raiford's forthcoming sophomore album, "The Next Step," which is slated to drop early next year with Allen manning the producer's console. And this one is personal.
"The only place that felt like home, the only place I felt like I belonged was in Vallejo," said Raiford, who bounced around a bit while growing up, having attended four elementary schools, three junior high schools and two high schools.
"I was raised by my grandparents in Vallejo, California and this song is a tribute to a city that I speak of everywhere I go. There's not a place that I go that I don't mention that I'm from Vallejo. I'm really proud of that city. There's just something about it."
The warm melodies and intimate harmonies evocative of Raiford's ardor for Vallejo float atop a soulful midtempo groove. His sax deftly balances his passion and intensity with the beauty and grace of his affection for the city. The track has an edge reflective of the signature sounds known to emerge from the Bay Area music scene.
"Me and my producer, DOA, came up with a combination of The Gap Band's 'Oops Upside Your Head' and Brent Jones's 'I'm In Your City,' but giving it the feel that Vallejo should have. It's one of those songs that I believe that people when they get done listening to it are going to put it on play again. You can put it on in the backyard…people just having fun. It's one of those joints. It's really a nice song," said Raiford, a motivational and genuinely exuberant artist who uses music to preach and teach what is possible when you believe in yourself, take action and follow your passion while being of service to others.
An award-winning entertainer with his band The Shawn Raiford Experience, Raiford has been opening shows this year for R&B singer, songwriter, producer and multi-instrumentalist Chuckii Booker. Over the years, he's opened for or performed with Teddy Riley, Yolanda Adams, Freddie Jackson, Pete Escovedo, Eric Darius and Jeff Ryan. Tonight, Raiford will open September with a show in Pittsburg, CA and close the month with a performance at the Night of Elegance benefit concert with Jay King (Club Nouveau) in Sacramento on September 30.
The yearlong build up to "The Next Step" began last January when Raiford released the sensual single "Forever." Momentum continued to grow in May with the release of his version of the four-time Grammy-winning hit, "Leave The Door Open." But at every show he's played this year, during every interview he's given, and over and over again on his social media, Raiford has talked about "Vallejo," and just how special this song is to him.
"I love going back to Vallejo just to look and see how it's changed, but one thing never changes. It's the city I call home and will always love. In an everchanging world, Vallejo is the city I hope will always love me the way that I love it."
For more information, please visit https://shawnraifordsax.com.
Great Scott P.R.oductions