Saxophonist Shawn Raiford Releases New Single "Leave the Door Open" | LISTEN! Official Music Video Drops June 30th, 2023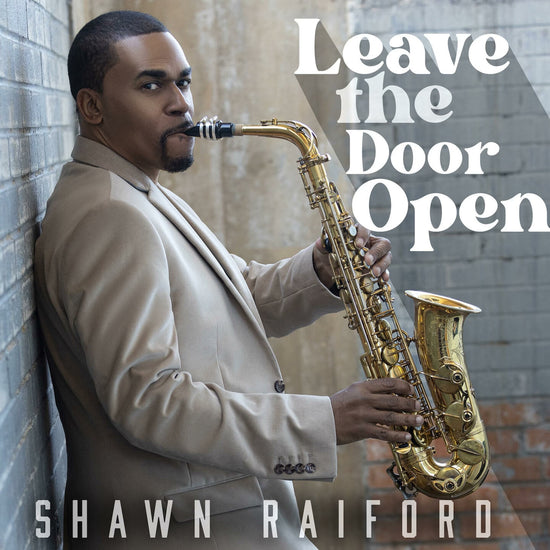 R&B-Jazz saxophonist Shawn Raiford leaves the door open for music
Grammy winner Derek "DOA" Allen produced the newly released single from the forthcoming "The Next Step."
SACRAMENTO (31 May 2023): At its essence, the four-time Grammy-winning hit "Leave the Door Open" is a song about opportunity and R&B-jazz saxophonist Shawn Raiford is keeping himself open to the opportunities that music presents to him "at this stage in my life." Teaming with Grammy-winning producer Derek "DOA" Allen (Lionel Richie, Janet Jackson, Tyrese), Raiford pours his soulful intentions into an instrumental version of the throwback-styled classic, which was released as a single and began collecting playlist adds on Monday. It's the second track issued from Raiford's sophomore album, "The Next Step," slated to drop early next year and is being produced by Allen.
You've got to go big if you're going to take on a song destined to become a standard and Raiford delivers on his sax-powered version of "Leave the Door Open." The Sacramento-based musician is an all-in kind of man hence he brings everything he's got to reimagining the Silk Sonic smash about being open to possibilities. Having dropped his 2020 debut album, "Man With A Horn," in his fifties, Raiford interprets the song from his perspective, bringing heart and emotion to his horn play.
"At this stage in my life, I need to leave the door open for a lot of things. To me, it's for my musical journey. I'm leaving the door open for music – the possibilities it may create, and the opportunities music may present for me to touch, uplift and inspire people. I'm so grateful to be doing what I'm doing with my music career at my age. It's a young person's game, but it's never too late. That's part of my message. You're never too old; it's never too late to start. I bring my life's experiences to my music and performances. That's what makes it authentic," said Raiford, who released the single that will soon be accompanied by a vintage video capturing the fun and spirit of Bruno Mars and Anderson.Paak's Silk Sonic collaboration.
An award-winning entertainer with The Shawn Raiford Experience, Raiford invited his core band members into the recording studio to track "Leave the Door Open." Keyboardist Javance Butler, guitarist Vincent Cole Dutcher, bassist Michael "Tiny" Lindsey and drummer Jonathan Frazier set the foundation to which keyboardist Ivan Johnson and saxophonist Andre Delano provide additional melodic fills.
"I decided to do 'Leave the Door Open' because I really fell in love with the song. It's just one of those catchy songs that's going to be around for a long time. It really had the world, including myself, playing it over and over and over again. I figured that a lot of people would love to hear that song," said Raiford, who calls himself a huge Bruno Mars fan and was impressed by Anderson.Paak's performance on NPR's Tiny Desk Concerts.
Another tune close to Raiford's heart is a love song to his Northern California hometown, "Vallejo." He plans to drop a single in the fall named for the village.
"I love that village (Vallejo) and I still surround myself with that village as my team and my producer, Derek "DOA" Allen, are from that village," said Raiford, who has been opening shows this year for R&B singer, songwriter, producer and multi-instrumentalist Chuckii Booker and has opened for or performed with Teddy Riley, Yolanda Adams, Freddie Jackson, Pete Escovedo, Eric Darius and Jeff Ryan.
Earlier this year, Raiford released the first glimpse of "The Next Step," a sensual single titled "Forever."
For more information, please visit https://shawnraifordsax.com.
Great Scott P.R.oductions