Blues Singer Bobby Rush to Release New Album "All My Love For You" on August 18th, 2023 | LISTEN to New Single "I'm The One"! Announces New Tour for 2023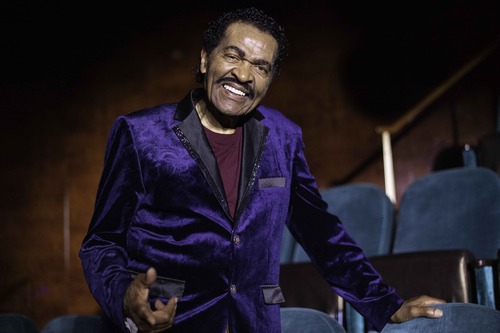 Bobby Rush Announces New Album
All My Love For You Out August 18
via Deep Rush Records/Thirty Tigers
New Single "I'm the One" Out Today
Performing at Central Park Summerstage in New York on June 18, AmericanaFest in Nashville this September
June 2, 2023: Today, the two-time GRAMMY winner, Blues Hall of Famer, and 16-time Blues Music Awards winner Bobby Rush announced his new album All My Love For You will be released on August 18 via Deep Rush Records / Thirty Tigers. The announcement arrives with the autobiographical new single "I'm the One," where Rush chronicles his storied life, including learning the blues from B.B. King and Muddy Waters after arriving in Chicago in 1952, and ultimately being the one "who put the funk in the blues." All My Love For You is now available for pre-order.
About the song, Rush explains: "'I'm the One' is a song that I've been thinking about all of my life. Ever since 1968, I was in a situation where someone comes to me and said 'Bobby Rush, your blues is so funky, we don't know what to call you. Funk, folk, or otherwise.' They didn't know what to call me. I was the first man to put the funk in the blues. I want people to know I am still funky, it's still the blues, it's just a modification of the blues."
About All My Love For You, Rush adds: "I wanted to approach this album to be a collection of songs for how I got to where I am now. Sonically I made albums in different directions recently like the solo acoustic Rawer than Raw and full production album Porcupine Meat. I wanted to do something that had the rawness in it, the commercial side of it, and have the Blackness and whiteness inside of it. I want to thank people for letting me be myself. Now I have crossed over but I haven't crossed out. With the title, I wasn't talking just about a woman, but everyone who has anything to do with Bobby Rush: the fans, the media, the promoters, the label and distributor, booking agents, management, and anyone else who has contributed to my life and career, this is All My Love For You."
"I'm The One" follows the release of "One Monkey Can Stop The Show," which will also appear on the forthcoming album. The song is a callback to his 1995 song "One Monkey Don't Stop No Show" and was praised by The Bluegrass Situation, Jazziz and more. The new music follows his Chicken Heads 50th Anniversary EP featuring Buddy Guy, Gov't Mule and Christone "Kingfish" Ingram, his GRAMMY-winning 2020 album Rawer Than Raw, and his acclaimed autobiography I Ain't Studdin' Ya: My American Blues Story. In 2021, Rush was profiled by The New York Times for a career spanning feature following his second GRAMMY win and the release of his book.
Bobby Rush is now on tour and will play Central Park Summerstage in New York supporting Buddy Guy on June 18. Find a full list of tour dates below or visit his website.
Photo Credit: Laura Carbone
All My Love For You tracklist:
1) I'm Free
2) Running In and Out
3) I Want To
4) One Monkey Can Stop A Show
5) I Can't Stand It
6) TV Mama
7) I'll Do Anything For You
8) I'm the One
9) You're Gonna Need A Man Like Me
10) I Got A Proposition For You
Tour Dates:
06/03 – Crissier, Switzerland – Blues Rules Festival
06/08 – Chicago, IL – Chicago Blues Festival #
06/10 – Stockbridge, GA – Stockbridge Amphitheater !
06/18 – New York, NY – Central Park Summerstage *
06/25 – Griffith, IN – Broad Street Music Festival @ Central Park !
07/18 – London, UK – Forge
07/19 – London, UK – Forge
07/21-07/23 – Porretta Terme, Italy – Porretta Soul Festival
08/4 – Notodden, Norway – Notodden Blues Festival
08/19 – Southaven, MS – Tri-State Blues Festival at Landers Center !
08/25 – Morgantown, IN – Southern Indiana Blues Festival @ Bill Monroe Music Park & Campground !
09/19 – Nashville, TN – AmericanaFest
09/25 – Baltimore, MD – Lyric Theatre ^
! – with full band
# – as guest of Blind Boys of Alabama
* – as guest of Buddy Guy
^ – with Buddy Guy
Missing Piece Group