Pianist John Paul McGhee Releases New Project "Gospejazzical, Vol. 1 (Live)" | WATCH NEW VIDEO!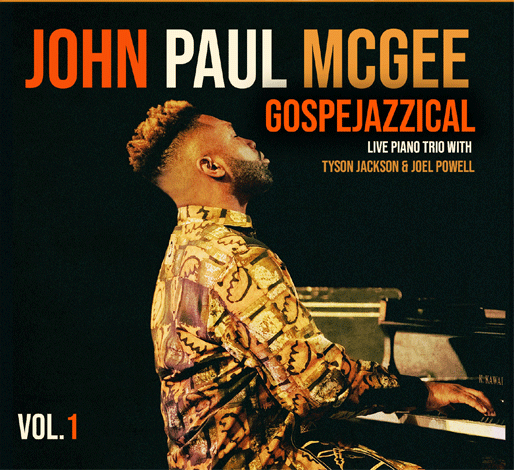 JOHN PAUL MCGEE
"GOSPEJAZZICAL, VOL. 1 (LIVE)"
AVAILABLE TODAY
Available From All Major Streaming Services
His name may be unfamiliar to many initially, but John Paul McGee is arguably one of the most gifted, classically-trained millennials that has ever touched the 88 keys on a piano. One experience with his masterful musicianship and the way you hear Gospel, Jazz, and Classical will never be the same.
At the age of 4, without any formal training, John Paul began playing familiar hymns and other standards as if he had heard them a thousand times before. Recognizing his skilled aptitude, John Paul's mother created a training ground of music education for the budding maestro and the rest as they say is history.
Since then his musical career has taken him around the world collaborating and accompanying with Gospel and mainstream artists like; Patti Labelle, Yolanda Adams, The Clark Sisters, Donnie McClurkin, Najee, the NFL players choir, and many more. In 2014, John Paul released an instrumental holiday project, A CHRISTMAS WITH JOHN PAUL, debuting in the top 10 on the Billboard Gospel charts. Just 2 short years later, John Paul made his Hollywood debut as the featured pianist in the theatrical release of "A Question of Faith," featuring Richard T. Jones and Kim Fields.
On his latest offering GOSPEJAZZICAL VOL. 1, JP steps into uncharted territory combining three powerful genres; Gospel, Jazz, and Classical into a unique listening experience with both live and studio tracks that you won't soon forget. Accompanied by several accomplished musicians and vocalists like: Joel Powell (bass), Tyson Jackson (drums), Amber Bullock (vocalist), and Zebulon Ellis (vocalist) just to name a few, the 17 track project breathes new life on traditional hymns, familiar classics, and unexplored gems, that listeners are sure to embrace. With standout pieces like the reimagined 90's Bebe & Cece hit "Heaven" feat. Amber Bullock, the breezy classic hymn "Amazing Grace" feat. saxophonist Michael Walton, to the dreamy modern day jazz standard "Here's To Life" feat. Wendi Henderson Wyatt, the Alan Pasqua favorite "Highway 14," and Barry Harris' "Sometimes Today Seems Like Yesterday" featuring the maestro himself on lead vocals, John Paul McGee.
As John Paul McGee makes his introduction to the music community at large, his Gospejazzical sound is a true trinity of spirit, soul, and artistry.
Jazz Promo Services