Saxophonist Azar Lawrence to Release New Album "New Sky" on Feb. 4th, 2022 | LISTEN!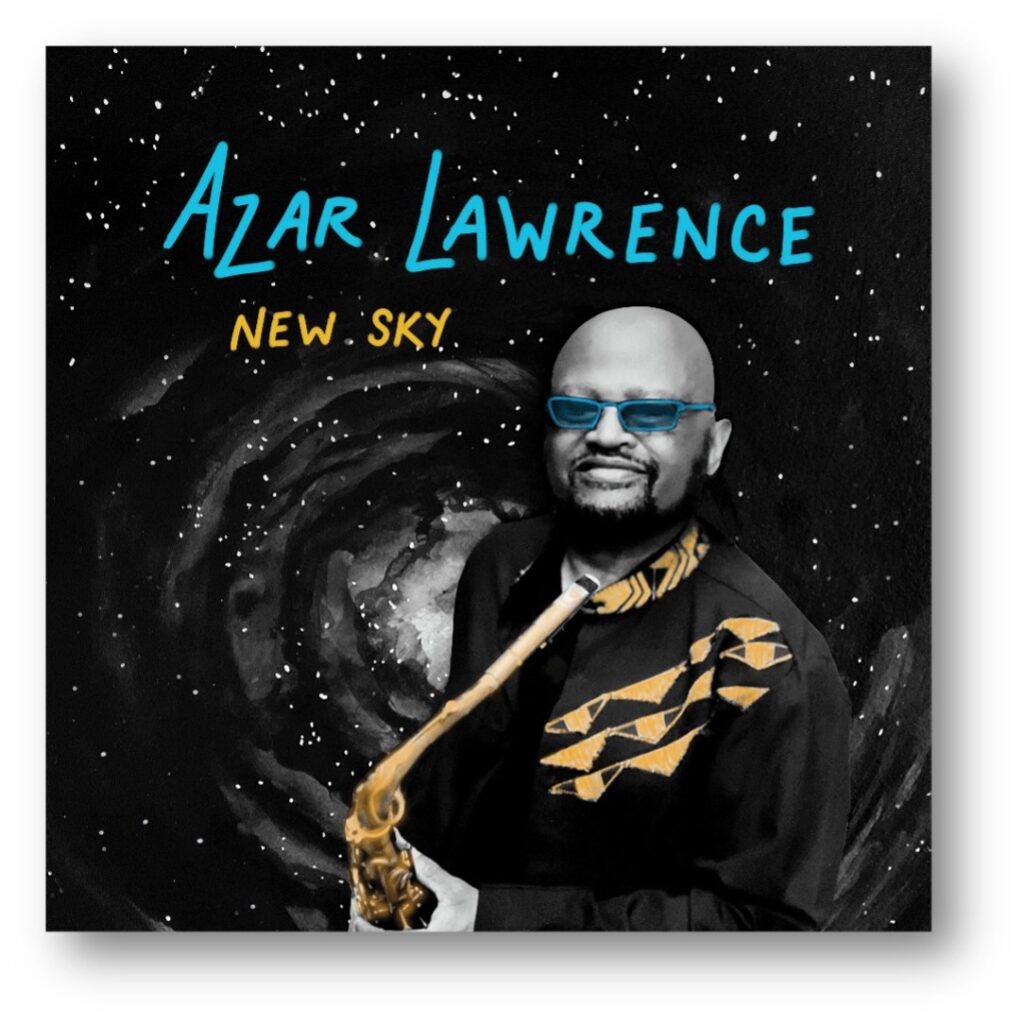 Legendary Saxophonist and Composer
Azar Lawrence Ushers in a Post-Pandemic Age
of Spiritual Renewal with the Scintillating
New Sky Set for February 4 Release
For those who've survived the Covid-19 pandemic, the last two years have been transformative. If we're fortunate, we have assessed our losses, which can range from personal loved ones, health, and financial securities as well as our gains, which can include a renewed sense of purpose, deeper appreciation for life, and a keen acknowledgment of self-resilience and spirituality. Veteran tenor and soprano saxophonist and composer, Azar Lawrence taps into the latter with his new album, New Sky, a defiantly optimistic musical soundtrack – co-produced by him, James Saez and Tracy Hannah – that focuses on the benefits that we've received since the pandemic began.
With an illustrious career that stretches more than half a century, Lawrence has performed with numerous jazz titans that include pianists Horace Tapscott and McCoy Tyner; trumpeters Miles Davis, Freddie Hubbard, and Woody Shaw; percussionist James Mtume; and drummers Elvin Jones and Billy Higgins. The Los Angeles-born Lawrence, however, has never been confined by conventional genre categories. His instrumental and songwriting work with iconic soul singers, Chuck Jackson, Roberta Flack, Marvin Gaye, and Phyllis Hyman; and the R&B/jazz juggernaut ensemble, Earth, Wind & Fire is just as indelible.
The culminating experiences from working with those artists as well as mapping out his impressive discography as a leader, particularly his fiery spiritual jazz LPs for Prestige Records in the 1970s – Bridge into the New Age (1974), Summer Solstice (1975), and People Moving (1976) – all inform what Lawrence brings to the table on New Sky.
"All of my skills that have been gathered throughout my career has been a journey, and all of those energies that have been acquired throughout that journey are coming together in a focused manner," Lawrence says. "This new album expresses that."
Joining Lawrence on New Sky is an illustrious cast of musicians that consists of pianists and keyboardists John Beasley and Nduduzo Makhathini; bassist Sekou Bunch; drummer Tony Austin; percussionist Munyungo Jackson; singers Calesha "Bre-Z" Murray, Oren Waters, and Lynne Fiddmont; harpist Destiny Muhammad; and guitarists James Saez, Greg Poree and Gregory 'GMOE' Moore. Together, they aim to usher in a new post-pandemic dawn, filled with universal love and global humanity.
Lawrence's coiling soprano saxophone rises triumphantly on the album's opening piece, "All in Love" as he's announcing a new age of enlightenment. The rest of the ensemble soon joins in to underscore Lawrence's declarative melody and commanding improvisation with a strident groove that sounds like angels marching down to earth.
"The concept comes from one of the benefits of the Aquarian Age idea, in which society starts to embrace universal love," Lawrence explains of "All in Love." "We're becoming more of a global society in which all races and different religious ideas can be embraced."
Spiritual ebullience continues with the surging samba-inflected "Peace and Harmony" and the equally Brazilian flavored title track "New Sky," which features Fiddmont's caressing lead vocals sharing the frontline with Lawrence's soulful passages.
"'New Sky' refers to the cleansing that has occurred via this pandemic," Lawrence says. "Now many people are experiencing the freshness that comes after everything has been shut down. We think differently; there are so many new possibilities now. Everything is fresh and new as we start to rebuild after the initial shutdown for the pandemic."
The acknowledgment of this new sky and moments of transition are articulated in the percolating "Ain't No Doubt About It," featuring Calesha "Bre-Z" Murray's raspy, hip-hop-centric vocals sharing the lead with Lawrence's alluring melodic improvisations on tenor saxophone.
Lawrence pays respect to the Creator, All-Mighty on the enticing R&B-flavored "Just Because of You," featuring vocalist Oren Waters of the legendary The Waters singing group. Afterward, Lawrence spruces up one of his older compositions, "From the Point of Love," which was first recorded on his Summer Solstice album. The new version retains the haunting, samba-tinged spiritual vibe of the original as Lawrence's sensual soprano recalls some of John Coltrane and Pharoah Sanders's seeking explorations, while John Beasley heightens the tranquil suspenseful with a joyous solo on electric piano.
The festive waltz, "Birds Are Singing," marked by Lawrence's soprano saxophone once again channeling Coltrane's hypnotic musing, touches upon the theme of how birds tend to sing loudly after many natural disasters such as earthquakes and hurricanes. Rejuvenating energy of survival after life's calamities and having faith that brighter days are to come are wonderfully captured on the energetic "I Really Love You" and the groove-laden, "Let It Go."
"'Let It Go' comes from the standpoint of how we have started letting go of some of the lower thoughts as we tune ourselves to the higher energies that have been delivered during the pandemic," Lawrence explains. "During the shutdown, we had to let a lot of things go that we were clinging to. When we let go of a lot of these things, we got a chance to see what was necessary for our lives."
The album closes with Lawrence refurbishing another older composition, "Revelation" which was originally featured on his 2009 album, Speak the Word. The composition rumbles with Black American church fury as Lawrence unravels a haunting, sermon-like melody on soprano saxophone. The song also features a powerful Tyner-esque piano solo from critically acclaimed, South African-born pianist Nduduzo Makhathini and celestial harp accompaniment from Destiny Muhammad.
Lawrence composed and recorded most of the music on New Sky during the beginning of October 2020. As someone who practices Egyptian Ankh mediation, and breathing mediation techniques taught by Michael Beckwith's Agape International Spiritual Center, he used the first year of the pandemic to listen to his inner voice for musical inspiration.
"There was the lack of the outer movement – having to sustain oneself and staying out of the limelight," Lawrence says of that period. "It gave us a lot of time to focus our energies, go within, and listen to the inner call. Now, a new age is taking hold with some of the new ideas."
Azar Lawrence | New Sky
Trazar Records | Release Date: February 4, 2022
For more information on Azar Lawrence, please visit:
DL Media