Vocalist Lori Williams Releases New Album "Out Of The Box" | LISTEN TO NEW SINGLE!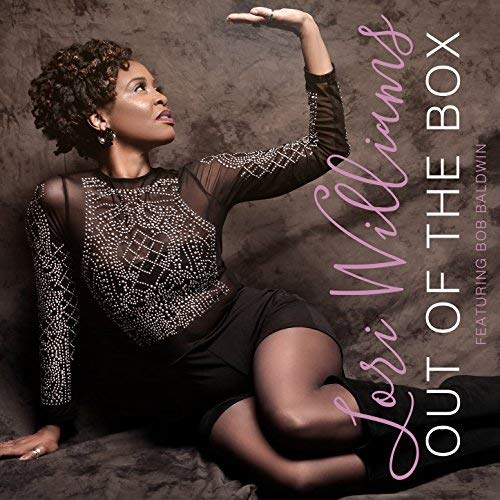 Vocalist Lori Williams unleashes her latest album release "Out Of The Box" featuring Tom Browne, Will Downing, Maysa and Nathan East
Available NOW on Amazon!
Washington, D.C. (10 September 2018): Washington, D.C. Vocalist Lori Williams has a new project out called "Out Of The Box" on City Sketches Records. She's not coming alone as she joins up with Tom Browne, Will Downing, Nathan East, and Maysa, to name a select few. Her second single -­‐ "Hold On" – features trumpeter Tom Browne.
Although she's been known in the Straight-­‐Ahead Jazz ranks and is beloved in parts of Europe and Russia, this time, she's going in a different direction as she looks to expand her audience in the US and further abroad with a more Contemporary-­‐Smooth Jazz blend with touches of Urban-­‐Soul.
City Sketches Records  re-­‐introduced Lori last year and the response from her first single, "I Like The Way You Talk (To Me)" was overwhelming as she gained new fans at Smooth Jazz, gaining spins on SiriusXM. This comes as no surprise as some of her music journeys have included crossing paths with the likes of the aforementioned East, Browne and Maysa, all of whom have contributed to her newest offering. In addition, Will Downing, who recently appeared on the TV One Program Unsung, also made a quick cameo on the project. Also featured on the recording are Washington, DC vocalists Troy Sol Edler, and Rayshun Lamarr (who has made considerable TV noise earlier this year on The Voice). Nathan East added his signature vocalese-­‐bass solo phrasings on the title track.
The album is produced by Pianist/Arranger Bob Baldwin, who is celebrating his 30th year in the business as an artist. His contribution to the project makes his own 30-­‐year anniversary even more special.
This Washington, DC native shot into high exposure in Europe in the early 2010's  after
being captured on tape singing a vocal-­‐duo with vocal legend Bobby McFerrin.
"Lori Williams' sensual surround sound vocals are like three lovers in your ears and mind at the same time."
A Scott Galloway -­‐ Music Journalist
"Out Of The Box" contains the following songs:
1 Sailing On A Dream
2 Let's Walk
3 I Like The Way You Talk (To Me)
4 I Can't Help It
5 Where's That Smile?
6 Out Of The Box
7 Hold On
8 I Like The Way You Talk (To Me) (Interlude)
9 Our Love Is Real
10 'Round Midnight
11 Little Girl Blue
12 Let's Walk (Radio Edit)
13 Our Love Is Real (Radio Edit)
14 I Like The Way You Talk (To Me) (Radio Edit)
15 Deja Vu (Radio Edit)