LISTEN TO NEW MUSIC! Siri Music Group Signs Label Partnership with Caroline/Capital Music Group | Releases New Single by Miesa "Too Bad For You"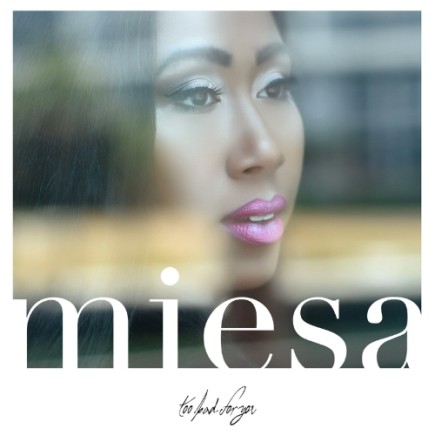 Siri Music Group Signs New Label Partnership With Caroline a Division of Capital Music Group
Miesa's new single "Too Bad For You," released to digital retailers and streaming services today; the first under new agreement
NEW YORK, Dec. 11, 2015 /PRNewswire/ — Caroline – the Independent Services division of Capitol Music Group (CMG) has signed an extensive agreement with Siri Music Group, the New York based recording label that is home to artists including Miesa, Christian Eliah, Evee, Okera, and Alex Rion, along with songwriters/producers JacksonCroft (Tamia, Pussycat Dolls, Katherine McPhee) and The Chemistri (Kristina Debarge, Wynter Gordon). "We're excited that the next evolution of, Siri Music Group, is in partnership with Caroline," says Siri Music Group President Chauncy Jackson. "After visiting the teams in both New York and at the Capital Tower in LA, I am confident that we've found a group of music enthusiasts who's vision mirrors our own."
To commemorate the signing, today Siri Music Group released the first single from Miesa's highly anticipated debut album, "Too Bad For You," to digital retailers and streaming services. "The label has been planting seeds all year long, building up to something big for Miesa's project," Siri Music Group General Manager Scott Cameron said. "Signing with Caroline happened at the perfect time."
This past October Miesa launched The Suite Tour, in partnership with Kimpton Hotels in Philadelphia. "We were thrilled to have Philadelphia be the first stop on Miesa's Suite Tour with Kimpton Hotels," said Kristin Bradley, Regional PR Director for Kimpton Hotels in the Northeast. "It was such a treat to be able to offer our guests at both the Palomar and the Monaco, as well as the local community, two truly unplugged performances from such an incredibly talented singer. Hosting these events in our suite spaces allowed for Miesa's talent and personality to shine through, introducing our guests to a burgeoning new artist in an intimate environment." The tour will see stops in Los Angeles, New York, Chicago, Boston and Washington DC at the top of the year.
"It's important that we continue to be innovative during this time in the music industry," says Jackson. "We have been fortunate to have partnerships with Zipcar, Kimpton, Privileged Shoes, Gibson, and O'Keeffe's throughout the last few years and that has built a tremendous growth in her fan base." With the release of her single, "Too Bad For You," iTunes customers also receive a digital booklet, which offers never before seen images from one of Miesa's tour dates at the Kimpton's Epic Hotel in Miami, Florida. This photo booklet, marks the first of its kind for a single download and will give fans a visual preview into Miesa's story. "People miss the booklet, the liner notes, the lyrics. It's time to bring that back," comments Jackson.
The deal with Caroline allows Siri Music Group the opportunity to expand its reach and showcase upcoming releases from Miesa, Christian Eliah and Evee. Caroline garnered four #1 album debuts on Billboard's Top Albums chart in 2015 – including those for Alabama Shakes' Sound & Color and All Time Low's Future Hearts – as well as making significant artist development and commercial breakthroughs with Astralwerks' Halsey. The division's partner artists earned 12 Grammy nominations this past week, including five for ATO Records' Alabama Shakes (including Album Of The Year) and two each for Astralwerks' The Chemical Brothers, Voltron Recordz' Tyrese and Sugar Hill Records' Lee Ann Womack.
SiriMusic Group
Siri Music Group is an American record label, which currently operates in association with Caroline Distribution. Siri Music Group began in 2006 ventured from producer/songwriter Chauncy Jackson. The upper-level management consists of musicians allowing a direct connection to the creation process. This in turn, enables Siri Music Group to attract and nurture only the most talented and musically gifted artists. However, alongside the management team is a solid marketing, branding, and PR team that extends each artist's success well beyond music sales.
Caroline
Caroline is a full-service partner to the independent label and artist community. Building on the over 30-year tradition of the historic Caroline Distribution (one of the U.S's largest independent distribution companies),
Caroline has defined itself as a successful service company for a diverse roster of labels such as ATO, Fader, G-Unit, Frontiers, Dine Alone, Astralwerks, and Harvest. Caroline has also helped deliver career best results for artists like Alabama Shakes, All Time Low, Halsey, Slash, Tyrese, Five Finger Death Punch, 50 Cent and more. Caroline provides full services including Branding, Synch, Radio Promotion, On-Line Marketing, Product Management, and more.
Caroline defines the essence of the independent culture and spirit while bringing all of the leverage of a major to the marketplace. Driven by commitment, passion and hustle, Caroline delivers a transparent, flexible and tailor-made vehicle to super-serve, support and nurtures the independent community, artist and label. This level of service has delivered three #1 albums for their partners in 2015! Just as Caroline Distribution was the launching pad for the careers of artists such as Smashing Pumpkins, Hole, White Zombie, Ben Folds and The Chemical Brothers, Caroline will continue to dedicate its efforts in the development of independent artists in order for them to achieve their maximized potential.
SOURCE Siri Music Group