WATCH NEW VIDEO! Songstress Michelle Carr Teams Up with Guitarist Mark Whitfield for New CD "Mutual Modulations" | Avail NOW!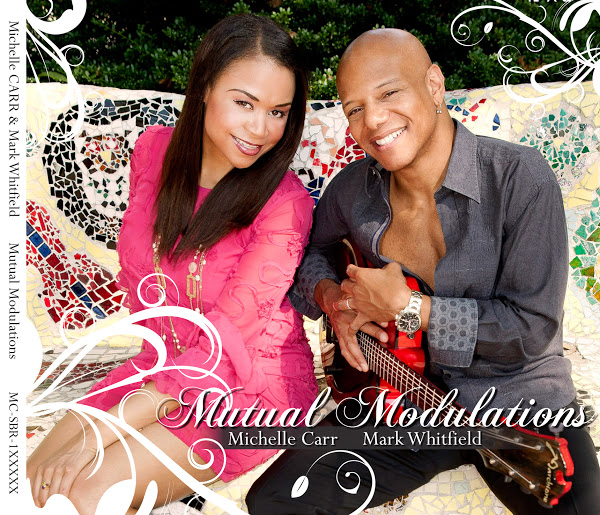 Acclaimed Vocalist Michelle Carr joins Famed Jazz Guitarist Mark Whitfield in New Project "Mutual Modulations"
Available NOW | Watch New Video Below!
With a confidence that never becomes sass, a strength that never becomes haughtiness, Michelle Carr is a gracious singer whose rapport with the audience gives an air of familiarity and relaxation to her performances. She's clear as a bell, hitting every note with a voice that sparkles. Her warmth and pleasure in being able to share her songs emanates from her radiant smile– singing is what she was meant to do.
And Michelle always knew that. Even at the age of four, she had an idea her life would be one of singing and performance—she grew up harmonizing with her family around the fireplace in Alta Loma, California. She would sing with her mother, grandmother and sister while her uncle's played the compositions they'd written on bass and guitar. She sang in her high school's choir and musical productions and performed every season with the community theater. She loved every kind of music, looking to artists as diverse as Sarah Vaughan, Nancy Wilson, James Taylor, Joni Mitchell and Leontyne Price for inspiration.
She went on to graduate from California State Polytechnic University. Then in 1992 she moved to New York City to attend The Juilliard School where she studied classical voice, graduating in 1994. She also studied jazz piano with Johnny "Hammond" Smith and was a member of his vocal jazz ensemble. She has worked with Nancy Wilson and Roy Hargrove and was a backup vocalist for the band Hiroshima. She has also lent her smooth jazz vocals to bassist Christian McBride's funk band Escape Route.
Michelle has appeared on BET NYC/LA for her role in "Fangs II" and has also appeared on BET "J" for her own concert at New York's famed, Blue Note. Bet "J" aired Michelle's first video, "The Tracks Of My Tears" on "Soul Sessions". Carr's debut album, "Change" was released under her own label, "Saltbox Records". "Change" consists of ten jazz / R&B tracks, six of which Carr wrote herself and four of which she covers. These include Ani Di Franco's "32 Flavors", "Will Someone Ever Look at Me This Way?" From the 1983 movie "Yentl", "The Impossible Dream" from "Man of La Mancha", and the jazz standard, "Good Morning Heartache".The song "Change", which also lends its name to the title of the album, Carr reveals parts of her personal life: "No man has ever touched the depths of the woman that lives within me/ I laugh, I cry, I fly then fall from your love/ you're tearing at the Heart of me…" This song, which Carr wrote herself, is a slow ballad; the kind that makes you want to cry for so many reasons. Carr did all the vocal arrangements and several of the instrumental arrangements. She also produced the CD herself, a feat many artists' do not accomplish in a lifetime."Showboat", Lincoln Center's Workshop of "Carmen Jones", Goodspeed Opera House's revival of "The Man of La Mancha" and "Fangs" II at Aaron Davis Hall.
Michelle's wide range of vocal experience is complemented by her extensive background in "Showboat", Lincoln Center's Workshop of "Carmen Jones", Goodspeed Opera House's of The Man of La Mancha" and "Fangs" II, at Aaron Davis Hall.
ReverbNation: Michelle Carr & Mark Whitfield
Twitter: Michelle Carr
Amazon: Mutual Modulations