Jazz Collective Group, Us3, Returns With New Album, "Lie, Cheat & Steal" on Oct. 3rd, 2011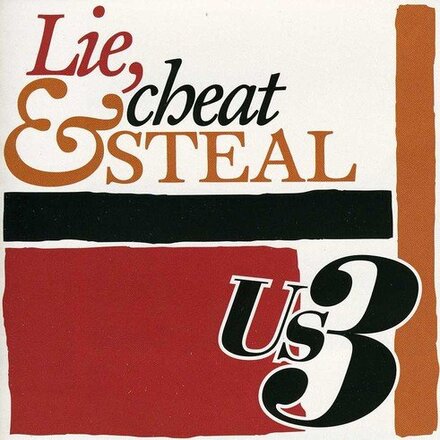 Platinum Selling Hip-Hop-Jazz Collective, Us3, To
Release 8th Studio Album, Lie, Cheat & Steal
Digitally Available Worldwide October 3 Via The Orchard
In 1992, London-based producer and Us3 brainchild, Geoff Wilkinson and production partner Mel Simpson, had unknowingly started a chain reaction by sampling one of the biggest dancefloor tunes of the burgeoning jazz dance scene. The tune he sampled was Grant Green's "Sookie Sookie," originally released on Blue Note Records. London's Kiss FM playlisted "The Band Played The Boogie" and Wilkinson received a call summoning him to EMI's offices in London. Knowing the sample had not been cleared Wilkinson was nervous, but somehow talked himself out of being sued and into the Blue Note vaults. By allowing complete access to their legendary back catalogue, Blue Note went back to the future. "It was a brave decision by Bruce Lundvall (Blue Note President)," says Wilkinson, "but he made me record some demos first, to prove I could do it." One of those demos, recorded in March 1992, was "Cantaloop (Flip Fantasia)." Exactly two years later it was sitting in the US top ten. The resulting album Hand on the Torch became a global phenomenon and sold over 2.5 million copies. It was the first Blue Note album to achieve Platinum status in the United States and launched the career of Wilkinson and his collective, Us3, who are preparing to release their eighth studio album titled, Lie, Cheat & Steal.
The worldwide success of Us3 took everyone by surprise, and proved a point to Wilkinson. "I always thought there was a huge potential audience for jazz amongst younger people, and I wanted Us3 to be a point of access for them. By sampling classic jazz tracks, mixing them with beats and raps, and having younger jazz cats playing on top I was acknowledging the past, staying rooted in the present, and looking forward to the future, all at the same time."
After several world tours with the Us3 band, Simpson left for pastures new, and in 1996 Wilkinson set about making the follow-up. "It was always my intention to change the vocalists with each Us3 album" says Wilkinson. "It keeps things fresh and exciting for me too." The Blue Note samples became more embedded in the grooves on the 1997 album, Broadway & 52nd and experimental tracks like "Snakes" (in 5/4) and "Sheep" (a spoken word poem) broke new ground, drawing great performances from New York rappers KCB and Shabaam Sahdeeq.
A frustrating period signed to Sony in New York was eventually brought to an end and the third Us3 album, An Ordinary Day In An Unusual Place, was released in 2001 by Toshiba EMI in Japan, and Universal in Europe. The album itself represented a quantum leap in the Us3 sound. "I've always had a very wide ranging taste in music and this was my chance to show it," explains Wilkinson, who incorporated elements of Drum'n'Bass, Latin, and Indian music into the mix. Several European and Japanese tours took place throughout 2002, and the crowd reactions were incredible.
The fourth Us3 album, Questions, was released in Japan in 2003. This time Wilkinson ditched the samples completely and made an album heavily influenced by both his love of Latin music and the neo-soul movement. Brooklyn rapper Reggi Wyns and featured vocalists. Says Wilkinson, "there's been a decreasing reliance on samples with each Us3 album, and Questions is the culmination of that. And it was nice working with some live musicians rather than dead ones!" Questions was also the first Us3 album to be released independently (outside Japan). Two tours of Europe throughout 2005 saw the Us3 live band perform 50 gigs in 14 countries, serving as a huge inspiration for Wilkinson. This resulted in the up-tempo, live sounding album, Schizophonic which featured all members of the Us3 live band.
The 2007 album, Say What!?, saw Us3 taking on a contemporary R&B twist, displaying a huge palette of sounds ranging from big crunchy drums and horns to synthesized string drenched jazz breaks to seductive Brazilian grooves. After taking a break in 2008, Us3 returned in 2009 with a new album stop. think. run. The album touches on tales of urban paranoia and desperation to the pursuit of true romance. Wilkinson sums up the album title: "In life sometimes you need to stop and think about what you are doing and what you really want to do. And when you've identified what that is, run towards it." In promoting the album the live Us3 band performed 39 shows in 17 different countries and reviews were all very positive.
Lie, Cheat & Steal, the eighth album from Wilkinson's hip-hop-jazz crew Us3 sees the introduction of two new MC's from different backgrounds and different nationalities. From Puerto Rico via New York comes Oveous Maximus, and from London, England comes Akala
The familiar Us3 sound features collaborators past & present, including fiery horn players Ed Jones (sax) and Bryan Corbett (trumpet). A variety of keyboard players take the chair including John Crawford, Mike Gorman, Barry Green, Tim Vine, Neil Angilley, and John Turville. Double Bass is handled by Chris Dodd, and DJ First Rate shows off his turntable trickery again.
Wilkinson explains the title, and theme, of the album, "I've become increasingly disillusioned by the people we, as children, are traditionally brought up to look up to. Politicians, police, business leaders, sportsmen, religious leaders, etc. all seem to be up to their eyeballs in corrupt practices. The gap between the haves and the have-nots is widening at an increasing pace. Is this what a democracy should look like, where it's ok to lie, cheat and steal your way to the top?"
Akala and Oveous articulate this in the hard-nosed title track, culminating in an epic crescendo of horns. Both rappers acknowledge the spoken word roots of rap respectively; Oveous appears on the blues-drenched "Wild West" and Akala on the staccato stop/start rhythms of "The Ring."
The melancholic guitar drenched groove of "Ghost" sees Oveous telling a story of abuse and revenge, while the breakbeat led "Puppets" has Akala telling a modern day parable relevant to us all. The Us3 sound is expanded to include flamenco influences on "Uptown," and the Fela Kuti – like afrobeat of "(You Are) So Corrupt." Lie, Cheat & Steal was recorded in London before, during, and after the recent riots, and Akala sums up the atmosphere on "Pressure Bursts Pipes" over an amalgam of piano, electronica, horns and angular beats.
Oveous Maximus grew up in the Bronx & Washington Heights in New York. An honorary member of the legendary Nuyorican Poets Café, Oveous has a unique style of rap and spoken word. He was a National Poetry Slam finalist three years in a row, a multiple winner at the Apollo Theatre in Harlem and has performed on the HBO TV series Def Poetry. He has recorded with Louie Vega and Osunlade, and is about to release his third self-produced studio album this year.
London-based Akala is a MOBO award-winning artist, label owner and social entrepreneur. Inspired by the likes of Saul Williams and the late Gil Scott-Heron, Akala has released three solo albums and performed across the globe in Vietnam, Brazil, Africa, New Zealand and Australia. In 2009 he launched the "Hip-Hop Shakespeare Company," already an acclaimed music theatre production enterprise. Recently he presented a TV show about UK MC culture called, "Life Of Rhyme" on Channel 4.
Us3 · Lie, Cheat & Steal
Release Date: October 3, 2011 (The Orchard)
For more information on Us3, please visit: www.us3.com