Bob Baldwin to Release New Project "NewUrbanJazz 3: An UrbanSmooth Suite" on Feb. 26th, 2021 | LISTEN to New Single "Footsteps In The Dark"!
by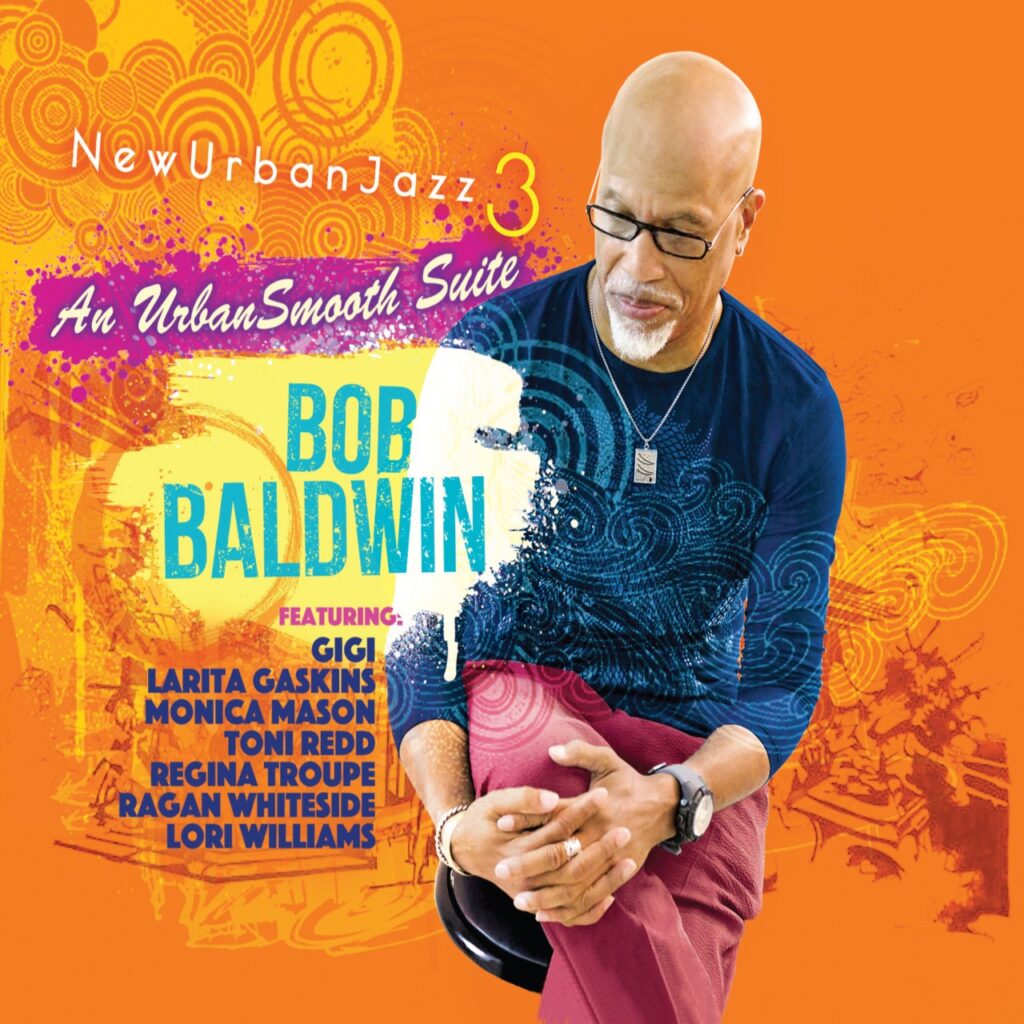 Bob Baldwin to Release "NewUrbanJazz 3 / An UrbanSmooth Suite"
What is NewUrbanJazz? By definition, it is:
A gumbo of contemporary jazz, Urban, R&B and Brazilian/Caribbean genres
Bob Baldwin's 32nd studio offering is a musically unplanned birth that was caused by a simple procedure…Stay-at-home orders.
For some, staying home has its' benefits, like less miles on the car, cleaning bill eliminated, less office utility overhead. For an artist like Bob Baldwin, it means more time to record, produce, arrange and perform music. In a 3-month period, he embarked on a 35 – song journey between working with young lions as well as music veterans like CeCe Peniston, Marion Meadows, Howard Hewitt, Maysa, Nathan East, and Will Downing, as well as production for several influential independent artists. "I've embraced the time home and it has been a musical smorgasbord", says the Mt. Vernon, NY native. "The amount of music coming out of my brain right now is overwhelming! In fact, I've had to pull my phone out several times so I wouldn't let a good melody slip away. Can't let that happen."
"Henna" was a mostly instrumental offering, and was released early in 2020, however, this is the third installment of the Baldwin Urban tag along series. In it, he ushers in an impressive lineup of fantastic female vocalists and musicians that you may or may not have heard whose well deserved gifts shine nonetheless from the very first note.
The album opens up with Baldwin's alter-radio soliloquy on "The Urban Smoothsmith" with bob tapping into his New York radio roots, hearkening the days of radio legend Frankie Crocker and Pat Prescott. The album flows into a La-Rita Gaskins 70's-tinged track called "Funk In De Pocket", which is a well-intended old school track. The funky track has elements of the 80's classic 'Funkin' For Jamaica', ala Tonni Smith (RIP). Afterwards, Louisville's vocalist/keyboardist, Regina Troup, who travels worldwide with the R&B Group Kleer, lets the party splash on with a Zhane'-typed vibration on "Friday Night", letting us all know upfront that there's a party over here! Vocally speaking, the album has other singer/songwriters on tap, like Monica Mason with the driving percussion-driven "Dance 3000". To make things more interesting on this track is that Baldwin makes an inroad to a living Earth, Wind and Fire legend, percussionist Ralph Johnson. The two mutually admire the other's works through a mutual friend, Kenny Dickerson, and next thing you know, Ralph is laying drums on "Dance…" from the West. To make things even more global, Baldwin reaches out to old friend, New York percussionist Tony Cintron, who added even more percussion to the track, throwing in a timbale' solo, Nuyorican-style from the East.
Other gems include Washington, DC native Lori Williams with her laid-back delivery on "Sunday Afternoon". She digs in on the end of the track to further convince us know that Sunday afternoons are not to be overlooked. Toni Redd's Southern vocal roots are all over her track "Every Moment", which was originally featured on a previous Redd disc that Baldwin produced in 2009.
Another vocal appearance is by Gianna Welling, AKA "Gigi" from Houston, TX with her delivery on "Lay Your Heart (Beside Me)", of which her UK following will absolutely love, especially with Tom Braxton on saxophone. Ragan Whiteside (flute) and Jorel Flynn (drums) turn the heat up on "Blink of An Eye", where Ragan takes us where no other flutist has, ripping in and out of key signatures without batting an eye on the tag. Trumpeter Barry Danielian drops horn hits throughout the project in "Blink of an Eye", "Back to Basics (Family First)", "Blink…", and "Friday Night".
All-in-all, sometimes showcasing and shining, Baldwin effectively supportive with keys and arrangement throughout each vocal track.
Of course, Bob Baldwin's piano stylings are everywhere, reminding you that his influences of Joe Sample, George Duke, Quincy Jones are front and center, while making sure that he doesn't fall too far from his urban – jazz roots. If you like to tap toes when playing your music, this album is a must-have for your physical/digital collection, and if you find the vocals to be a bit much, fear not because his instrumental project "Henna" will surely make a lovely pair for those long Sunday afternoon drives.