Babyface, Carrie Lucas and Members of L.A. City Hall Speak on Dick Griffey and the Legacy of SOLAR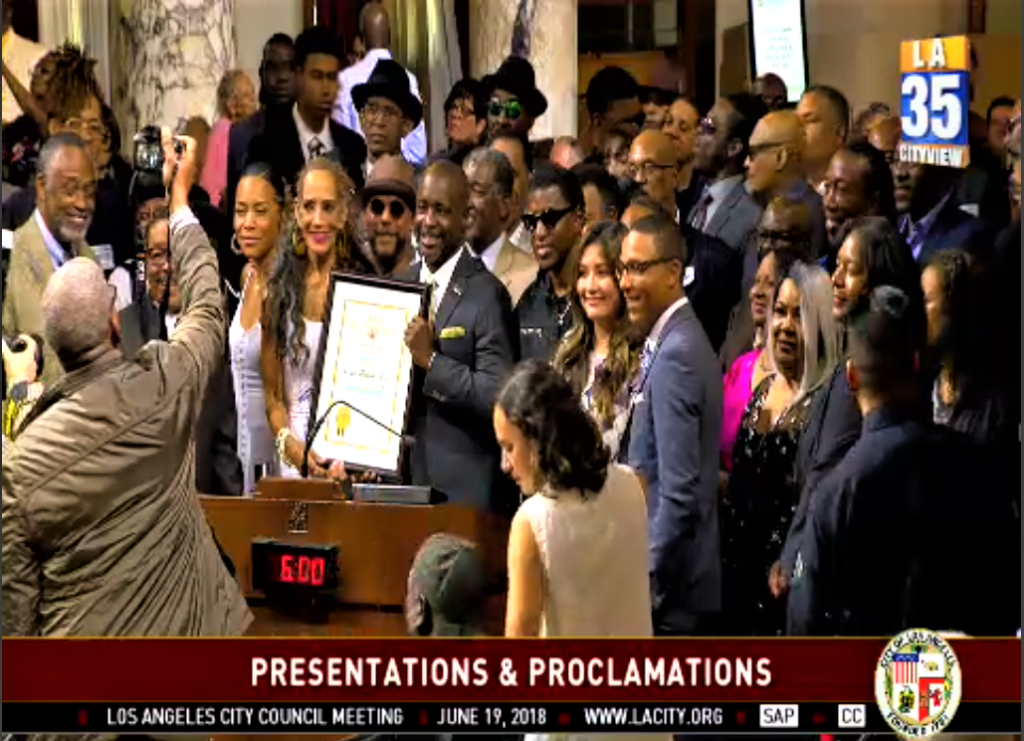 SOLAR Records and Founder Dick Griffey Honored by L.A. City Council for its 40th Anniversary
by A. Scott Galloway
The second order of business at the Los Angeles City Council meeting on Tuesday, June 19, 2018, was a commemoration of the 40th Anniversary of SOLAR Records and its founder, Dick Griffey, in conjunction with June being Black Music Month. The late entrepreneur Griffey co-founded SOLAR (Sound of Los Angeles Records) originally with the late "Soul Train" TV show creator Don Cornelius as Soul Train Records before the partnership dissolved and Griffey carried on with his own vision. From the late `70s into the early `90s, the company launched an enviable number of recording artists – from Shalamar to Snoop Doggy Dogg – and provided a place for exceptionally talented songwriters, musicians and producers to create a sound of music that became infectious around the globe.
Members of several SOLAR groups proudly attended the presentation, including The Sylvers (who were living in Nickerson Gardens in Watts – District 15 – when they made it big), L.A.-based acts Shalamar, The Whispers, Klymaxx, Dynasty, Carrie Lucas and daughter Carolyn Griffey, plus Midwest transplants The Deele, Lakeside, Midnight Star and Calloway. Also acknowledged was Dina Andrews, currently the Senior Field Deputy of CD8 who was one of SOLAR's first employees and responsible for gathering all of the talent present this fine day.
City Council President Herb J. Wesson introduced Marqueece Harris Dawson of Council District 8 who opened with a profound and timely statement,
"In this time when the occupant of the White House has decided that it's o.k. and American to lock children in cages, here in Los Angeles we want to make sure we keep up the best of American traditions that have been left to us. One of these is Black Music Month, instituted by President Jimmy Carter in (1979). SOLAR is one of the institutions that made Los Angeles the creative capital of the world that it is today. There was a time period from late `70s to mid-`80 that some musicians and scholars refer to as 'The Boogie Era,' dominated by a record company born and bred here in Los Angeles. Mr. Dick Griffey, who is not here with us today, began this label that produced a lot of the talent that you still see to this day."
Following a video montage of label hits such as "Make That Move," "Meeting in the Ladies Room," "Rock Steady," "It's All the Way Live," "I've Just Begun to Love You," "No Parking on The Dancefloor," "Two Occasions," "I Want to Be Rich" and "Show Me Where You're Coming From," the lady who sang that last selection – Carrie Lucas, Dick Griffey's widow – took the podium to make a brief but emotional speech.
"My husband had a love affair with Los Angeles. Everyone thought of Dick as such a great executive but he was a musician at heart who came from a musical family. He personally selected every single group. I came here this morning on behalf of the Griffey family but also on behalf of all of the SOLAR artists because we were a family. We sang on each other's albums and travelled in station wagons together before we got tour buses! By the grace of God, this wonderful-wonderful city embraced our SOLAR sound and launched it into the world."
Virgil Roberts, former legal counsel for SOLAR, spoke next stating, "SOLAR helped change the record business and the sound of music as we left the `70s and entered into the `80s, representing the pulse of life in Los Angeles. Not only did we pick up the music, we also picked up what was going in our city. We were the first company in America to have an anti-apartheid telethon. When the ANC (African National Congress) was still considered a communist front group, we took up a mantle to try to end apartheid. In doing so, Dick Griffey became only the second African American to address the OAU (Organisation of African Unity). SOLAR Records was banned in South Africa for being subversive. We did a number of things to try to help the body politic. In 1984 when we were managing Jesse Jackson's campaign (to run for President of the U.S.), we did a concert at The Roxy Theater where your admission was to bring in your receipt from voting. If you didn't vote, you couldn't come to the concert! (Ours was) a company that supported the kind of change that we wanted to see in America. Dick had a vision for what a responsible African American owned company should do to support its artists and its community."
Singer/Songwriter/Record Producer Kenneth "Babyface" Edmonds stepped up next to state, "Everybody gets their start somewhere. I was blessed to be able to start with Dick Griffey. I can remember times being mad at him and Virgil…but I was given a chance to grow there and not just learn music but business and life. I learned these things because I met Dick Griffey and he was interested in me as an artist. I'm proud to publicly stand here today to say that he was 'the guy' that opened the door for me. On behalf of myself and all the musicians, songwriters and producers, thank you so much for allowing us to be what we are today."
City Council President Herb J. Wesson honored the gathered artists by stating, "To each and every one of you here today, when (I attend) throwback events, look around and see diverse crowds of all ages, I sit back and look at the non-Black people singing every word of every song you wrote! That shows that the music is having a positive impact where it relates to people judging people on their deeds and acts, not how they look."
Councilman Curren D. Price, Jr. concluded, "SOLAR was a role model as a progressive positive business to the community. These artists reflected that in the music."
All gathered adjourned to the Tom Bradley wing (named after the legendary former African American Mayor whose 100th birthday is being celebrated this month) for a special luncheon where all of the honorees were given certificates and allowed to share their gratitude.
A. Scott Galloway
Music Editor
The Urban Music Scene
June 19, 2018