3-Part Documentary Film "Wayne Shorter – Zero Gravity" Premiere on Prime Video Aug. 25th, 2023 | WATCH NEW TRAILER!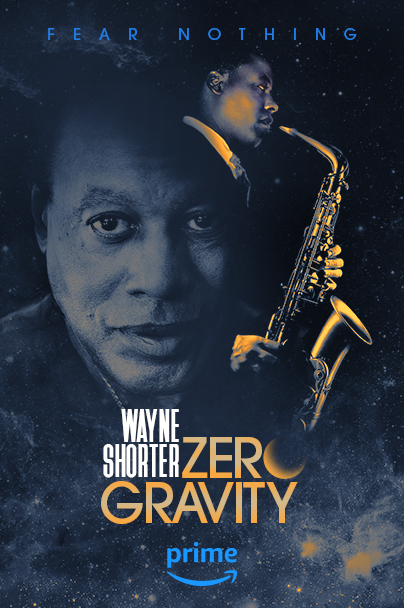 WAYNE SHORTER
ZERO GRAVITY
3-PARTS DOCUMENTARY FILM AVAILABLE ON PRIME VIDEO
AUGUST 25, 2023
ZERO GRAVITY is a cinematic ode to jazz legend, Wayne Shorter, from executive producer, Brad Pitt and directed by Dorsay Alavi. For over 60 years, Shorter has shattered the limitations of jazz and his compositions have become an industry standard. Depicted in 3 portals , the viewer is transported into prolific periods of Shorter's life and how through adversity, he grew to greatness and became one of the most influential musicians and composers in American music.
Shorter is considered one of the greatest living modern composers and musicians of American music, a true musical genius of the 20th and 21st centuries. He ranks among Ellington, Parker, Monk, and Coltrane, both as a saxophonist and as a composer. For over 60 years, Wayne Shorter shattered the limitations of jazz with his transcendent musicality. However, ZERO GRAVITY isn't just a documentary about a legendary jazz musician, it's a story of Wayne Shorter's life and how through adversity he grew to greatness. By turning obstacles into opportunities throughout his entire life, he showed through example that we can be masters of our own destiny
PORTAL 1: NEWARK, NJ – NEWARK FLASH IN NYC 1933 – 1971 transports viewers into the world of Wayne's childhood: the impact that his strong and supportive mother had on him and how his talent as a visual artist and his love of comic books and movies serendipitously led him to music. Shorter builds his career as a sideman, composer, and band leader by playing with world renowned musicians such as Art Blakey and the Jazz Messengers. Miles Davis aggressively pursues Shorter to replace John Coltrane and while on tour, Shorter is dealt several personal blows. When his second daughter is born, it inspires a new sound.
PORTAL 2: FAITH IS TO BE FEARLESS 1972 – 1999 focuses on the intersection of Shorter's personal life and his music. After several traumatic events and his struggle with alcohol addiction, music begins to play a different role in his life. He finds Buddhism and focuses inward to cope with the challenges of his marriage and his daughter's mental disability. In contrast to all of the personal strife at home, it is the most commercially successful period of his career with the band, Weather Report, that he co-founded with Joseph Zawinul. In the midst of this creative whirlwind, another tragedy unfolds and changes the course of his life, leading him to a profound mission to integrate philosophical ideals into his music.
PORTAL 3: ZERO GRAVITY 2000 – ∞ is Wayne Shorter's mission to redefine the term jazz and to affect positive social change through sound. We come full circle when Shorter visits his home town of Newark where the Mayor presents him with the key to the city. As a teacher and mentor, he encourages exploration and often refers to ZERO GRAVITY as a way to break free from the confines of the genre. He is once again at the forefront of a new musical movement. He breaks new ground in jazz with his Wayne Shorter Quartet and his orchestral compositions. At 84 years old, he created his most prolific body of work and teaches us that the human being behind the instrument remains of the utmost importance.
Directed & Produced by Dorsay Alavi
Co-Produced by Matthew Flint
Featuring Wayne Shorter, Herbie Hancock, Carlos Santana, Joni Michell, Neil Degrasse Tyson, Terrance Blanchard, and many others
Executive Producers Brad Pitt, Jeremy Kleiner, Dede Gardner, Carlos Santana, & Joseph Walker
Source: FalcoInk