R&B-Jazz Vocalist Kat Hawley Releases Debut Single "Keep On, Keepin' On" feat. Saxophonist Steve Cole | LISTEN!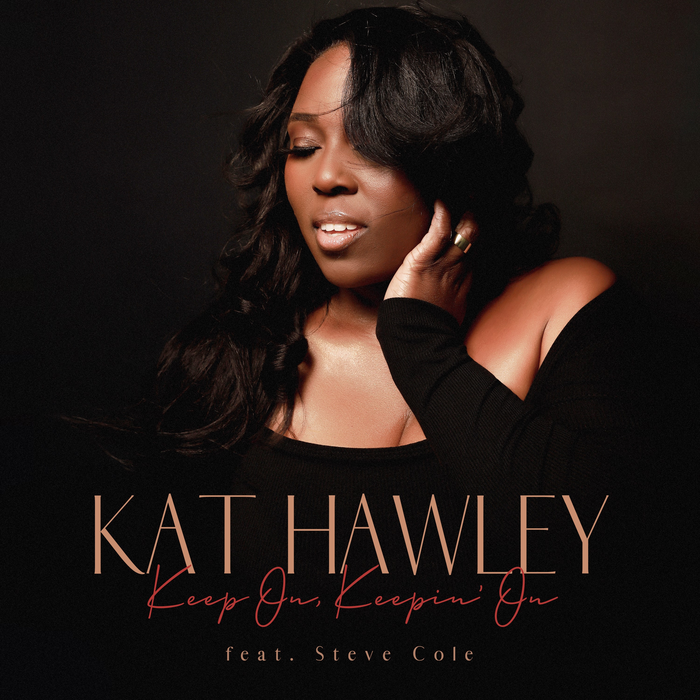 R&B-Jazz vocalist Kat Hawley's debut single is an affirmation of love
Billboard chart-toppers Adam Hawley and Steve Cole feature on "Keep On, Keepin' On."
LOS ANGELES (8 JUNE 2023): 'Twas the night before Valentine's Day and a pair of lovers were toiling away in the recording studio. He, twelve-time Billboard chart-topping guitarist Adam Hawley, and she, R&B-jazz singer Kat Hawley, were at opposite ends of the room ruminating on what has kept their marriage and romance going fifteen years. As Adam composed and began constructing an instrumental groove, Kat riffed on the secret to their relationship, jotting down the affirmation "Keep on, keepin' on" in her lyric book. She alternately sang and scatted until the right words emerged from her heart to tell the story. By the time dawn arrived on St. Valentine's Day, Kat's debut single was written. "Keep On, Keepin' On" will begin collecting playlist adds on Monday (June 12).
"Keep On, Keepin' On" is a soulful and cultured midtempo groove that provides a lush rhythmic pocket for Kat Hawley to emote atop. Her voice oozes genuine warmth, sensuality and passion in her lead and layered backgrounds. There's a sense of both confidence as well as emotional vulnerability in her expressive delivery, qualities that make the single feel authentically real. Adam Hawley plays guitar, keyboards and programming while co-writer Caleb Middleton fills the track with additional keyboards, key bass and programming around drummer Eric Valentine's beats. There's another prominent voice featured on the single: the tenor saxophone of veteran hitmaker Steve Cole.
"I wanted some serious vibes with this tune, and I think we got it. 'Keep On, Keepin' On' is a burst of excitement for me. Feeling something in your soul, hearing things in your mind, streams of subconsciousness throughout your dreams to now being able to touch it is amazing," said Kat Hawley who has sung on all four of her husband's albums.
Landing a powerhouse saxman like Cole for your first single is definitely a benefit of being married to Adam yet Kat takes nothing for granted, conveying gratitude for Cole's contribution to the recording.
"Something that I still am reeling from is having the one and only Steve Cole featured on the single. He has always stood out to me as a player and an artist. I am grateful that he agreed to be part of this project and for doing such an incredible job with it as well. You never know what to expect when you hand something over to someone. You hope that they can grasp the emotion and the vibe, and that they respect your creation. I appreciate that he took his time over several days to really listen and grasp what needed to be done. His performance is simply perfect. The warmth, the gentle aggressiveness and, of course, his impeccable playing. To have Steve graciously play on my first solo release is truly an honor," said Kat Hawley who tours performing with Adam Hawley all over the world at concerts, festivals and star-studded music cruises and has sung or recorded with Dave Koz, Marcus Anderson, Greg Manning, Julian Vaughn and Marqueal Jordan amongst many others.
Kat Hawley is working on an album with Adam Hawley at the helm and she jokes that it could be a test of their relationship.
"I think Adam gets extra brownie points for producing me. I know I am not the easiest client. At one point during the recording, mixing and mastering stages, he said to me, 'You've already exceeded my standard limit of edits per song.' I responded with, 'Another thing I want to fix is…' We get a lot of laughs from one another. His creativity, mastery of the art and disciplined work ethic is something that I admire and respect, as I, too, share integrity for the artform. I am deeply blessed to have a partner who can bring out the best of my craft and support me like no other."
For more information, please visit https://www.kathawley.com.
Great Scott P.R.oductions