Blues Legend Bobby Rush Releases New Single "I'm Free" | LISTEN! New Album Drops Aug. 18th, 2023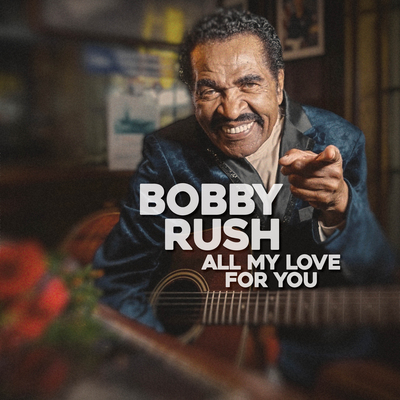 Bobby Rush Releases New Single "I'm Free"
From Forthcoming Album All My Love For You
Out August 18 via Thirty Tigers
Performing at AmericanaFest in Nashville this September and
On Tour with Buddy Guy in October
June 30, 2023: Today, the two-time GRAMMY winner, Blues Hall of Famer, and 16-time Blues Music Awards winner Bobby Rush released "I'm Free," the opening track on his forthcoming album All My Love For You out on August 18 via Deep Rush Records / Thirty Tigers. The autobiographical new single chronicles Rush's early life, from carrying water for 15 miles for 50 cents a day to picking cotton in rural Louisiana. Garden & Gun spoke with Rush about the new "anthemic" new single, southern juke joints, and hanging with Muddy Waters in the '50s. All My Love For You is now available for pre-order.
Bobby Rush explains: "I wanted to do 'I'm Free' because I wanted people to know that as a biblical study, I read the story about Paul being put in jail for what he did spiritually. He said at one point, although he was locked up in jail, he still was free. I've been denied and kept away from a lot of things. One thing no woman or man can do is keep me from being free in my mind. You can have chains on your hands and feet but not in your mind. Now in my life, God has blessed me long enough to be free. Even though the law says there are things I can't do, but in my mind I'm free. In my head I'm not bound by the things I may want to do. Like I did as a boy in Louisiana, I may still be picking cotton, but I own a piece of the field. The chains are off my ankles and the chains are off my mind. I'm free in spirit. I can do all things that God puts in front of me, if it's only his will."
About All My Love For You, Rush adds: "I wanted to approach this album to be a collection of songs for how I got to where I am now. Sonically I made albums in different directions recently like the solo acoustic Rawer than Raw and full production album Porcupine Meat. I wanted to do something that had the rawness in it, the commercial side of it, and have the Blackness and whiteness inside of it. I want to thank people for letting me be myself. Now I have crossed over but I haven't crossed out. With the title, I wasn't talking just about a woman, but everyone who has anything to do with Bobby Rush: the fans, the media, the promoters, the label and distributor, booking agents, management, and anyone else who has contributed to my life and career, this is All My Love For You."
"I'm Free" follows the releases of "I'm The One" and "One Monkey Can Stop The Show." The new album follows his Chicken Heads 50th Anniversary EP featuring Buddy Guy, Gov't Mule and Christone "Kingfish" Ingram, his GRAMMY-winning 2020 album Rawer Than Raw, and his acclaimed autobiography I Ain't Studdin' Ya: My American Blues Story. In 2021, Rush was profiled by The New York Times for a career spanning feature following his second GRAMMY win and the release of his book.
Bobby Rush is on tour throughout the rest of the year and will perform at AmericanaFest in Nashville this September, followed by a run of east coast dates with Buddy Guy in October. Find a full list of tour dates below or visit his website.
Missing Piece Group