Latin Jazz Artist Alfredo Rodriguez to Release New Album "Coral Way" on August 18th, 2023 | Announces New Tour for 2023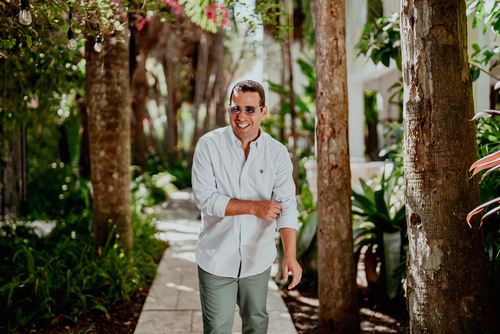 Alfredo Rodriguez Announces New Album
Coral Way To Be Released On August 18
via Mack Avenue Records
Announces New U.S. Tour Dates
June 8, 2023: Globally acclaimed artist Alfredo Rodriguez has announced his new album Coral Way will be released on August 18 via Mack Avenue Records. The album embodies the collective sound of Miami: a blend of Latin pop, timba, salsa, bachata, tango, reggaeton, and bolero. Reminiscent of the city's diverse Latino community, the album calls upon Rodriguez's roots just as much as his newly-learned experiences. Rodriguez has also announced a number of U.S. tour dates for the fall including shows in Chicago, New York, Miami, and Denver. See full list of tour dates below.
In his new home, Rodriguez took note of the limited cross-pollination and few collaborations that existed between mainstream Latin music and Latin jazz. Coral Way, which features guest vocalists Cimafunk (Listen to New Single "El Llamada" Here!) and Alana Sinkëy (Listen to Single "Fidju di Lua" Here!), serves as the connective tissue between these worlds—an artistic statement for the diverse Latin community to be seen, be heard, and take pride in their history, while creating community through individuality.
Rodriguez notes, "I play what I live, and Coral Way is my new life. It is the name of the street on which, for the past 3 years, I have been composing this album, and now I'm excited that people from all over the world will finally get to hear it in an expansive way, with a full live band."
Born and raised in Havana, Cuba, Rodriguez's world was confined by the numerous restrictions imposed by his country. With limited options, his parents enrolled him in a classical conservatory, but he was quickly shut down by his first teacher who declared him devoid of talent. Despite pushback, his love for piano grew so strong that he wasn't even deterred by not having a piano to practice on at home; instead, he painted piano keys on his parents' dinner table so he could run his scales.
In 2006, at age 19, he received an invitation to represent Cuba at the Montreux Jazz Festival (MJF) in the International Solo Piano Competition. After applying and auditioning as a composer, alongside twelve of the top pianists in the world, he was accepted and made his way to Switzerland, where he ended up being invited to festival founder Claude Nobs' chalet to play for the guests, one of whom happened to be legendary producer Quincy Jones. Upon Jones' return to Los Angeles, he couldn't get Alfredo out of his mind. He called his VP, Adam Fell, and explained that Alfredo was one of the best pianists he had ever seen and they needed to work with him. Little did they know, Alfredo had only received permission to travel to Switzerland to play in the competition (as it was difficult for Cubans to obtain a travel visa), and also learned it would be illegal to work with him due to the Cuban embargo.
Cubans were not allowed to work in the U.S., and could only arrive at U.S. border stations to seek political asylum—meaning that Alfredo would have to relinquish his Cuban citizenship and jeopardize his ability to return home until he obtained a green card. After a year and a half of contemplating, he mustered up the courage and made the difficult decision to leave his family behind for a country that could offer him the platform he needed to share the broader message of his music with more people.
It's evident the journey was worth it because not only has Alfredo earned frequent appearances on prestigious stages around the world such as the Playboy Jazz Festival, North Sea Jazz Festival, Jazz in Marciac, Umbria Jazz and Jazz A Vienne, but additionally, Rodriguez was nominated for a Grammy® in the category of "Best Arrangement, Instrumental or A Cappella," for the track "Guantanamera," from his album, The Invasion Parade. Additionally, during his first tour in China, Rodriguez was asked to work with Tan Dun, Siedah Garrett, and Quincy Jones to compose the English version of the 2010 Shanghai World Expo theme song, becoming the first non-Chinese artist to be bestowed this honor.
Rodriguez continues to share his music along with his impactful message of perseverance and cross culturalization on an international tour, while sharing a variety of viral social media videos in which he plays well-known compositions in a Cuban timba style. See tour dates below.
Photo Credit: Gabriela Gabrielaa
Tour Dates:
June 9: Madrid, Spain @ Teatro Bulevar
July 1: Murcia, Spain @ San Javier Jazz Festival
July 4: Baku, Azerbaijan @ Baku Summer Days
July 6: Oviedo, Spain @ Teatro Campoamor
July 7-8: Las Palmas de Gran Canaria, Spain @ Canarias Jazz Festival
July 26: Langnau im Emmental, Switzerland @ Kupferschmiede
July 28: Rimini, Italy @ Court of the Augustinians
August 4: Bitonto, Italy @ Beat Onto
August 5: Corinaldo, Italy @ Associazione Culturale Round Jazz
August 6: Rimini, Italy @ Corte Degli Agostiniani
August 9: Augsburg, Germany @ Botanischer Garten
August 12: Bansko, Bulgaria @ Bansko Jazz Festival
August 16: Tratalias , Italy @ Santannaresi Jazz
August 18: Castelsardo, Italy @ Musica sulle Bocche Festival Jazz Internazionale
August 20: Makarska, Splitsko-dalmatinska, Croatia @ Makarska Jazz Festival
September 20: Chicago, Illinois @ Constellation
September 22: Des Moines, Iowa @ Civic Music Association
September 23: Madison, Wisconsin @ Stoughton
September 24: St. Paul, Minnesota @ Turf Club
September 28: New York City, New York @ Sheen Center
October 4: Boca Raton, Florida @ Boca Black Box
October 5: Cocoa Beach, Florida @ Heidi's Jazz Club
October 6: Largo, Florida @ Central Park Performing Arts Center
October 7: Miami, Florida @ The Moss Center
October 11: Denver, Colorado @ Cervantes
October 13: Greeley, Colorado @ UNC Greeley
October 14: Beaver Creek, Colorado @ Vilar Perf. Arts Center with Richard Bona
November 4: Lausanne, Switzerland @ Paderewski Room Salle PAderewski
November 8: Lublin, Poland @ Teatr Stary w Lublinie
November 9: Warsaw, Mazowieckie (Masovian) Poland @ Jassmine
November 10: Ełk, Poland @ Elk Cultural Center
November 15: Novi Sad, Serbia @ Novi Sad Jazz Festival: Serbian National Theatre
November 17: Eilat, Israel @ Red Sea Jazz Festival
November 26: Mumbai, Maharashtra India @ Tata Theatre, Mumbai Intl. Jazz Festival
February 15: Rotterdam, Netherlands @ LantarenVenster
February 16: Amsterdam, Netherlands @ Bimhuis
February 17: Cologne, Germany @ Kölner Philharmonie
February 24: Neuburg a.d. Donau, Bayern Germany @ Birdland Jazz Club Neuburg
February 25: Straubing, Bayern Germany @ Hotel ASAM
March 22: Los Angeles, California @ UCLA
Missing Piece Group