Soul Singer Bette Smith Releases New Single "Sign Your Name" feat. Arthur Adams | LISTEN!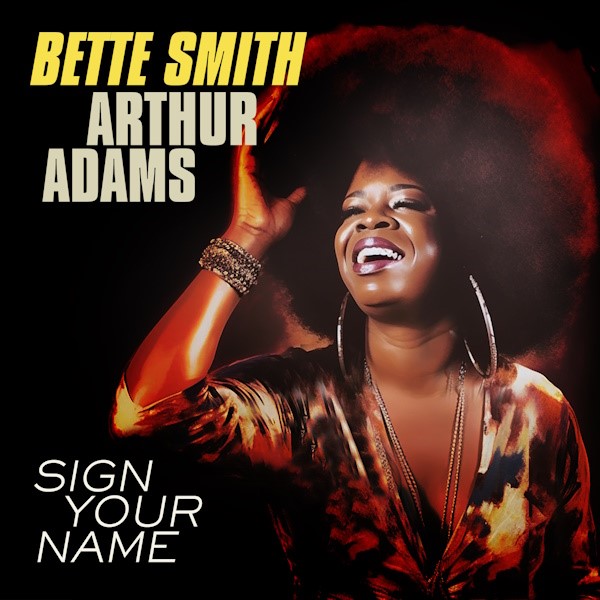 Soul Siren BETTE SMITH Puts Her Stamp On Another Pop Classic With Some Musical Help from Blues Veteran ARTHUR ADAMS!
Los Angeles, CA – When last we caught up with fast-rising vocalist Bette Smith, she was turning the country music ballad "Tennessee Whiskey" into a slow-burning, Etta James-inspired soulful serenade, her smokey vocals blending with the subtle guitar work of famed Canned Heat guitarist Harvey Mandel to great effect. Today she returns with an even more innovative vocal arrangement, transforming a shimmering '80s neo-soul pop favorite into a blues rave up with magnificent support from famed blues guitarist Arthur Adams, known for his stunning collaborations over his multi-decade career with the likes of Nina Simone, Bonnie Raitt, B.B. King and more.
Together these two artists bring an unexpected depth of feeling to a breezy slice of 1987 melodic R&B, Terence Trent D'Arby's "Sign Your Name." D'Arby (who now goes by Sananda Francesco Maitreya) released "Sign Your Name" as the fourth single from his multi-platinum debut album and watched it hit the Top 5 in both the US and the UK. And while the original was a much-vaunted earworm, as inescapable as D'Arby's other smash hit "Wishing Well," in the hands of Smith and Adams the song resonates with elemental qualities, trading the digital keyboards and programmed backing track for acoustic drums and organic guitar lines. In short, it's a whole new experience!
Be sure to check out Smith's other collaborations with not only Mandel but blues legend Ronnie Earl and contemporary blues phenom Kirk Fletcher, and don't miss Adams brand new full-length album, the vibrant and captivating Kick Up Some Dust!
Glass Onyon PR