Patti LaBelle Joins ONE WORLD 'Celebrity Circle' as Historic Charity Anthem for Pandemic & Racial Justice Re-Enters Billboard Top 30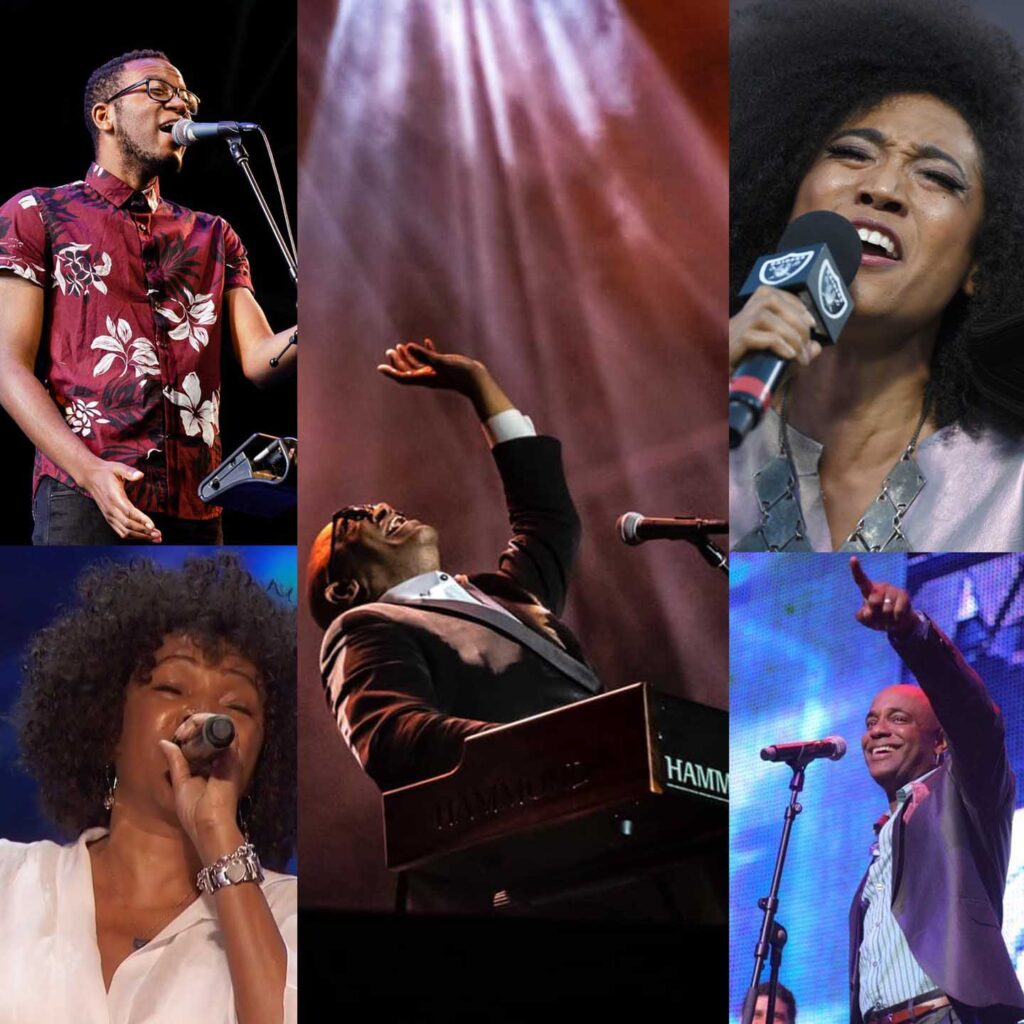 SUPERSTAR PATTI LaBELLE JOINS ONE WORLD 'CELEBRITY CIRCLE' AS HISTORIC CHARITY ANTHEM FOR GLOBAL PANDEMIC AND RACIAL JUSTICE RE-ENTERS BILLBOARD TOP 30 AT #27 WITH A BULLET
· 'Truly Global' Collaboration Kicks Off Drive-In Theater Initiative TONIGHT and Sept. 12 on Long Island
· Social Media Fans Clamor to Praise One World as 'Breath of Fresh Air' with 'A Message That Is So Desperately Needed'
'Voices 4 One World' Chorus of Grammy Winners and Multi-Grammy Nominees Become Historic Alliance to Support Musicians Foundation, The Actors Fund, First Responders Children's Foundation and NAACP Legal Defense Fund
Donate NOW and Watch the Music Video at www.oneworldoursong.com
NEW YORK (Sept. 3, 2020) − ONE WORLD, the timely and historic "We Are the World" style new charity anthem for the global pandemic – supporting musicians, actors and first responder families while changing America's racial narrative – officially welcomes superstar Godmother of Soul Patti LaBelle to its "Celebrity Circle" as the "truly global" multi-vocalist track re-enters the Billboard Top 30 Mainstream Adult Contemporary chart this week, landing at No. 27 with a bullet.
ONE WORLD also has entered the Radio Media charts at #28 with a bullet and has passed 20,000 spins on Pandora, where it is now a featured artist track.
This extraordinary new recording, featuring an unprecedented chorus of Grammy Award winners and multiple Grammy nominees collectively known as Voices for One World, is being offered as a free download with any donation to the major charity beneficiaries, exclusively through www.oneworldoursong.com. The four major charity partners are: Musicians Foundation, The Actors Fund, as well as First Responders Children's Foundation, beneficiary of the recent "Living Room Concert for America" hosted on FOX by Elton John, and the NAACP Legal Defense Fund. Donations of any amount entitle the donor to a free instant download of ONE WORLD. (Please note: Downloads for NAACP Legal Defense Fund donations are not yet available.)
LaBelle leads a growing gallery of notable musicians and actors recording PSA's for the ONE WORLD "Celebrity Circle" on an ongoing basis. Early contributors also include two-time Tony Award winner Christine Ebersole, legendary "Sound of Philadelphia" architect Kenny Gamble, Bon Jovi drummer Tico Torres, Classic Disco diva Evelyn "Champagne" King, Emmy Award nominee Michele Greene ("L.A. Law"), actress-comedian Siobhan Fallon ("Saturday Night Live," "Seinfeld," "Men in Black"), Vocal Group Hall of Famer Kenny Vance (Jay & The Americans, Kenny Vance & The Planotones), Grammy nominated songwriter Rob Hyman ("Time After Time") of The Hooters (Philadelphia Music Walk of Fame), original teen idol Bobby Rydell, and beloved blue collar rocker and Bruce Springsteen collaborator Joe Grushecky.
Tonight (Sept. 3), ONE WORLD officially hits the road to kick off its Drive-In Theater initiative with a music video screening in conjunction with a showing of Dirty Dancing at the Peconic Bay Winery, 31320 Main Road in Cutchogue, NY. More info at www.4cast.givesmart.com. Elsewhere on Long Island, ONE WORLD co-writer and Academy Award-winning songwriter Franke Previte will host a special Q&A about his Dirty Dancing hits ("I've Had the Time of My Life" and "Hungry Eyes") with another ONE WORLD music video screening – as part of a "Screening Under the Stars" Drive-In showing of the film, Sept. 12 at Putnam County Golf Course, 187 Hill St., Mahopac, NY. Details at www.putnamcountygc.com.
Fans have been flooding social media with their adoration for ONE WORLD, which has gained close to 4,500 follows and likes in its first three months, to go with 50,000 Facebook views of its music video. Some comments:
· "Wow! Love it, this is what we need today. A breath of fresh air, I enjoyed listening to it." – Rose B.
· "Love it, with all the hate & division in our country lately, your song is a breath of fresh air. Thank you!" – Karen K.
· "This is the world we all want." – Sheryl F.
· "Fantastic! Thank you all! I really needed to hear that!" – Margaret F.
· "A message that is so desperately needed, absolutely love this song and the powerful message it sends, we are one people one world in it together." – Janice B.
· "Awesome song for all to live by!" – Lillian R.
· "Beautiful! I needed this today." – Lisa M
ONE WORLD reunites a pair of prominent American songwriters with two other leading Soviet songwriters 30 years since they originally wrote the song in Moscow during the 1989 Glasnost event "Music Speaks Louder Than Words," the first ever Arts Exchange between Soviet and American songwriters, organized by Alan Roy Scott and Music Bridges.
Spurred by the global pandemic, Academy Award-winning songwriter Franke Previte ("(I've Had) The Time of My Life" from Dirty Dancing) and Pamela Phillips Oland (Frank Sinatra, Whitney Houston, Aretha Franklin) reunified with Estonian songwriters Sergei Manoukyan and Mikk Targo to create an entirely new recording of their historic 1989 collaboration – originally performed by Earth, Wind & Fire – with updated lyrics, freshly retooled for the sole purpose of giving 100% of all proceeds from downloads to four major charity partners. The ensuing album included the original Earth, Wind & Fire recording of ONE WORLD. The lyrics in the new recording have been lovingly updated to address the current COVID-19 crisis and, says Previte, "give hope to all mankind for us to dream again." Every creative participant is an "UnSung Hero" to the global music community who has collaborated with superstars across many genres.
American Songwriter calls the new version of ONE WORLD "a hopeful song of unity that recalls some of the '80s most anthemic message songs, led by powerful vocal performances from an ensemble of well-respected, top-notch singers." ONE WORLD also has earned coverage from the Associated Press, the USA Today Network, The Jim Brickman Show (Westwood One), Premiere Radio/iHeart Media "Classic Rock Daily," Medium's Authority Magazine, Arianna Huffington's Thrive Global, and major radio stations including NPR Chicago's Lakeshore Public Radio and WGN Chicago.
ONE WORLD made its world radio premiere this summer via Entercom during the Bob Pantano Saturday Night Dance Party, heard around the world (and nationally to Comcast subscribers) through the Radio.com app, and throughout the Philadelphia and Southern New Jersey region on five radio stations, anchored by flagship 98.1 WOGL. Pantano continues his commitment to play ONE WORLD on every broadcast.
In late July, "Ambassador of Soul" Ellis Hall, one of the song's primary "Voices 4 One World," performed ONE WORLD for the United Nations Office on Drugs and Crime (UNODC) during the first-ever "live virtual music concert" under the Artists UNited Against Human Trafficking initiative.
All singers on the new recording have contributed to the greatness of recorded and live music as musicians and background singers, many of whom are Grammy Award winners and multiple Grammy nominees. Singing with Hall on the record are Michael Mayo (Josh Groban, Herbie Hancock), Ronee Martin (Patti LaBelle, Wynton Marsalis), Tower of Power "Ambassador of Soul" Ellis Hall, Dorian Holley (Michael Jackson, Rod Stewart), Grammy winner Judith Glory Hill (Stevie Wonder, John Legend, Prince), Valerie Pinkston (Lenny Kravitz, Luther Vandross, Annie Lennox), Amy Keys (Herbie Hancock, Sting, Barbra Streisand), Christine Collister (Richard Thompson Band), and Lisa Sherman (Jon Bon Jovi, Blondie). Musicians are Jon Gilutin (James Taylor, Linda Ronstadt) keyboards; Lenny Castro (Toto), percussion; Brendan Buckley (Shakira, Perry Farrell), drums; Scott Mayo (Earth Wind & Fire), saxophone; Jerry Watts Jr. (Andraé Crouch, Dr. John), bass; James Harrah (Melissa Etheridge, Leonard Cohen), guitar; Randy Jacobs (Was Not Was), guitar; and Tollack Ollestad (Don Henley, Andrea Boccelli), harmonica.
The range of charities reflects the scope and breadth of the pandemic's devastating impact on the community. All live music-related performances: touring, concert, theatrical, Broadway, TV, film – have ground to a halt. Musicians and singers are unable to earn a living in front of live audiences. The touring infrastructure – crews, road managers, talent buying, concert promotion – has been left in disarray, with no true sense of normalcy projected to be returning for another year at least.
Previte and Oland were among 22 renowned USA songwriters in "Music Speaks Louder Than Words," joining such notable participants as Diane Warren, Cyndi Lauper, Michael Bolton, Brill Building legends Mike Stoller and Barry Mann, Desmond Child (Bon Jovi), Brenda Russell (Earth Wind & Fire, Donna Summer, Rufus), songwriting team Billy Steinberg & Tom Kelly (Madonna, Whitney Houston), Franne Golde (Jody Watley, Commodores), and Alan Roy Scott (Motown, Celine Dion, Cher).
The new recording of ONE WORLD was produced by Grammy winner Jon Gilutin ("New Attitude") and mixed by Grammy, Emmy and Dove Award-winning engineer Bill Schnee (Steely Dan, Natalie Cole). The video was produced by Thomas Ryan Ward.
The participants in the ONE WORLD project profusely thank and honor the First Responders, and the sacrifices they and their families, including their children, are making to help all of us.
ONE WORLD is available digitally on Spotify, Apple Music, and iTunes.
PHOTO CAPTION: Composite photo of the five lead singers of "One World," Ellis Hall (center), and clockwise from top left, Michael Mayo, Judith Glory Hill, Dorian Holley, and Ronee Martin. Credit: Randex Communications
Website | Facebook | Instagram | YouTube | Spotify | Apple Music | iTunes
Randex Communications