Singer Carl B. Phillips Covers 70's Song "Heaven Help Us All" feat. James Murray & Stephen Anderson | LISTEN!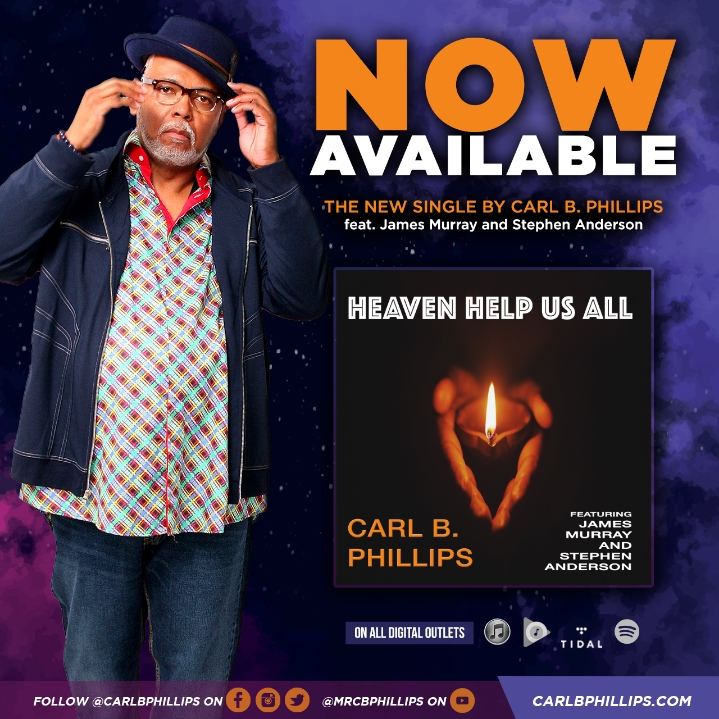 Carl B. Phillips Covers 70's Song "Heaven Help Us All", Delivering A Message Of Hope For Our Current Times
Remake Unites Detroit Indie Gospel Artists On Motown Classic Hit
DETROIT – July 31, 2020 – PRLog — Detroit gospel artist Carl B. Phillips, is releasing a cover version of the Stevie Wonder classic song, "Heaven Help Us All", on Friday July 31, 2020. The song is available on all digital outlets.
Joined by fellow gospel artists Stephen Anderson and James Murray, this updated version of "Heaven Help Us All", speaks to the current conditions the world is facing including coronavirus, injustices, and loss of lives.
Carl stated "while watching news reports of those affected by COVID-19 and the protesting for police brutality, this song kept playing in my head. I wanted to speak to the situations and this recording offered me the opportunity to express what I am feeling."
With a track produced by Brandon Holland (Kierra Sheard, J. Moss), Carl reached out to his friends Stephen and James to join him in spreading this message of Heaven's request for help. Both Stephen and James are the fathers of African American sons and they understand the challenges of raising their sons in these times of fear and brutality. Adding their voices to this song allows each of them to convey their hopes for the futures of the men they're raising.
All three singers have been impacted by the coronavirus. One of the musicians who worked closely with Carl at his local church died from the virus. Stephen tested positive and had to stay in quarantine for 14 days. James also brings a personal testimony to the song. James recalled, "I was standing on my porch and passed out. After being rushed to the hospital, I was diagnosed with COVID-19." James is a survivor of the disease and he sings about his recovery with the words "Heaven you helped me when I had COVID-19 myself."
"Heaven Help Us All" by Carl B. Phillips featuring Stephen Anderson and James Murray is available on all digital outlets.
About Carl B. Phillips
Carl B. Phillips is an international gospel recording artist, songwriter and producer from Detroit, MI. His debut release "Great Rain", features the singles "Great Rain", "I Know What God Did Last Summer", "Prove Me" and "Meeting In The Air". His latest release is "Heaven Help Us All".
Carl has performed in the Ferndale Front Porch Concert Series, the 2017 Michigan State Fair, the 2018 Detroit Music Weekend, the 2019 Detroit Music Awards and the Gospel Explosion Summit UK Meets USA in London, England.
For more information visit:
Website: https://www.carlbphillips.com