National Press Club Hosts Dionne Warwick & Valerie Simpson for Documentary Screening on Hal David, May 20th, 2019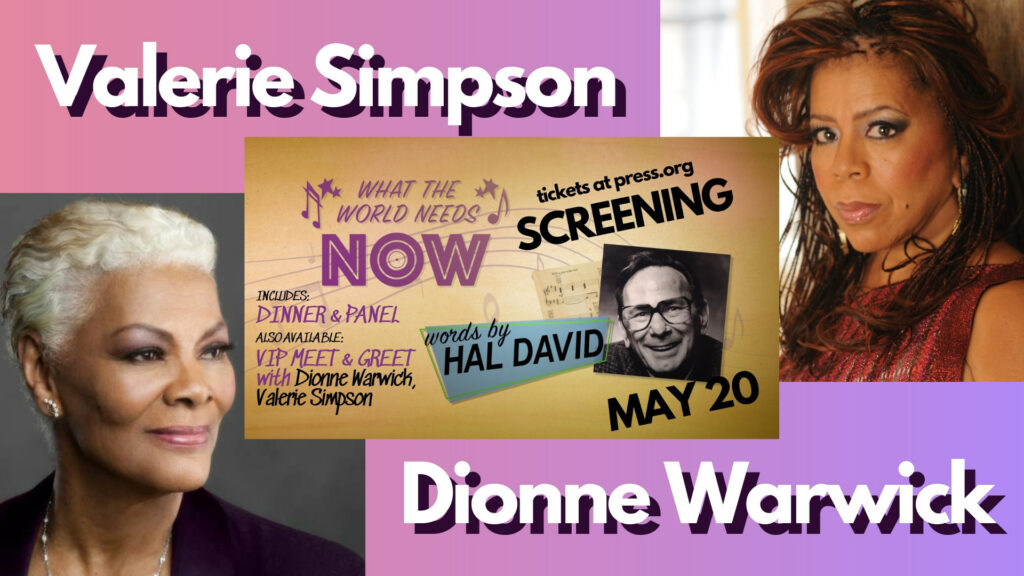 National Press Club Hosts Dionne Warwick and Valerie Simpson for Documentary Screening on Hal David, May 20
WASHINGTON, May 15, 2019 /PRNewswire/ — The National Press Club Events Team will host a special dinner and screening of "What the World Needs Now: Words by Hal David," a PBS documentary tribute to the man who wrote many of the most enduring songs in American popular music, at 6 p.m. Monday, May 20.
Tickets are available to the public (with discounts for NPC members) and include dinner and the panel discussion. They can be purchased online by clicking HERE.
Joining the event for a post-screening discussion are special guests Dionne Warwick and noted songwriter Valerie Simpson ("Ain't No Mountain High Enough"), both of whom are featured in the film, along with the film's executive producers, John Paulson and Karen Sherry. The discussion will be moderated by Club President Alison Fitzgerald Kodjak.
Hal David, in partnership with composer Burt Bacharach, dominated pop-music charts in the 1960s and early 70s, writing dozens of Top 40 hit recordings that continue to influence music today. Warwick's first recording, "Don't Make Me Over," "launched the decade-long explosion of musical creativity and chart-topping hits that encompass the Bacharach-David songbook," PBS said.
With 56 of her singles making the Billboard Hot 100 between 1962 and 1998 and 80 singles making all Billboard charts combined, Dionne Warwick is one of the rock era's greatest hitmakers (second only to Aretha Franklin in chart-topping songs). Her greatest hits include "What the World Needs Now," "Walk on By," "Say a Little Prayer," and "Do You Know the Way to San Jose?"
Along with her husband, Nicholas Ashford, Valerie Simpson wrote a series of Motown hits including "Ain't No Mountain High Enough," "Ain't Nothing Like the Real Thing," and "Reach Out and Touch" for various star performers such as Marvin Gaye, Diana Ross & The Supremes, and Quincy Jones.
Don't miss this trip down memory lane as these two icons – Warwick and Simpson – share their very personal stories about one of the greatest eras in pop music history.
John Paulson is an Emmy-award winning veteran of PBS documentaries and music specials. In addition to "What the World Needs Now: Words by Hal David," he most recently directed "Mister Rogers: It's You I Like" and "A Raisin in the Sun Revisited," an award-winning performance-documentary commissioned for PBS Arts Festival that celebrated the legacy of Lorraine Hansberry.
Karen Sherry has produced music shows and events for over 30 years, and was a Senior Vice President for ASCAP, where she worked for 36 years until her retirement. She was responsible for producing many of their signature events, including the TV shows "An ASCAP Celebration of American Music at Wolf Trap;" "CBS-TV's Irving Berlin's 100th Birthday Celebration," which garnered an Emmy Award; and the songwriter segment for NBC-TV's "Night of 100 Stars." She also served as consulting producer for the Gershwin Prize presentation to Hal David and Burt Bacharach by President Obama at the White House, telecast on PBS.
Schedule:
5:30 PM: VIP Reception / Meet & Greet with Dionne Warwick and Valerie Simpson
6:00 PM: Doors open and cash bar
6:30 PM: Dinner
7:15 PM (SHARP): Screening of film
8:15 PM: Conversation with Special Guests
SOURCE National Press Club