RBRM': Multiplatinum Pop/R&B Icons Ronnie, Bobby, Ricky, and Mike Announce Spring 2019 'RBRM—4 The Love Of It Tour' | Kicks off April 26th, 2019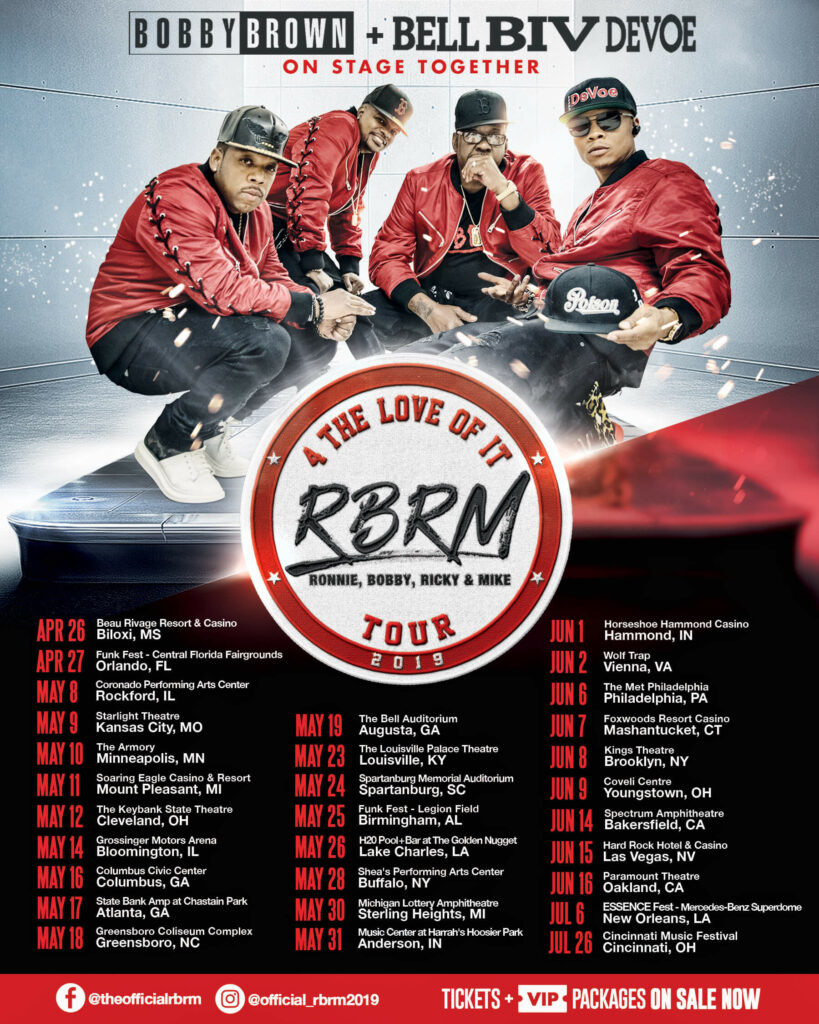 Back Again as 'RBRM': Multiplatinum Pop/R&B Icons Ronnie, Bobby, Ricky, and Mike Announce Spring 2019 'RBRM—4 The Love Of It Tour'
Fresh off their much buzzed-about debut as RBRM last Fall, the Grammy Award winning members of New Edition will return to the stage in 2019 with the 4 The Love Of It Tour— new dates throughout the U.S. announced
February 2019, Los Angeles, CA— One of the most legendary groups in pop/ R&B history will return to the stage this Spring—with an explosive new twist: New Edition's Ronnie DeVoe, Bobby Brown, Ricky Bell, and Michael Bivins are joining forces once again as RBRM. The iconic, multi-platinum performers are set to embark on the RBRM- 4 The Love Of It Tour this Spring, with dates just announced throughout the U.S.
Playing to sold out arenas nationwide, the Grammy Award winners first made their debut as RBRM last Fall, winning praise from press and fans alike. Now RBRM is back again for 2019—with an all-new lineup of performances.
The 4 the Love Of It Tour will bring the RBRM experience to fans around the country, with shows in cities including Orlando, Cleveland, Atlanta, Kansas City, Brooklyn, Birmingham, Philadelphia, New Orleans, Cincinnati and many more. Booked by Jeff Epstein and Universal Attractions Agency (UAA), the Spring 2019 tour will kick off on April 26, and will run through July 27, 2019.
RBRM will also heat up some of this Summer's hottest festivals during the tour, taking the stage at both the 2019 Essence Festival, and the iconic Cincinnati Music Festival in July. Ronnie, Bobby, Ricky and Mike have become fan favorites at the Essence Festival for their show-stopping performances there throughout the past decade— including last year's record-setting event, which drew more than 500,000 attendees. This year, they'll return as RBRM, bringing a brand-new energy to the Super Dome stage.
RBRM will close out the tour with a performance at the legendary Cincinnati Music Festival. With its all-star line-up of performers, the event is the area's largest tourism weekend of the year, drawing R&B fans from around the country. RBRM will hit the stage at the Paul Brown Stadium on July 26.
Showcasing the pop/ R&B trailblazers as never before, RBRM-4 The Love Of It brings the artists' legendary 41-year careers to life in a whole new way. The record-shattering catalogue of hits audiences know and love from New Edition, BBD, Bobby Brown, and their individual solo acts are remixed, reimagined, and reinvigorated on stage, giving fans a fresh take on their timeless favorites.
Over the past four decades, Ronnie, Bobby, Ricky and Mike have left an indelible mark not only on the music industry— but on millions of fans around the world. Their standout vocals, dynamic choreography, and unstoppable stage presence helped New Edition become one of the most successful touring groups of all time. More than that, by pioneering the "boy-band" Boy-Band craze, they created a classic sound and style that forever changed the landscape of popular music.
The artists' legacy also includes 18 multi-platinum albums, 4 American Music Awards, a Soul Train Lifetime Achievement Award, and 14 number one hits (in addition to countless Billboard Top 20 hits).
Tickets to the RBRM – 4 The Love Of It Tour will be available for presale order on February 7, 2019 and will go on sale the following day, February 8. Check local listings for details. Exclusive Meet and Greet and are also available. For all information about upcoming shows and for all things RBRM be sure to follow RBRM on Facebook.
RBRM- 4 The Love Of It Tour Dates
Friday, April 26, 2019 – Biloxi, MS: Beau Rivage Resort & Casino
Saturday, April 27, 2019 – Orlando, FL: Funk Fest – Central Florida Fairgrounds
Wednesday, May 08, 2019 – Rockford, IL: Coronado Performing Arts Center
Thursday, May 09, 2019 – Kansas City, MO: Starlight Theatre
Friday, May 10, 2019 – Minneapolis, MN: The Armory
Saturday, May 11, 2019 – Mt. Pleasant, MI: Soaring Eagle Casino & Resort
Sunday, May 12, 2019 – Cleveland, OH: The Keybank State Theatre – Playhouse Square
Thursday, May 16, 2019 – Columbus, GA: Columbus Civic Center
Friday, May 17, 2019 – Atlanta, GA: State Bank Amphitheatre at Chastain Park
Saturday, May 18, 2019 – Greensboro, NC: Greensboro Coliseum Complex
Sunday, May 19, 2019 – Augusta, GA: The Bell Auditorium at the Augusta Entertainment Complex
Friday, May 24, 2019 – Spartanburg, SC: Spartanburg Memorial Auditorium
Saturday, May 25, 2019 – Birmingham, AL: Funk Fest – Legion Field
Sunday, May 26, 2019 – Lake Charles, LA: H20 Pool + Bar Concert Venue at the Golden Nugget
Thursday, May 30, 2019 – Sterling Heights, MI: Michigan Lottery Amphitheatre at Freedom Hill
Friday, May 31, 2019 – Anderson, IN: The Outdoor Music Center at Harrah's Hoosier Park
Saturday, June 01, 2019 – Hammond, IN: Horseshoe Hammond Casino
Sunday, June 02, 2019 – Vienna, VA: Wolf Trap National Park for the Performing Arts
Thursday, June 06, 2019 – Philadelphia, PA: The Met Philadelphia
Friday, June 07, 2019 – Mashantucket, CT : Foxwoods Resort Casino
Saturday, June 08, 2019 – Brooklyn, NY
Sunday, June 09, 2019 – Youngstown, OH: Covelli Centre
Saturday, July 06, 2019 – New Orleans, LA: The Mercedes-Benz Superdome – 2019 Essence Festival
Friday, July 26, 2019 – Cincinnati, OH: Paul Brown Stadium – Cincinnati Music Festival
Saturday, July 27, 2019 – Nashville, TN: Nashville Municipal Auditorium