Legendary Soul Singer Charles Wright Pens First In Series of Autobiographies "UP FROM WHERE WE'VE COME"
by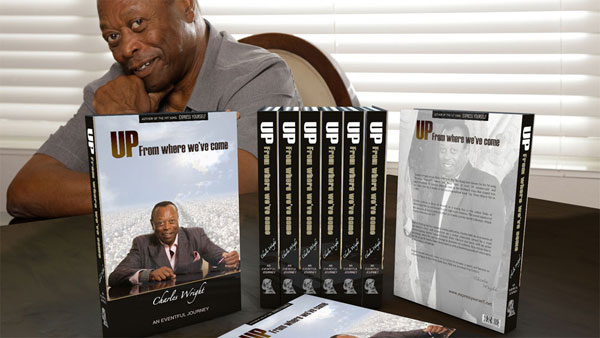 Soul Music Great CHARLES WRIGHT Pens First In Series of Autobiographies "UP FROM WHERE WE'VE COME"
Inaugural Book Details 56 Chapters of Racism and Hardship
The Wright Family Faced As Sharecroppers Near Clarksdale,
Mississippi Circa The '40s
Book Includes a Glowing and Empathetic Foreword by Little Richard
Los Angeles, CA — October 5, 2015 — While fans of Soul Music great Charles Wright are accustomed to hearing the singer/songwriter/guitarist shout "Express Yourself " on oldies radio, in movies and dozens of television commercials, the multi-talented messenger has taken up his pen to complete the first in a planned series of autobiographies that detail his profound life story as a southern Black man that miraculously brought himself from poverty to prosperity. The inaugural installment is "Up From Where We've Come," an up-close and intimate telling of the Wright family's profound struggles as sharecroppers near Clarksdale, Mississippi through the 1940s. Written in the raw dialects and rhythms of how Blacks and Whites communicated with each other in the era, it is a riveting insider's glimpse into the realities of the times.
In the Preface to his book, Wright writes, "Some may consider these chapters a vital part of American history which has yet to be told in this particular fashion. "Truer words could not be spoken as the reader receives a series of history lessons from a firsthand account straight out of the memories of a most impressionable and observant youth. Through his hindsight insights as an older/wiser man, Charles Wright imparts knowledge, culture and context in each of the tome's 56 chapters.
Through Wright's eyes, the reader will meet his long put upon father, his wily but loving mother, his young brothers, sisters and cousins, and two different White land owners that overworked and underpaid them all with utmost disrespect to go around. While no one that studies history will find that surprising or enlightening, the personal portrait shared here makes it all the more poignant and real.
Along with the strife and struggles, however, are visions from a wide-eyed child of the natural world around him and the industrial changes happening on that very land. There's the warmth and play of a family co-existing in a shabby home in spite of hard times. And then there's a love story between a woman and a man that blossoms against all odds and challenges as they fight to understand each other, support each other and still find a way to romance each other.
"Up From Where We've Come" emerges as a triumphant and highly unique literary statement from a man whose music has already touched several generations of fans. So powerful are the stories that Wright has not one but four separate Forewords from supporters across the spectrum: California Congresswoman Maxine Waters, Rock 'n' Roll Originator Little Richard, acclaimed Broadcast Journalist Roland Bynum and renowned Music Educator Reggie Andrews.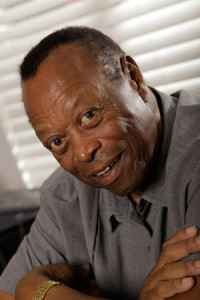 Charles Wright
"I wanted to reveal just how thin the line between sharecropping and slavery really was. It's important to me because I spent a significant part of my life under that regime. I started writing this book 40 years ago. It's something – given the right circumstance – I wish I could have shared long ago…But now is the optimal time because discrimination never went away. Racism simply vaulted to a whole 'nother level. Honestly, in some cases, I'd take the way it used to be over what it is today. The process of systematic racial elimination is extremely ugly to me. I can see it so clearly. I need others to see it, too. So I'm expressing myself."
Charles Wright is a world-renowned musician and songwriter best known as the leader of the '60s-founded Charles Wright & The Watts 103rd Street Rhythm Band and for recording the enduring 1971 classic "Express Yourself " (#3 R&B, #12 Pop – Billboard). The ensemble also recorded the classics "Loveland " (sung by drummer James Gadson who became an ace session musician in Los Angeles), "Do Your Thing " (featuring lead guitarist Al McKay who went on to become a star member of Earth Wind & Fire) and the racial equality anthem "Comment" (also recorded by jazz legend Les McCann, alternative rockers Wilco and others). The Watts 103rd Street Rhythm Band also worked closely with Bill Cosby in its infancy as his backup band for a music album (Silver Throat: Bill Cosby Sings – 1967) leading to The Watts 103rd Street Rhythm Band becoming the first R&B act to succeed on Warner Brothers Records with its self-titled debut LP the same year.
Wright still records Doo Wop, Blues, Soul, Pop and Funk music – now on his own label, A Million $ Worth of Memories Records. His latest CD is Let's Make Love Tonight. He also has a forthcoming CD, tentatively titled Be Careful What You Wish For, featuring the already released first single, "Lookin' For An Ugly Woman! " His company slogan: "True Soul Music Made By Human Beings, Not By Machines." Also among his new recordings is a remix of "Express Yourself," this time tied-in with a cell phone app. Charles Wright has come a long way.
Miles High Productions