NEW VOICES/LISTEN TO NEW MUSIC! Soulful Duo Saun & Starr to Release Debut CD "Look Closer" in U.S. May 19th, 2015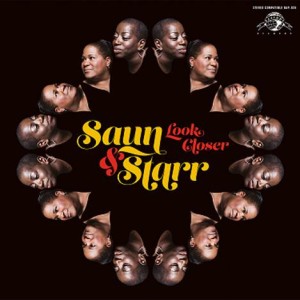 Daptone Records Announce 'Look Closer' Debut Album By Saun & Starr Released May 18th In The UK & May 19th in the US.
Soulful duo Saundra Williams and Starr Duncan became friends when they met at an open mic night in Harlem in the '80s. For the past five years they have sung backing vocals for Sharon Jones & The Dap-Kings.
Now they are ready to take center stage as Saun and Starr, with the release of their debut album 'Look Closer' out in the UK, May 18th 2015.
If you're unfamiliar with The Dap-Kings, they're the Grammy winners from the record label Daptone, and helped Mark Ronson and Amy Winehouse record at least six songs on her album Back To Black in 2008.
First single off their album is 'Hot Shot' with a B Side of 'Look Closer', which premiered online yesterday on Nylon Mag.
'Look Closer' – Tracklisting:
1. Look Closer (Can't You See The Signs?)
2. Hot Shot
3. Gonna Make Time
4. Sunshine (You're Blowin' My Cool)
5. If Only
6. Another love Like Mine
7. Big Wheel
8. Your Face Before My Eyes
9. Dear My Teddy
10. In The Night
11. Blah Blah Blah Blah Blah Blah Blah