Blue Note Records Announces Exclusive New Partnership with Sonos
by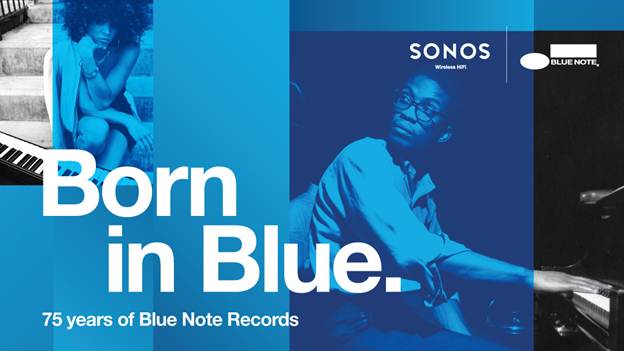 BLUE NOTE RECORDS & SONOS ANNOUNCE EXCLUSIVE PARTNERSHIP
As Blue Note Records continues to celebrate 75 years of The Finest In Jazz throughout 2014, the legendary jazz label is proud to announce an exclusive partnership with Sonos, an innovator in wireless home audio products that let you stream all your favorite music, including some of the greats from the Blue Note archives, to any room in your home in high fidelity sound. Together, we believe in the experience of listening out loud to capture the energy and passion behind some of the most legendary jazz sounds captured over the last 75 years. The partnership – which launches today with a dedicated Blue Note Channel on the Sonos system – will also include a one-of-a-kind Blue Note exhibition at the Sonos Studio in Los Angeles, artist performances, and more exciting news to be announced in the near future. Visit sonos.com.
Sonos listeners can stream 75 years of Blue Note music on the all-new Blue Note Channel powered by TuneIn Radio. The channel features two dedicated Blue Note stations: Blue Note 101 which takes the listener on a tour of the greatest Blue Note tracks spanning 1939 to 2014, and Born In Blue which focuses on the funky gems of the Blue Note catalog that have been sampled by hip hop stars from A Tribe Called Quest to De La Soul to J Dilla to the Beastie Boys. Start listening now by opening your Sonos app and accessing Radio > Blue Note on Sonos.
Blue Note also takes over the Sonos Studio in Los Angeles from September 10 to October 24 for the Born In Blue exhibition, a reimagined record shop that will feature Blue Note artifacts, artist performances, and an interactive installation that allows music fans to immerse themselves fully in the world of Blue Note.
* * *
Sonos® creates the Wireless HiFi System – smart speakers and home audio products that let you wirelessly stream all your favorite music to any room in your home in high fidelity sound. In addition to playing your personal digital music collection, Sonos gives you access to millions of songs and thousands of radio stations by partnering with music services all over the world. Sonos is available from retail partners globally or direct at www.sonos.com. Founded in 2002, Sonos, Inc. is a privately-held company, headquartered in Santa Barbara, California with offices in the United States, Netherlands, United Kingdom, Germany and China.
Blue Note Records was founded on January 6, 1939, when a German immigrant and passionate Jazz fan named Alfred Lion produced his first recording session in New York City. Blue Note has gone on to represent The Finest In Jazz, tracing the entire history of the music from Hot Jazz, Boogie Woogie, and Swing, through Bebop, Hard Bop, Post Bop, Soul Jazz, Avant-Garde, and Fusion, and into Jazz's numerous modern day incarnations under the leadership of Bruce Lundvall, who revived Blue Note in 1984, and the label's current President, Don Was, who took the helm in 2012. Blue Note has renewed its dedication to Lion's original vision that "any particular style of playing which represents an authentic way of musical feeling is genuine expression." In the 21st century Lion's words still ring true and provide a blueprint that includes bringing both legendary saxophonist Wayne Shorter and vibraphonist Bobby Hutcherson back to the label where they made their early classic albums, as well as Robert Glasper's visionary melding of Jazz, R&B, and Hip-Hop and Norah Jones' sonic experiments with producer Danger Mouse. Blue Note Records is one of the flagship labels of the Capitol Music Group.