Legendary Singer Brenda Russell to Release New Single "What Will It Take" on November 17th, 2023 | WATCH NEW VIDEO!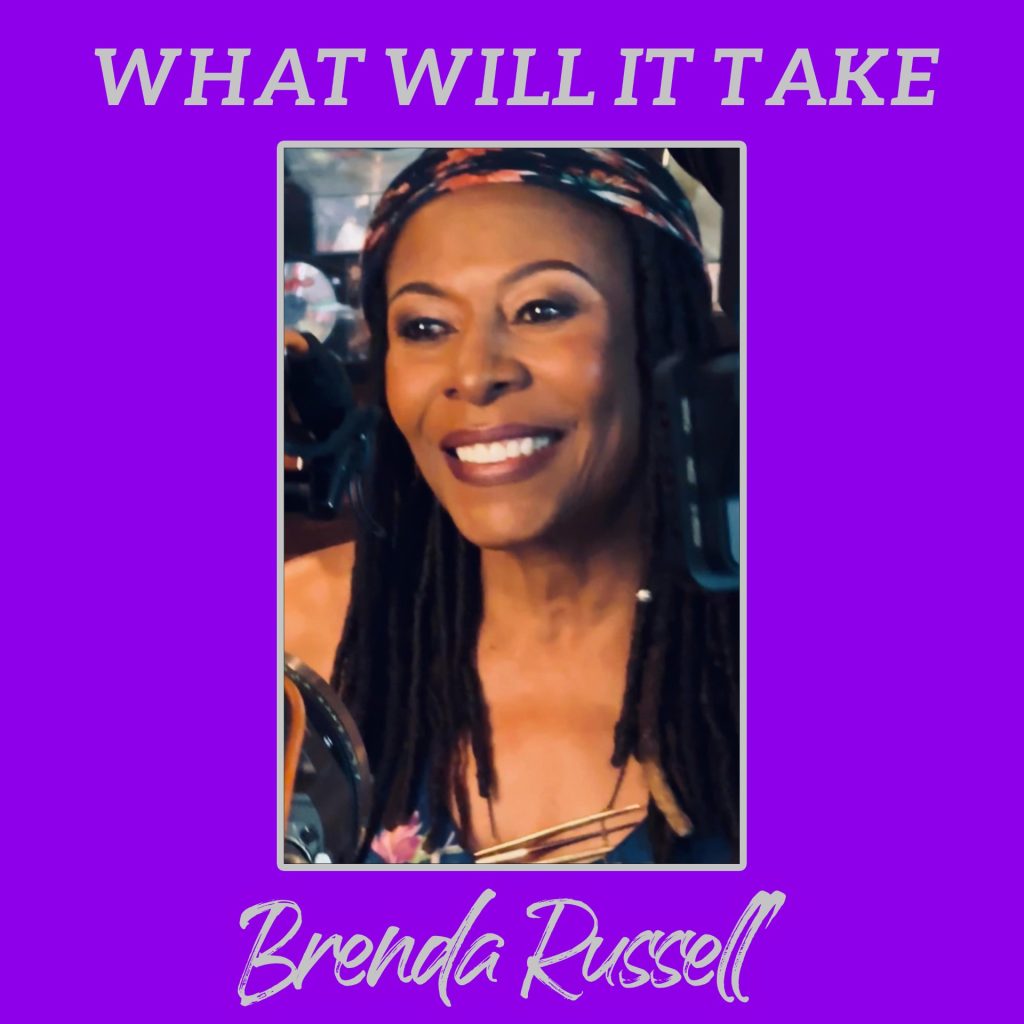 BRENDA RUSSELL
"What Will It Take"
UPDATED NOV. 14TH, 2023: Watch New Lyric Video Below!
In casual conversation reflecting upon Brenda Russell's epic four-and-a-half- decade career as a multiple Grammy nominated singer/songwriter and Tony nominated and Grammy winning co-composer of The Color Purple musical, one of her songwriter friends casually uttered a phrase that captures the essence of her extraordinary multi-faceted artistry: Songpainter. Gearing up to record her highly anticipated first solo album in 20 years, Brenda knew that would be the perfect title – not only defining the impact her songs have had on the world over the years but forging a creative mission statement for all the dynamic works to come.
The project's first lead single "What Will It Take," dropping November 17, is more than just another grand addition to her repertoire of infectious hit singles for herself and other iconic artists. Co-produced with Stephan Oberhoff, whose discography ranges from works with Burt Bacharach, Quincy Jones, Stevie Wonder and Al Jarreau to Brenda's 2000 release Paris Rain, the song is an uplifting and unifying, globally conscious anthem for our time.
Driven by a sonic fusion of pop, R&B, a rhythmic world music aesthetic and a rousing gospel-flavored backing chorus, "What Will It Take" is a clarion call for humanity to reach a higher consciousness that boldly asks, "What will it take for us to be as one?. . .One human race under a mighty sun/What will it take to let the children grow?. . .Into a world where love is all they know?" In the second chorus, Brenda sings lines that ring like both a universal prayer and demand for concrete action: "Let's take the hate, the war, the poverty. . .and give it up for all humanity."
The 2023 release of "What Will It Take" is one of those serendipitous cases of a song truly meeting the perfect moment in this post-pandemic era, where political strife has left people more divided than ever, there is a collective anxiety about our future as a democracy and our news feeds are dominated by two horrifying wars. Ironically, though Brenda's incisive but hopeful message seems tailor made for our time, she originally wrote the song in the mid-90s, a few years after she hit the Billboard Hot 100's Top Ten with her breakthrough trademark hit "Piano In the Dark," which earned Grammy nominations for Song of the Year, and Best Pop Performance by a Duo or Group with Vocals. Her album Get Here was also nominated for Best Pop Vocal Performance, Female; in 1991, Oleta Adams' 1991 recording of the title track "Get Here" was a massive global hit, reaching #5 in the U.S. and #4 in the UK.
Despite Brenda's great career momentum at the time – which also included hitting the Top 30 in the UK with her 1993 album Soul Talkin' – a young publisher who heard her demo for "What Will It Take" failed to appreciate its potential at the time. As she does with many of her songs, the prolific Brenda filed it away but never forgot it. A few years ago, when Brenda began talking about recording again, her astute assistant suggested she revisit some of her older great songs that she had never recorded. When the singer revisited her original home demo of "What Will It Take," she knew immediately she had to record it – and called Oberhoff to bring his studio magic and develop it with her.
"Stephan's a genius and heard everything I wanted to do, with the way he added strings and filled out the production with so many amazing details," Brenda says. "I feel as though I wrote it for the whole world and so the world music vibe fits beautifully. It reminds me of Peter Gabriel's big, powerful productions that I've found so inspiring over the years, just that grand, powerful feeling of hope and positivity. Having enjoyed long careers, when Stephan and I feel something, we don't doubt ourselves. We just go for what we know and create it first for ourselves and our own joy, with the hope that it will then lift and excite others. I hope 'What Will It Takes' inspires and touches people. That's what I always love to do with my music."
Almost like an on-cue blessing from the universe, the gospel children's choir element of the song – which features Brenda's 11-year-old granddaughter Kailah Walker and kids from Brenda's neighborhood in the Austin TX area – reached fruition through a seemingly chance meeting. Attending a Patti Labelle and Gladys Knight concert, the singer struck up a conversation with the lady next to her, who told Brenda that she was a local music teacher who worked with kids. Brenda ultimately chose four of them to elevate the session, which was coordinated by Brenda's daughter, singer Lindsay Walker, who has toured with Smokey Robinson and is a member of the local group The Country Worms.
One of the unique and enduring blessings of Brenda's professional life has been her Tony and Grammy Award winning collaboration (with fellow hit songwriters Stephen Bray and the late Allee Willis) on the musical The Color Purple. The musical, whose original Broadway production ran from 2005 to 2008 and earned eleven Tony nominations, is based on Alice Walker's Pulitzer Prize winning 1982 novel and its Steven Spielberg-directed 1985 film adaptation. Brenda earned a Tony nomination for Best Original Score. A critically acclaimed Broadway revival in 2015 earned two Tony Awards – including Best Revival of a Musical and Best Actress in a Musical (Cynthia Erivo). Brenda won her first Grammy for Best Musical Theatre album in 2016.
Brenda, Stephen Bray and Grammy winning, twice Oscar nominated songwriter Siedah Garrett (taking over for the departed Willis) recently joined forces to work on updated versions of several songs (including "Shug Avery Coming ToTown") for the upcoming musical film adaptation of The Color Purple. The film, set for a Christmas 2023 release, is directed by Blitz Bazawule and produced by Spielberg, Quincy Jones and the stage musical producers Scott Sanders and Oprah Winfrey. The film's stars include Taraji P. Henson, H.E.R. and Fantasia Barrino, who is reprising the role she played on Broadway in 2007-2008.
"Thirty-five years ago, in the middle of me doing my thing as a pop singer and songwriter, my mom suggested I write a Broadway show," Brenda says. "I said, 'Sure, mom,' never thinking the opportunity would arise many years later. What a joy it was to work with Allee and Stephen. The most exciting part of being involved in The Color Purple was watching these young performers rehearse our songs and their dances. It was so amazing and exhilarating to watch them work so hard. It was also a major challenge compared to being a pop songwriter, because artists who want to record your songs don't usually request constant rewrites and changes – and the art of rewriting is what Broadway composing is all about!"
When people assess Brenda's overall career, her success as an artist – which began with her self-titled debut and Billboard Top Ten Adult Contemporary Hit "So Good So Right" in 1979 – and with The Color Purple often overshadows the songs she wrote that were hits for other artists. Beyond Oleta Adams' "Get Here," Brenda's songs have been recorded by Luther Vandross ("If Only for One Night"), Donna Summer ("Dinner with Gershwin"), Babyface, The Manhattan Transfer, Patti Austin, Ruben Studdard and Ramsey Lewis. Her tunes have also been sampled by everyone from Janet Jackson and 2Pace to Chance the Rapper and Ariana Grande. In 2000, Brenda was tapped to write an English lyric to tune by Ivan Lins tune that was part of a Jason Miles produced all-star tribute album A Love Affair: The Music of Ivan Lins. The track, "She Walks This Earth," earned Sting a Best Pop Vocal Grammy in 2001.
"As a singer, songwriter and musical composer, I want to be remembered for being uplifting. People have enough to be depressed about in this life and I just want them to hear my songs, feel good and rise up. I'm excited that 'What Will It Take' will now have the opportunity to do just that."
Tom Estey Publicity & Promotion