Contemporary Jazz Saxophonist Carl Cox to Release New Album "Universal Language" on Oct. 13th, 2023 | LISTEN!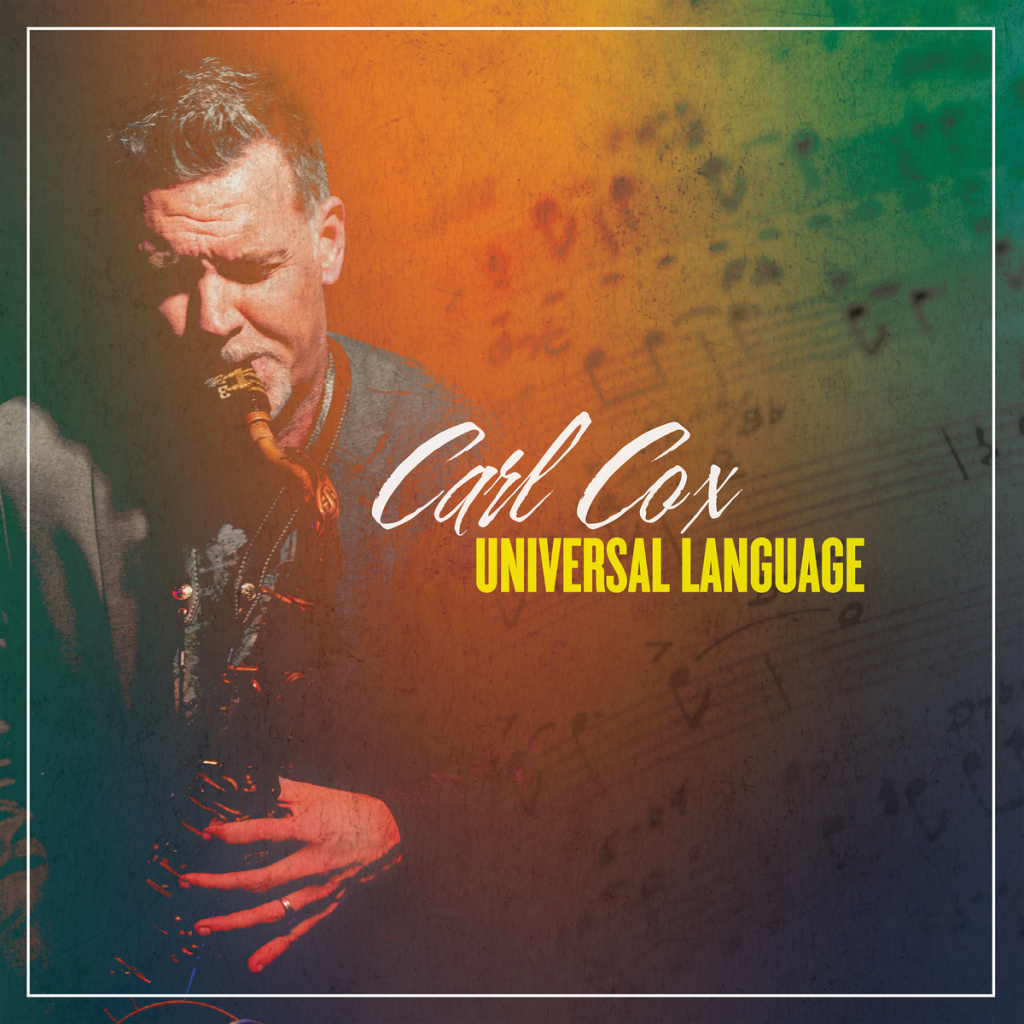 Contemporary jazz saxophonist Carl Cox uses music to connect "In Time of Need"
Two new songs will be added to the "Universal Language" album, arriving October 13.
TURNERSVILLE (23 August 2023): Henry Wadsworth Longfellow wrote that "Music is the universal language of mankind," and during recent Ukrainian bombing raids, a man named Yuri found solace listening to contemporary jazz saxophonist Carl Cox's music on an old cell phone. Through Facebook, he found and messaged Cox to tell him his story, and how he was introducing the South New Jersey-based musician's music to others seeking safe shelter with him. The experience moved Cox to write a bonus song for his "Universal Language" album titled "In Time of Need." The project drops on October 13.
Whereas most of the album – all originals cowritten by Cox – is an up-tempo blend of jazz, R&B and funk, "In Time of Need" reflects its origins. The heartfelt ballad offers a reassuring caress provided by an intimate soprano sax and acoustic guitar melody with soothing string accents that kindle feelings of peace and hope for the future.
Cox spent the last year working on "Universal Language," his sophomore album. The majority of the project was produced and co-written by two-time Grammy nominee Chris "Big Dog" Davis (Will Downing, Dave Koz, Rick Braun, Gerald Albright) with one cut, the high-energy "Get It," produced and co-written by twelve-time Billboard chart-topping guitarist Adam Hawley. Over the last twelve months, Cox dropped three singles from the set that garnered most added status on the Billboard chart and were added to the SiriusXM Watercolors playlist – "Breakin Away," "Stickwidit" and "Can't Hurry Love."
Without fanfare, Cox soft-launched "Universal Language" in April, but he feels that "In Time of Need" makes the album complete. That's why he added the song to an updated version of the collection, which becomes available on October 13. And since he was adding more music to the bonus version of the album, Cox threw in a second brand new track, "Be Mine." A recent collab with Davis, this one is a sensual romancer that builds in intensity.
"'Universal Language' was a labor of love for me and Yuri showing up in my DMs was really an unexpected gift that confirmed my intensions for this project. From the start, the concept of the album was to connect with anyone in the world. I often tell my music students that music is the universal language that can be spoken immediately through one's instrument without having to say a spoken word. A variety of standards can be sung or played with about any musician in the world simply by quoting the melody or harmony. I have had the ability to play with a variety of groups from other countries and we always connect when our instruments are played together on stage. That's the concept that I wanted to bring to my listeners and hopefully have anyone in the world connect through this instrumental music," said Cox, who has concert dates booked through the end of the year with his own band and as a featured soloist alongside Maysa, Oli Silk and Gerald Veasley.
The album opens powerfully with "Breakin Away," a tip of the cap to the David Sanborn-Marcus Miller contemporary jazz era while breaking away from the restrictive confines of music genres. Cox rips boundary-bursting sax licks over a funky groove amidst diverse harmonic elements skillfully deployed by Davis.
Sharing the encouragement from one of his teachers, Cox says that the optimistic "Stickwidit" is about never giving up on your chosen path.
"He said, 'If it is to be, it is up to me.' That wisdom instilled in me early on that I should be proactive and take action to create the life I want instead of just reacting to circumstances," Cox recalled.
The mood takes on exotic Latin qualities on "Can't Hurry Love," on which Cox's sax sambas in a cascading duet of harmonies and melodies to symbolize the interweaving emotions between romantic partners.
Cox teamed up with longtime friend Steve Tirpak (Jay-Z, Erykah Badu, Lana Del Rey) for "Reminisce," a lush and interestingly textured drums and bass R&B groove not typically heard in contemporary jazz.
"The song title embraces the times Steve (Tirpak) and I shared as young musicians at University of the Arts in Philadelphia trying to learn and share ideas in the music idiom," explained Cox.
Cox continues to take chances on "Risk," testing the limits of how contemporary jazz is defined. He wrote the upbeat dance track with multi-instrumentalist Damon Bennett (Jill Scott, Jazmine Sullivan, Floetry), with whom he previously collaborated on his 2021 debut album, "Thankful."
Paying homage to British soul-jazz band Incognito with whom Cox toured in the U.S., "Universe of Love" beams radiant light and joyous energy. The band's leader, Bluey, performed on the title track of Cox's "Thankful."
"I was so overwhelmed by Bluey's caring and nurturing personality on the tour. He would always treat people with respect and love, hence the song title 'Universe of Love,'" said Cox.
A summer trip with his wife and son inspired Cox to write "Cape May," named for the popular Jersey seaside resort destination. It's another joint that he wrote with Bennett which has neo soul nuances.
"Red Light" stops for nothing. While Cox explains its origins as representative of red-light districts, this track also possesses an undeniable Marvin Gaye party vibe.
Symbolic of how our senses can instantly take us back in time, richly evoking cherished memories, Cox and Bennett unite again on "Evanescence."
The tempo of "Morning Sunrise" sets an empowering mood.
"I wanted to bring energy to get the day started with an upbeat, fresh feeling to take on the world!"
Cox, who has a master's degree in music education and has shared the stage with Smokey Robinson, hit the Billboard top 30 with the single "Elevation" from "Thankful." Recently, he hit one million plays on Apple Music and anticipates growing with the bonus edition of "Universal Language."
The bonus version of "Universal Language" contains the following songs:
"Breakin Away"
"Stickwidit"
"Can't Hurry Love"
"Reminisce"
"Risk"
"Universe of Love"
"Cape May"
"Get It"
"Red Light"
"Evanescence"
"Morning Sunrise"
NEW BONUS TRACKS:
"In Time of Need"
"Be Mine"
For more information, please visit https://carlcoxsax.com and https://carlcox.hearnow.com/universal-language-2.
Great Scott P.R.oductions