Vocal Supergroup säje Releases New Single/Cover "I Can't Help It" | WATCH NEW VIDEO!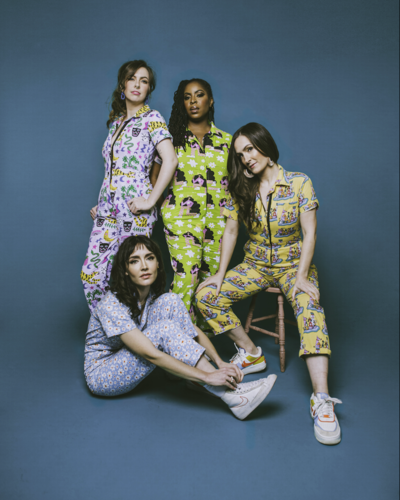 GRAMMY®-Nominated Vocal Supergroup säje
Shares Playful Live Video for "I Can't Help It"
Self-Funded, Self-Produced, Self-Released Debut Album Out Now, Debuted In Top 3 on Billboard Jazz Charts
September 15, 2023: GRAMMY®-nominated vocal supergroup säje shares the music video for their cover of Stevie Wonder's "I Can't Help It" from their self-titled debut album, released last month. Recorded live, the high-energy music video finds the women passionately performing the song in colorful jumpsuits with the backdrop of a studio fit for a party. Featuring Snarky Puppy's Bob Reynolds on soprano sax, Dawn Clement on piano, Anna Butterss on bass and Christian Euman on drums, the clip earned raves from WRTI who said, "The intricacies of the arrangement…feel true to the musical language of Stevie Wonder." The track comes from the group's self-titled, self-funded, self-produced and self-released debut full-length, which debuted atop multiple Billboard Charts: #2 Top Contemporary Jazz Albums, #3 Top Jazz Albums, #47 Top Current Album Sales, #81 Top Album Sales and #21 Emerging Artists Charts. säje is made up of Los Angeles-based Sara Gazarek and Erin Bentlage and Seattle-situated Johnaye Kendrick and Amanda Taylor.
"I remember hearing Amanda's arrangement of this iconic Stevie Wonder song in the beginning stages of this group," shares Gazarek. "It taught me what a total beast she is as a composer and contemporary vocal arranger. But hearing her solo at this video shoot really showed me what an incredible vocalist and interpreter she is. The rhythmic and melodic complexity, variety of textures and fun with which she buoyantly dances around the song is a marvel!"
The new LP includes "Desert Song," säje's first-ever composition that earned a GRAMMY® nomination in 2020, and the single "In The Wee Small Hours of the Morning" featuring Jacob Collier. The ten tracks are rounded out by other finely wrought originals, reimagined jazz standards and inventive interpretations of contemporary tunes by YEBBA, The Bad Plus and The Beatles. In addition to Collier, Clement and Euman, guests on the album include vocalist Michael Mayo, trumpeter Ambrose Akinmusire, drummer and NEA Jazz Master Terri Lyne Carrington, tenor saxophonist Daniel Rotem and bassist Ben Williams.
When a jazz ensemble earns a GRAMMY Award® nomination with its very first song and the John Lennon Songwriting Contest Grand Prize for its second composition, something unusual is in the works. Magic is a word that comes up often when the women of säje talk about the group's founding and evolution, and the story of their first single, "Desert Song," has attained near legendary status. Early in the group's journey, the women took a retreat in Palm Springs where they formed closer bonds and experienced a creative breakthrough. This energy resurfaced when they had the opportunity to perform at the Jazz Education Network Conference in New Orleans, which then led the women to quickly create an entire set of new material, much of which makes up the debut album.
When you look at the accomplishments of the women in säje, their individual virtuosity and singular chemistry starts to make sense. Erin Bentlage has been featured on albums by Jacob Collier (Djesse Vol. 3), Kiefer (When There's Love Around), Kate McGarry (What To Wear In The Dark) and Amber Navran (their collaboration Golden Light). Amanda Taylor is a Grammy-nominated arranger known for her work with leading vocal ensembles, including Groove for Thought, The Manhattan Transfer, Chanticleer and Kings Return. Johnaye Kendrick has honed a deep repertoire of originals and inventively arranged standards, jazz tunes and contemporary pop songs, having released two albums on her record label johnygirl, 2014's Here and 2018's acclaimed Flying. Sara Gazarek is a two-time GRAMMY® nominee for her solo albums, and is widely considered one of her generation's definitive jazz vocalists.
Photo Credit: Lauren Desberg
Follow säje:
Missing Piece Group