Jazz Vocalist Lenora Zenzalai Helm and Her Tribe Jazz Orchestra® Nonet Releases New Album "Journeywoman" | LISTEN!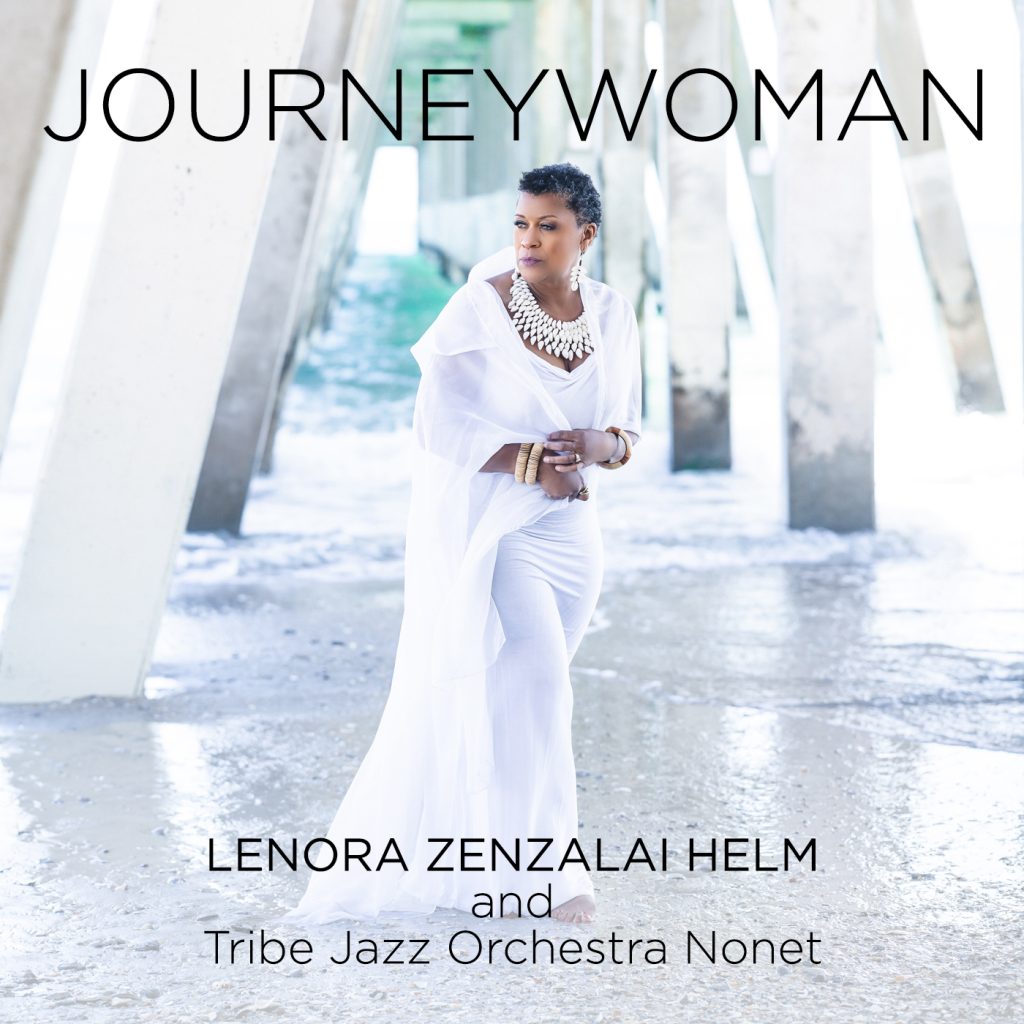 The Award-Winning, Jazz Vocal Musician, Composer, Lyricist and Educator Lenora Zenzalai Helm and Her Tribe Jazz Orchestra® Nonet Unveil JOURNEYWOMAN,
Her New Album Chronicling the Challenges and Triumphs of Black Women
Chicago-born, Durham, North Carolina-based Dr. Lenora Zenzalai Helm is a top-notch jazz vocal musician, an ebullient composer, an inventive lyricist, an inspiring bandleader and a dedicated educator at North Carolina Central University (NCCU). Helm encompasses all of the inventions and dimensions of jazz and the African Diaspora on her new recording, Journeywoman, featuring her Tribe Jazz Orchestra® Nonet. Helm's new CD, her eighth as a leader, is a compelling 65-minute, multi-movement 12-track work, where she sings about the life of an allegorical woman named Journey, and her struggles with abuse, birth, death, self-definition and her victories through self-love, perseverance and affirmation.
"The songs are all about many women that we know," Helm says. "Journeywoman is that archetypal woman, every woman. So, the stories that are in it, have happened to somebody you know, once or twice removed, or yourself, in all of the ways that the lyrics unfold."
Recorded in 2022, on her Zenzalai Music Records label, Helm originally composed Journeywoman in 2003, for a commission for Chamber Music America's New Jazz Works grant (the first African American female vocalist recipient,) funded by the Doris Duke Charitable Foundation, and for the next two decades she augmented and rearranged the work into its current form, buoyed by the perspective of time. "It took me 20 years to really sing all the music," Helm asserts, "because when I first wrote it, it was fresh off the plate. But [being] the woman that I am now, I'm able to really express and sing the music."
Helm's Tribe Jazz Orchestra®, founded in 2019, is configured into a harmonically nuanced and rhythmically nimble, nine-piece nonet consisting of several NCCU educators and local musicians including pianist Ernest A. Turner, II, guitarist Baron Tymas, bassist Natalie Boeyink, drummer Thomas E. Taylor, Jr., tenor saxophonist/spoken word artist, Salome Serena Wiley Bey, soprano/alto saxophonist/flutist Dexter Moses, trumpeter Al Strong, trombonist Robert Trowers and cellist Timothy Holley. "I love the musicians here in the Southeast, where I'm living," Helm notes, "because they have that combination of the influence of the church, and the whole [Afro] Diasporic value in their approach to anything that they're playing."
The nonet supports Helm's soulful storytelling, in ballad, mid and uptempo 4/4 swing, waltz time, Latin and tone poem settings. "Earth Transitions I-II," are evocative wordless vocals. Older versions of "Beauty," which is about Helm's grandmother, the autobiographical "Tears Are a River (That Take You Someplace)" and "Huntress Too," were originally recorded on Helm's, 2003 CD, I Love Myself When I'm Laughing… and are reincarnated on Journeywoman. "Sweet Sixteen" is a heartbreaking tale of sexual violation and revenge anchored by Caribbean cadences. "Stay Out," is powered by an anthemic ostinato, grooving backbeat and complex, shifting time signatures with a spoken word piece penned by 14-year-old Nefertiti Ashanti Martin of Harlem.
"Baby Knows a Secret" moves with an after-hours, "late show" vibe. The stop time swing of "Sister Joy" makes it the perfect bookend to Betty Carter's "Tight," "Divine One" rings with a florid impressionism, while "Full Knowing" is a peaceful pastoral instrumental composition. The CD concludes with the title track, complete with bossa nova echoes of the seventies works of Freddie Hubbard, Doug & Jean Carne and Horace Silver.
Helm draws compositional inspiration from Mary Lou Williams' earthy blues and Duke Ellington's "economy of space and complex ideas" on "Divine One." Helm also took inspiration from her pianist/composer/educator mentor Andrew Hill's use of time-shifting rhythms on. "Journeywoman," "Stay out," and "Baby Knows a Secret." Another keyboard mentor Stanley Cowell, co-founder of the influential independent Strata-East label, encouraged Helm to fully develop her vocals. "He was always someone who I could turn to for advice, a listening ear, support and encouragement," Helm recounts.
A lover of literature, Helm is also influenced by writers including Alice Walker and Toni Morrison, and by how poets "work in meter and timbre and tone and the same way that [most] musicians follow a chord structure as improvisers. Whenever I feel at a loss for inspiration, I read poetry. I like the poets who don't try to rhyme, like Nikki Giovanni or Gwendolyn Brooks, who is one of my favorite poets and is also from Chicago. I like when poets tell a story, and the words are these amazing pictures."
Helm was especially inspired by poet Sam White, whom she met when she won a fellowship to the MacDowell Colony, the oldest art colony in America, where White, showed her his poem, "The Goddess of the Hunt Is Not Herself," which she adapted to "The Huntress Too." "That particular poem just struck me …" Helm says, "'the goddess of the heart is not herself. She's tired. Having waited, having sniffed around surgically, all her arrow's quiver with nothingness…' I was like, wow! And I wrote that song in one sitting."
Helm's multivariate gifts have enabled her to be one of the most vibrant and vital artists in the last four decades. Her previous recordings include Spirit Child (1999), Precipice (2002), Voice Paintings (2003), and For the Love of Big Band, with the Tribe Jazz Orchestra (2020). A native Chicagoan with Louisiana Creole roots, Helm grew up in a musical family listening to everything from soul, jazz and R&B, rock and pop. She started singing and later learned to play organ, piano, guitar and trumpet at the age of eight, sang in choirs and played all types of music in bands in high school.
Turning the oft-quoted cliché, "those who can't do, teach" on its head, Helm's exceptional work as an educator has enriched her as a musician. "When you teach, you learn twice," Helm declares. "I learned more about my voice. I learned how to execute the ideas with my voice. I learned how to execute the ideas I had harmonically, because I had been teaching them. I had been teaching improvisation, I had been teaching composing. I had been teaching being a bandleader. And so being an educator, helped me to hone my skills so that my musicianship could be more expressive and have clarity."
Which brings us to Journeywoman, Lenora Zenzalai Helm's moving and masterful Magnum Opus. As she wrote in her poem for the CD:
"I sing, I compose, I teach, I write.
I am the ancestral daughter of slaves,
of healers, of survivors, of dreamers
who were entrepreneurs and sage leaders.
I am a stepmom, godmother, auntie-mom,
grandmother, great-grandma, Wife,
Sibling, Aunt, Friend, Woman, Human…."
Lenora Zenzalai Helm is all that and more. http://www.lenorahelm.com
Carolyn McClair Public Relations