Pianist Joey Alexander to Release New Project "Continuance" on Nov. 3rd, 2023 | LISTEN to New Single "Blue"! Announces New Tour Dates for 2023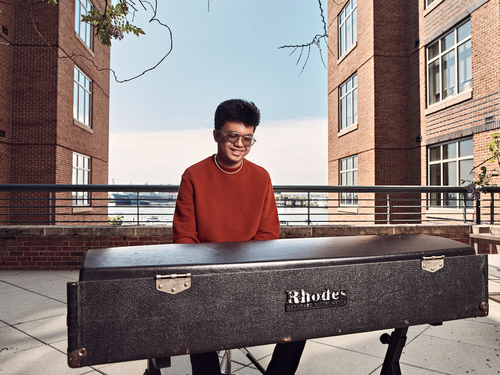 Joey Alexander Announces Continuance
Out November 3rd via Mack Avenue Records
On His New Album the 20-Year-Old Jazz Pianist Firmly Establishes Himself as a Gifted Composer with His Touring Band and Special Guest Trumpeter Theo Croker
Listen to the First Single "Blue"
September 12th, 2023: Today, GRAMMY®-nominated Joey Alexander announced his seventh album Continuance, out November 3rd via Mack Avenue Records. It is the first album that the Bali, Indonesia-born pianist, composer and bandleader has recorded with his regular touring trio of Kris Funn on upright bass and John Davis on drums, a group with whom he has played hundreds of gigs over the past four years. They are augmented on four tracks by GRAMMY-nominated trumpet player Theo Croker, including the album's first single "Blue," which was released today.
"The blues inspired the song…the composition and the solos both have blues elements," Alexander explains of "Blue," the album's opener, and one of the five originals. "But I named it 'Blue' for another reason. Blue is a tranquil color — it's calming. At the same time, I wanted this song to have high energy. So it has both qualities at the same time."
Alexander has been widely regarded as one of the most highly skilled pianists and thoughtful improvisers in jazz. Continuance, however, presents him primarily as a composer of haunting chamber jazz who leads an ensemble with its own point of view. Continuance shows his writing and playing have continued to deepen. Talking about his growth as a composer, Joey cites inspirations from outside the jazz world, including Ennio Morricone, John Mayer, Burt Bacharach and, perhaps surprisingly, even Bonnie Raitt — Continuance features Alexander's rendition of Raitt's "I Can't Make You Love Me."
Joey Alexander has been performing professionally since 2013 when Wynton Marsalis invited him to perform at the Jazz at Lincoln Center Gala. Alexander subsequently moved to New York City and released his debut album, My Favorite Things, in 2015 on Motéma Music, followed by three more on the label, a fifth on Verve as well as his Mack Avenue debut album, Origin, in 2022. Alexander's albums have netted three GRAMMY® Award nominations: one for Best Jazz Instrumental Album (My Favorite Things) and two for Best Improvised Jazz Solo ("Giant Steps," from My Favorite Things, and "Countdown" from the album of the same name), with My Favorite Things and Countdown securing the No. 1 spot on the Billboard jazz charts and Eclipse coming at No. 3.
Over the course of his astonishing career, Alexander has performed with Wayne Shorter and Esperanza Spalding at the Obama White House, for President Bill Clinton at the Arthur Ashe Learning Center Gala, at the Grand Ole Opry, the Apollo Theater, Carnegie Hall, and at major jazz festivals and nightclubs around the world with top-shelf collaborators like Larry Grenadier, Kendrick Scott, Chris Potter and many others.
Photo Credit: Roy Cox
Tracklisting
1. Blue
2. Why Don't We
3. Hear Me Now
4. I Can't Make You Love Me
5. Zealousy
6. Great Is Thy Faithfulness
7. Aliceanna
Tour Dates:
October 13: Jimmy's Jazz & Blues Club | Portsmouth, NH
October 14 – 15: Yoshi's Oakland | Oakland, CA
October 22: Clearwater Jazz Holiday | Clearwater, FL
November 3: Door Community Auditorium | Fish Creek, WI
November 10 – 11: Jazz Forum | Tarrytown, NY
November 17 – 18: Blues Alley | Washington, DC
November 24 – 26: The Side Door Jazz Club | Old Lyme, CT
January 18, 2024: Kuumbwa Jazz Center | Santa Cruz, CA
January 19, 2024: Bing Concert Hall | Stanford, CA
Follow Joey Alexander:
Missing Piece Group