Darrell Grant's MJ New to Release New Album "Our Mr. Jackson" on Oct. 6th, 2023 | WATCH NEW VIDEO!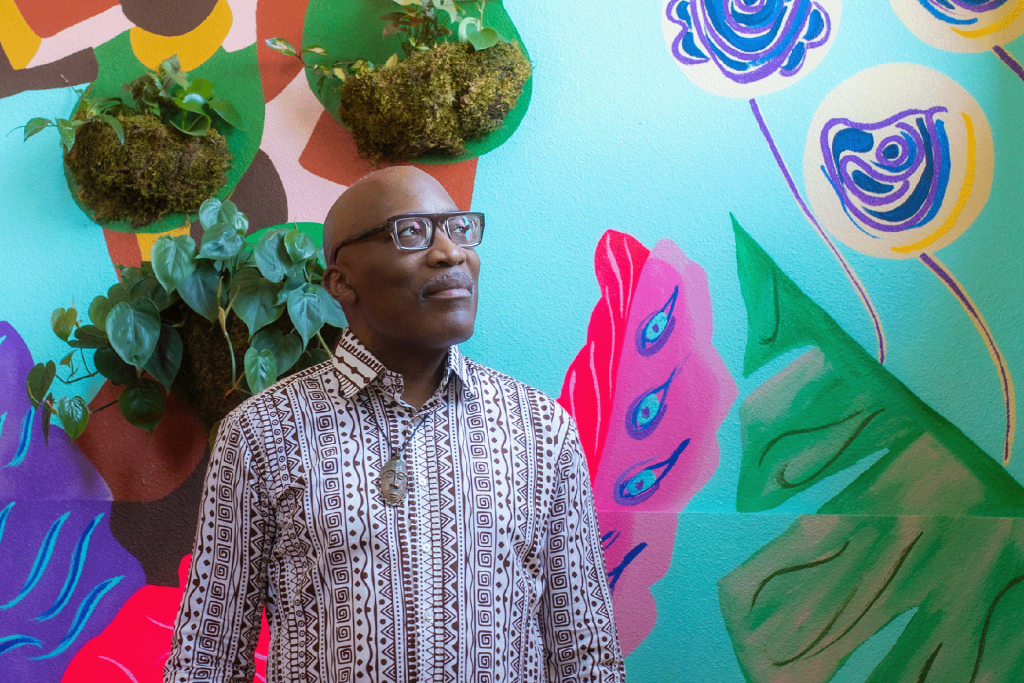 PIANIST AND COMPOSER DARRELL GRANT BUILDS ON THE FAR-REACHING LEGACY OF THE MODERN JAZZ QUARTET WITH OUR MR. JACKSON
AVAILABLE FROM LAIR HILL RECORDS
Release Date: OCTOBER 6, 2023
(CD, vinyl and all digital platforms; preorder now live on Bandcamp)
Featuring DARRELL GRANT'S MJ NEW:
Darrell Grant (piano), Mike Horsfall (vibraphone), Marcus Shelby (bass),
Carlton Jackson (drums)
In 2013, when pianist Darrell Grant was approached by the Portland Jazz Festival to plan and perform a tribute concert to the Modern Jazz Quartet, he rose diligently to the occasion. The band he put together, MJ New, featured vibraphonist Mike Horsfall, bassist Marcus Shelby and drummer Carlton Jackson — a lineup so strong that it persisted well beyond that one gig.
In November 2018, the group was finally able to enter the studio to make its debut album. But tragically, in July 2021, with the record still in the can, Jackson passed away at age 60. A fixture of Portland jazz as a drummer and radio host, Jackson can be heard playing his heart out on the long-awaited Our Mr. Jackson, now a moving tribute not just to the MJQ but to him as well. (Cecil Brooks III, not heard here, is the group's current drummer.)
To that end, Grant cast a wide net in terms of repertoire. In the mix are his own originals ("Crossing the Bridge: Vanport," "A Viennese Affair" with nods to Beethoven's Für Elise and Gigi Gryce's "Minority"); compositions by Ellington and Mary Lou Williams ("Drop Me Off in Harlem," "Cancer" from the Zodiac Suite); an adaptation from Franz Schubert's String Quintet in C major ("Adagio"); a melange from Bach's French Suites and Jobim's "Agua de Beber" ("Bach to Brazil"); an incisive take on the always swinging "Surrey with the Fringe on the Top"; and a gorgeous reduction of a Terence Blanchard orchestral piece, "Wading Through," from 2007's A Tale of God's Will: Requiem for Katrina.
"When the MJQ made their music," says Grant, "they were in that moment, but when I revisit these ideas I have the benefit of another 45 or 50 years of musical history that they didn't, so I want to draw on that. I want to draw on the jazz renaissance of the '90s that I was a part of. I want to draw on the harmonic explorations that came through from jazz's continuing evolution. It would be disingenuous to repeat what they did without referring to our time."
Formed in 1952, the Modern Jazz Quartet was easily one of the longest running groups in jazz history, undergoing only one change of personnel in 45 years. Pianist and musical director John Lewis, vibraphonist Milt Jackson, bassist Percy Heath and drummer Connie Kay (who replaced Kenny Clarke) had an overarching goal: to present jazz on an even playing field with concert music. They were pioneers of what came to be called Third Stream Music, as their 1960 album for Atlantic was titled.
As such, they were heirs of a long tradition of Black musicians seeking to cross racially coded musical boundaries. "The MJQ came out of the spirit of the Harlem Renaissance," Grant says. "African Americans were creating at the highest intellectual capacity, really expressing themselves." Grant is an heir to this tradition in turn, composing long-form suites, a chamber opera, multimedia works and more, along with his ongoing activity as a top jazz instrumentalist.
On Our Mr. Jackson, the MJQ is directly represented with John Lewis' highly contrapuntal rhythm-changes variant "Versailles"; Milt Jackson's canonical blues "Bag's Groove" (with a spacious interpolated vamp and a fine Carlton Jackson drum feature); and an evocative treatment of "Autumn in New York," which appeared on the MJQ's seminal 1956 Prestige release Django. "My whole arrangement is based on this two-bar introduction that they do and then never come back to," Grant says. "I thought that intro feel could sustain the whole piece. That sense of impressionism and moodiness was inspired by that."
"Crossing the Bridge: Vanport" is the second movement of a suite that Grant wrote soon after moving to Portland from New York in the late '90s. "Vanport was a company town built by Kaiser Shipbuilding during World War II, and it was an integrated city, even though historically Portland was segregated. But on Memorial Day in 1948 it was destroyed in a historic flood. Everyone had to 'cross the bridge' and go back to segregation. That's the theme of the suite, and I thought this movement would be great for the group."
When Grant thinks of the MJQ at its best, he says, "it's this mixture of contrasting elements in conversation with one another. The thing for me is counterpoint, the meeting of independent voices. It's something I'm always after, so to have the band focus on that on the model of the MJQ was a lot of fun, and we tried to do it on every track. Musically there's so much excitement. The ability to take responsibility, and to lead and follow in a very strategic way, I think is unique. I love how playful and high-level those conversations are."
Fully Altered Media