Non-Profit Production House xPropelr Calling Creatives for New Project "Dreaming Freedom"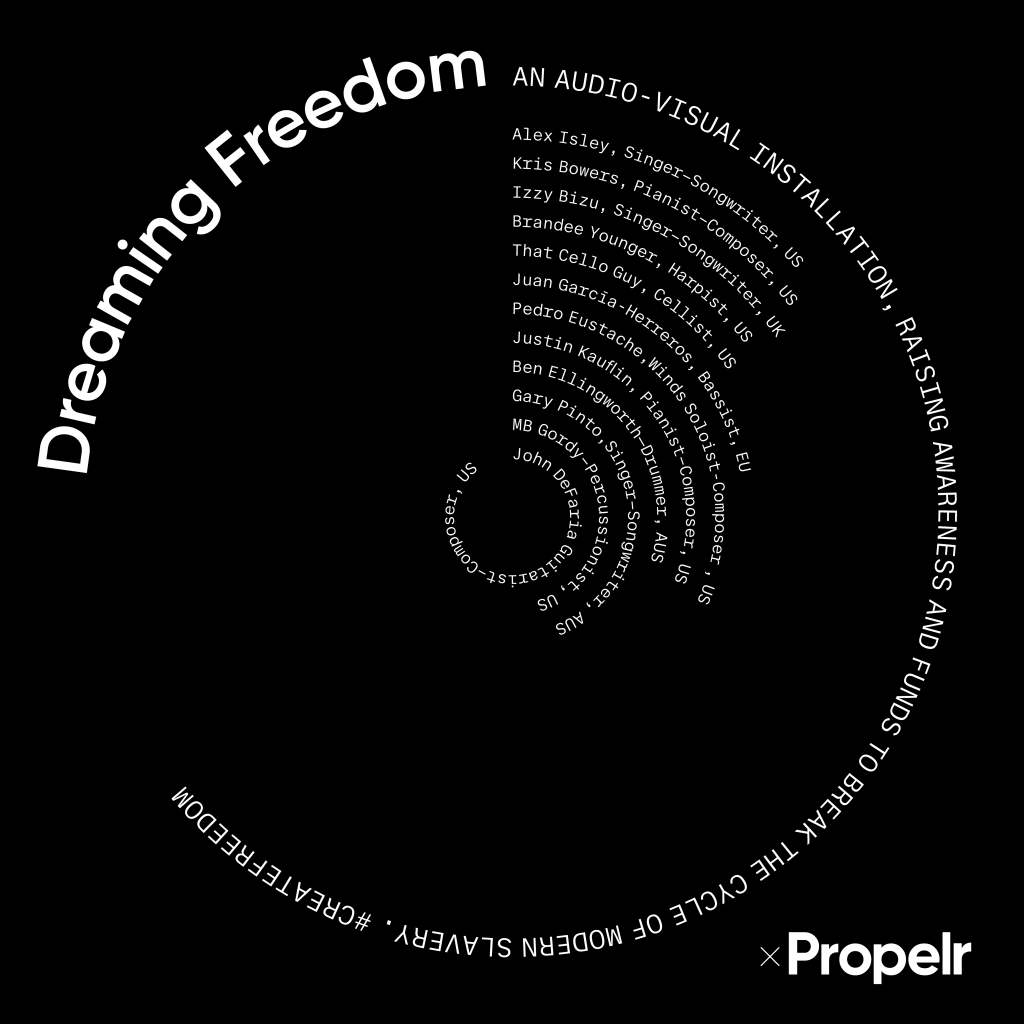 Calling creatives from across the globe to collaborate to help end modern slavery
New non-profit production house xPropelr, that inspires and connects creatives globally to collaborate to help end modern slavery, has begun its call for seasoned orchestral musicians and singers to audition from August 21 to September 8, 2023, for its inaugural creative project, Dreaming Freedom.
xPropelr want to connect creatives from across the globe to perform on a studio recording that will be transformed into an immersive audio-visual art installation to sonically disrupt, educate and raise awareness that modern slavery still exists, while raising funds to break its force. The installation will appear in pop-up locations in key cities and will be available for digital streaming on October 27, 2023.
"While slavery is not a new issue in our world, more than 40 million are living through it today. That's more than ever before in history. Yet many don't know how astronomical this issue is and how it impacts our everyday lives. Therefore we need something creatively disruptive to educate and inspire people to help tackle the problem." Tammy Ari, Founder & CEO, xPropelr
xPropelr have already secured leading artists such as Alex Isley (touring artist with Kendrick Lamar+), Kris Bowers (composer for Green Book, Space Jam: A New Legacy, Bridgerton+):, Izzy Bizu (touring artist with Coldplay+) , Brandee Younger (harpist for John Legend, The Roots, Lauryn Hill+), That Cello Guy (former principal cellist, Nashville Philharmonic Orchestra), Juan García-Herreros (bassist for Hans Zimmer, Dune+), Pedro Eustache (winds soloist for Sir Paul McCartney, John Williams+), Justin Kauflin (Quincy Jones Productions), Ben Ellingworth (Aria award winning drummer for Illy and Gflip), Gary Pinto (award winning & multi platinum selling vocalist), MB Gordy (Grammy award winning percussionist), and John DeFaria (guitarist for Gloria Estefan, David Foster, Kenny Loggins+), to record on Dreaming Freedom.
Now xPropelr is calling on experienced orchestral musicians and singers from across the globe, to record on the Dreaming Freedom project alongside these incredible artists. Creatives can virtually apply and audition to join the project from August 21 to September 8, 2023 here: xpropelr.org/projects.
Funds raised from the Dreaming Freedom project will be directed to International Justice Mission (IJM), to help support their work in the rescue, restoration, protection and prevention of children trapped in modern slavery.
"We are truly excited to partner with xPropelr, because we believe that it takes something creatively unique to bring attention and light to a very dark issue that mostly continues to remain in the shadows." Bianca Bryson, Chief Marketing & Partnerships Officer, International Justice Mission
xpropelr.org
Olivia Long