The Count Basie Orchestra to Release Star-Studded New Project "Basie Swings The Blues" on Sept. 15th, 2023 | LISTEN to New Single "I'm A Woman"!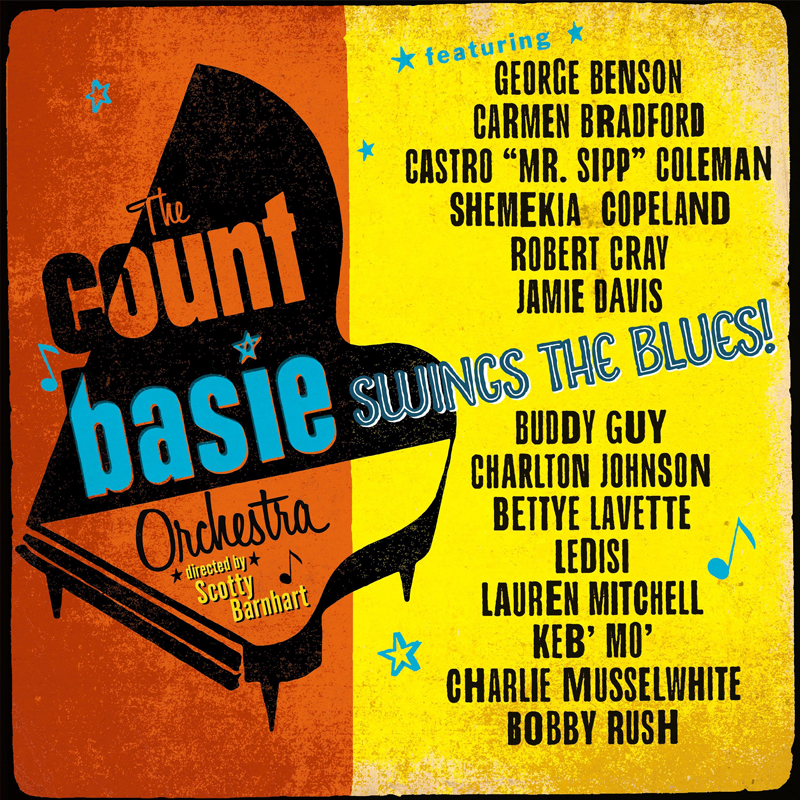 Blues Icons Join The Count Basie Orchestra For Historic Recording
THE COUNT BASIE ORCHESTRA
Directed by Scotty Barnhart
BASIE SWINGS THE BLUES!
Available Sept. 15, 2023
With Buddy Guy, Bobby Rush, Keb' Mo', Robert Cray, George Benson, Shemekia
Copeland, Ledesi, Mr. Sipp, Lauren Mitchell, Bettye LaVette and Charlie Musselwhite
"I'm A Woman"
Featuring Shemekia Copeland, Buddy Guy and Charlie Musslewhite
Streaming NOW
(August 16, 2023). Candid Records is excited to announce the Sept. 15 release of Basie Swings the Blues, the latest recording by the legendary Count Basie Orchestra under the direction of Scotty Barnhart. This extraordinary record fuses the Basie Orchestra's signature style of sophisticated swing with the raw and soulful talents of a cross section of some of the greatest blues and jazz artists of our times. Featuring a stellar lineup of blues icons and contemporary stars including Buddy Guy, Bobby Rush, Keb' Mo', Robert Cray, George Benson, Shemekia Copeland, Ledisi, Mr. Sipp, Lauren Mitchell, Bettye LaVette, and Charlie Musselwhite.
Produced by Barnhart along with GRAMMY® Award winning producer John Burk (Ray Charles Genius Loves Company), and GRAMMY® winning drummer/producer Steve Jordan (The Rolling Stones), the album takes listeners on a captivating journey through the heart and soul of American music and showcases a shared musical language that still powerfully impacts listeners across the world.
Barnhart's vision to merge the classic Count Basie sound with authentic blues is fully realized with the help of this all-star lineup. Together, they have created a timeless musical experience that celebrates the essence of the blues in the context of the irresistibly electrifying and enduring swing of Basie.
Available today is "I'm A Woman" featuring powerhouse vocals from Shemekia Copeland (9 x Blues Music Artist Of The Year Award winner), scorching guitar from the legendary Buddy Guy (8 x GRAMMY® Winner, Blues Hall Of Fame, Rock & Roll Hall Of Fame), and harmonica from the in incomparable Charlie Musselwhite (GRAMMY® winner, Blues Hall Of Fame). LISTEN HERE.
The Count Basie Orchestra still reflects Its founder's Impeccable sense of swing and ability to bring out the best in other musicians. With this album, it provides a foundation and vibrant sound tapestry that allows each featured guest to shine.. The arrangements effortlessly blend the worlds of jazz and blues, merging classic Basie-style big band swing with the grittiness of the blues and the individual sense of rhythm and phrasing of each guest. These elements combine for a unique collaboration and reflect the deep-rooted connectivity between the two great classic American music genres.
Scotty Barnhart stated: "The idea for this recording presented a major hurdle for me initially because there was not and still is no recorded precedent for what I wanted us to do. I could hear it in my head a bit and that was the only driving force that helped me to take a step each day during the planning process. This has been a dream come true beyond my wildest expectations."
John Burk, Co-Producer and Partner in Exceleration Music stated: "I have had the privilege of working with some of the greatest artists and musicians in the world, and my long-standing relationship with the Count Basie Orchestra has truly been among the most rewarding. Each of their recordings is always a masterpiece and with Basie Swings The Blues they have truly created a remarkable collaborative effort of historic proportions."
Mark Wexler, Head of Candid Records states: "The Count Basie Orchestra's "Live At Birdland" was one of our first releases when we relaunched Candid Records and it earned a GRAMMY® nomination for Best Large Jazz Ensemble. This recording reaches even greater heights, for its collaborative effort, its musicality, and its message. I join in quoting Scotty Barnhart– "the blues are truly a part of being human and this record reminds us how good that can be!"
EastWest Media