Saxophonist Euge Groove Returns with New Project "Comfort Zone" on Aug. 25th, 2023 | LISTEN!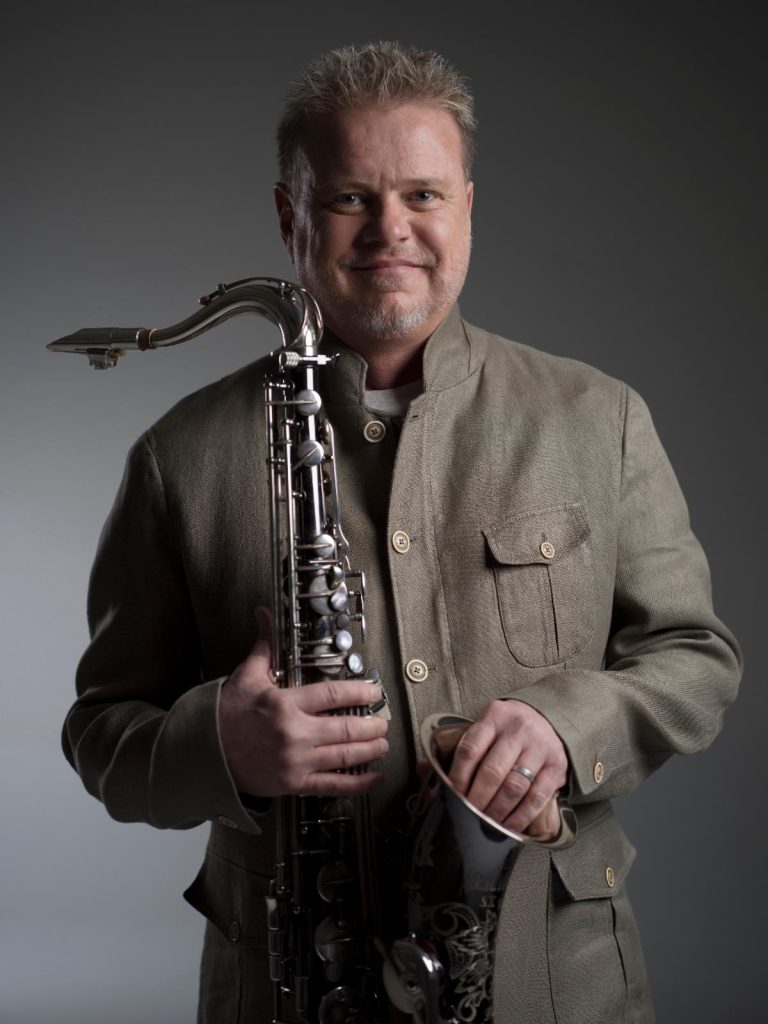 Euge Groove
Gets Out Of His Comfort Zone & Finds His Stride On
New & Thirteenth Recording As a Leader
Featuring Originals Out 8/25!
Special Guests Include Candy Dulfer, Richard Elliot & Dino Soldo
Check Out Euge Groove's New Single "Junior" Inspired By Junior Walker!
"I've been home for the last twelve months free from touring to take care of my mind, body, and spirit" confesses one of Contemporary Jazz's premier road warriors and hitmakers, Euge Groove. "I just turned 60 last November. I feel like I'm onto a new chapter. Not only musically, but spiritually." August 25, 2023, Shanachie Entertainment will release Euge Groove's thirteenth recording as a leader Comfort Zone. The number thirteen is a spiritual number and one that is often associated with change and rebirth. "The title Comfort Zone came about because I was anything but comfortable writing this album and I needed to get out of my comfort zone…writing songs in different keys then I'm used to, made me come up with different melodies and chord structures." If you are wondering where Euge's comfort zone lies, it is within his studio. "I could spend the rest of my life here. It has everything I need to feed myself." Never one to rest on his laurels, the consummate hit-maker, celebrated saxophonist, composer and producer, has worked with everyone from Tina Turner, Eurythmics, Aaron Neville and Richard Marx, to Joe Cocker, Tower of Power, Huey Lewis and Luther Vandross. In an industry where artists are consistently put in a box and categorized, Euge Groove continues to let his heart lead professing, "Good music is good music, no matter what."
Comfort Zone Follows Euge Groove's 2020 recording Sing My Song. The album grew out of collaborating with bassist Corney Mims and pianist Tracy Carter. "They both have been very instrumental in helping me shape the sound of my recordings over the last 15 years. It came to me to do some good old fashion writing sessions in my studio with them. We just sat down and whoever had an idea, they threw it out there." Comfort Zone is an exhilarating set of ten originals that opens with the gorgeous composition "Measure for Measure," reminding us of the beauty of the present. The bouncy and bluesy "Walkin'" is the perfect showcase for Euge's ability to craft organic grooves that combine the best elements of jazz, R&B, funk and soul. The invitational and gospel-tinged "Let's Hold Hands," is a reminder of the many reasons why Euge Groove is such a dazzling master of melody. The track showcases the harmonica playing of Dino Soldo. "Melody has always been most important to me. Even with songs with lyrics, I hear the melody first," shares the saxman. The Quiet Storm showstopper "Up Close" is reminiscent of Anita Baker's "Sweet Love" while the album's title cut, "Comfort Zone," features all the creature comforts of Euge's signature sound that have made him such a success at radio: unforgettable melodies, dance-inducing grooves, combustible percussive tracks and a special emphasis crisp clean production. "I am a bit of a tech geek," confesses Euge. I love production. During the pandemic, I really got into doing production for others. Especially mastering. My wife wouldn't let me buy a Porsche, so I bought an analog mastering rig. I just love it. I've mastered for Rick Braun, Vincent Ingala, Lindsey Webster, George Benson, Norman Brown, just to name a few."
"I decided to go Jr. Walker style on it. Hence, the title. I am a huge fan.
Along with David Sanborn and Stanley Turrentine, Junior Walker
is a major influence on me." – EUGE GROOVE
Euge Groove takes us to the "Crossroads" on Comfort Zone. Euge may be standing at the intersection but he's all in with this hit-bound funky number. "Caminito," meaning a little walkway or path, leads us to a decidedly blissful and serene place while the album's first single, "Junior," dares you to sit still with its soulful rhythmic groove and Euge's big burly and zippy tenor. "I decided to go Junior Walker style on it. Hence, the title. I am a huge fan. Along with David Sanborn and Stanley Turrentine, Jr. Walker is a major influence on me."
One of the most beautiful moments on Comfort Zone happens on the song "Two Bridges." While a bridge is meant to provide a safe passageway over a body of water or obstacle, Euge finds a direct route to a sweet and soulful place on this winning number. Euge Groove delivers a fitting closer to his new recording with his party anthem "Please Mr. Groove." He shares, "The song is a loosely based cover of a dance club groove from the 80's by the group One Way that featured a Vocoder hook saying, 'Please Mr. Groove'. I had seen Richard Elliot play a sort of vocoder in a live set many times, so I asked him to give it a try, and he graciously accepted the challenge, and killed it! Though he plays it live, he's never recorded it until now. Then, there is a breakdown section in the song that has this Maceo Parker kind of sax line. Nobody pays homage to Maceo like Candy Dulfer. No one! I reached out to her, whom I've hung with many times on the Smooth Jazz Cruises, and she graciously accepted. I owe those guys huge favors for the fun they brought to the song. And the song is fun. The original is just one chord the whole way through, so we added some other sections and turned it into a blast to play with."
A graduate of the University of Miami's School of Music, Steven EUGEne GROoVE (Euge Groove!) was in Hagerstown, Maryland and grew up in a musical home. His mother played piano and taught the Cherub choir at Christ Lutheran Church, and he began his own musical pursuits at the age of seven, beginning with the piano and adding the saxophone at nine. But for Euge it was in elementary school where he discovered that music was his calling. "In fifth grade I thought I'd be in school band the rest of my life." He later discovered two saxophonists who had a profound effect on his approach to playing. "One was French classical player Marcel Mule, who really defined what the sax was supposed to sound like for me and the other was David Sanborn. He took that sound and brought it into the mainstream world," reminisces Euge Groove. He explains, "I've listened to everyone from Grover (Washington Jr.) and (David) Sanborn to (Charlie) Parker and (John) Coltrane as well as (Michael) Brecker, (Stan) Getz, King Curtis, Junior Walker, Richard Elliott and Kirk Whalum. The thing is, the more mature we become the more those influences fuse into something new. I always listened to a lot of R&B growing up, fused that with Pop music, then with the Gospel music. Hopefully all these influences come through in my music and I am able to create my own unique expression." With the release of Comfort Zone, Euge Groove further asserts himself as one of the most distinctive artists in Contemporary Jazz and assures us that he is in the zone. He also lets us in on a little secret – balance is the key to everything. "When I am not making music, I love driving the California coast. I'm very fortunate that I can be to the coast in about 15 minutes. It's very Zen for me. Also, pizza. I love making pizza. I have a wood pizza oven in my backyard, and when I'm up to it, I get up early in the morning, make the dough, the sauce, and for dinner fire up the oven. I've got to be in the mood though. I get more requests in the house than I make. It's like music for me; You can't force it!"
Shanachie Entertainment