Singer John Oates Releases Reggae Version of 1982 Hit "Maneater" | WATCH NEW VIDEO! Announces New Tour for 2023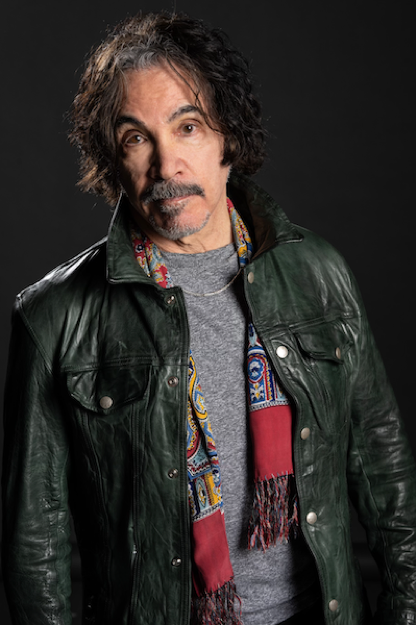 JOHN OATES
Releases New Reggae Version
of His 1982 Hit "Maneater"
May 19, 2023 – John Oates (of the iconic pop-rock duo Daryl Hall & John Oates) is thrilled to release his re-imagination of the hit song "Maneater" as the reggae tune he always thought it could be. Oates originally came up with the chorus hook idea in the reggae style after coming back from a trip to Jamaica in the early 1980s. Last year, while appearing on the critically-acclaimed Questlove podcast, Oates told that story and an avalanche of listeners messaged in that they would love to hear that version. This overwhelming response lead Oates to reach out to his producer friend, Native Wayne Jobson who organized a recording session in Kingston, Jamaica assembling a veritable "who's who" of legendary reggae musicians. The result is an amazing remake of this classic hit.
Oates says, "I tried to approach the reggae version of 'Maneater' as if I was a new artist, as if I was not associated with Hall & Oates in any way. I wanted to see if I could reimagine it in a way that would make it fresh again and really work with the vibe of the players who were in that were in the studio in Jamaica."
"Maneater" (Reggae Version) is the fifth release from his recent series of standalone singles including the Louis Armstrong cover "What A Wonderful World," the Timmy Thomas cover "Why Can't We Live Together," and originals "Disconnected" and Pushin' A Rock."
In support of his new music Oates will be touring through out the year. See tour dates below. More to be announced.
About John Oates
John Oates is one-half of the best-selling duo of all time, Hall & Oates, as well as an accomplished solo artist. He is a member of the Rock and Roll Hall of Fame, The American Songwriters Hall of Fame, recipient of the prestigious BMI Icon Award as well as numerous American Music, MTV awards, and multiple GRAMMY nominations.
Since forming his creative partnership with Daryl Hall in the early 1970s, they have gone on to record 21 albums, which have sold over 80 million units, making them the most successful duo in rock history. They have scored 10 number one records, over 20 Top 40 hits, and have toured the world for decades. Their involvement in the original "Live Aid" concert and the groundbreaking "We Are The World" charity recording have further established them as legendary artists, who have personally and through their music, stood the test of time.
Since embarking on a solo career in 1999, John has recorded seven solo albums: Phunk Shui, 100 Miles of Life, Mississippi Mile, The Bluesville Sessions, Good Road To Follow, Arkansas and Live from Nashville with the Good Road Band. In addition, his 2017 autobiography "Change of Season" released by St. Martin's Press, became an Amazon best seller.
The credits include:
Producer – Native Wayne Jobson (No Doubt, Toots & the Maytals, Lee "Scratch" Perry)
Drums – Sly Dunbar (Peter Tosh, Jimmy Cliff, Bob Dylan)
Guitar – Chinna Smith (Bob Marley & the Wailers, Buju Banton)
Bass – Chris Meredith (Lauryn Hill, Burning Spear)
Keyboards – Robbie Lyn (Desmond Dekker, Peter Tosh, Missy Elliott)
Backing Vocals – Rome Ramirez (Sublime with Rome, Rome & Duddy)
Saxophone – Jim Hoke (Dolly Parton, Paul McCartney, Emmylou Harris)
Trumpet – Emmanuel Echem (Boyz II Men, Joss Stone, Kirk Franklin)
Tour Dates
May 24 – Ann Arbor, MI – The Ark
May 25 – Waukegan, IL – Genesee Theatre
June 7 – Nashville, TN – Marty Stuart's Late Night Jam at The Ryman Auditorium
July 14 – Boone, NC – The Schaefer Center for the Performing Arts
July 26 – Old Saybrook, CT – The Kate
July 27 – Old Saybrook, CT – The Kate
July 28 – Newport, RI – Newport Folk Festival
September 6 – Nashville, TN – Country Music Hall of Fame and Museum
September 11 – Decatur, GA – Eddie's Attic
Facci PR