Kurt Elling and Charlie Hunter to Release New Album "SuperBlue: The Iridescent Spree" on Sept. 15th, 2023 | LISTEN! Announces New Tour for 2023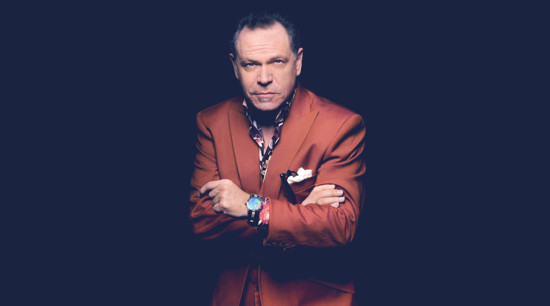 Kurt Elling and Charlie Hunter
Announce New Album SuperBlue: The Iridescent Spree
out September 15th via Edition Records
Follow up to Elling and Hunter's
2021 GRAMMY Nominated Album SuperBlue
and 2023 Covers EP Guilty Pleasures
Listen to the First Single "Not Here / Not Now"
April 25, 2023: Multi-GRAMMY award-winning vocalist Kurt Elling and guitarist/producer Charlie Hunter announced SuperBlue: The Iridescent Spree, a new full-length album featuring drummer Corey Fonville and bassist-keyboardist DJ Harrison. Releasing September 15th via Edition Records, the album is a continuation of Elling's SuperBlue collaboration with Charlie Hunter, which includes their 2021 GRAMMY-nominated debut full-length and their 2023 covers EP GuiltyPleasures. The album announcement comes with the first single "Not Here / Not Now," a simmering, brass-blasted original composition by Elling, Hunter, Fonville, and Harrison and additional lyricist Phil Galdston.
Kurt Elling is renowned worldwide for his unparalleled virtuosity and flair for trailblazing artistic exploration. From his stunning reinvention of timeless standards to his own captivating original songcraft, the Chicago-based musician has fused his dazzling talents across a panoply of musical approaches, emblazoning each with signature imagination, insight, and emotional intelligence. Where many male jazz vocalists at this stage in a much vaunted career have tended to stick to the tried and true, Elling seems to be growing more ambitious and experimental with the passing of time, a tendency evidenced by the stunning new LP.
SuperBlue: The Iridescent Spree sees Elling and Hunter reunited with drummer Corey Fonville and multi-instrumentalist DJ Harrison (both of jazz-funk fusion quintet Butcher Brown) for a kaleidoscopic collection of new songs, dynamic reinventions, and surprising covers (Joni Mitchell's "Black Crow," Bob Dorough's Schoolhouse Rock standard "Naughty Number Nine," Ron Sexsmith's "Right About Now"). Additional colors on the album are provided by flutist Elena Pinderhughes (Carlos Santana, Taylor McFerrin, Josh Groban) and Brooklyn's Huntertones Horns (Jon Lampley: Trumpet; Dan White: Saxophone & Horn Arrangements​; Chris Ott: Trombone).
Elling's work with Charlie Hunter – a prodigious musician and producer whose own genre-agnostic oeuvre has long seen him crisscrossing the bridge between jazz and hip-hop – began after their first meeting in 1995, an on-and-off collaboration that ultimately brought them to a completely unexpected destination with 2021's SuperBlue. Weaving vivacious funk with Elling's one-of-a-kind brand of contemporary beat lyricism and vocalese brilliance, the album proved a milestone in both artists' wide-ranging bodies of work, earning international applause along with a 2022 GRAMMY® Award nomination for Best Jazz Vocal Album.
Knitting a cultivated traditionalism with modernist audacity, SuperBlue: The Iridescent Spree both expands and explains its creators' beloved jazz to an audience potentially unfamiliar with its nuances and its past. "We're trying to take that history and transform it into something that speaks to a present generation without leaving that history behind," says Elling. Though it was born as an experimental project during the pandemic, SuperBlue has now bloomed into a tightly meshed unit built for forward motion, the ideal vehicle for Kurt Elling and Charlie Hunter, two utterly idiosyncratic artists relentless in their quest for fresh challenges and new ideas, to celebrate their boundless, all-embracing approach to music, art, and indeed, life itself.
"It's going to go where it's going to go," Charlie Hunter says. "Presumably, it'll change and grow again." "I feel like there's still room to grow with this project," Kurt Elling agrees. "That's always the prime motivator. That there's more for me to discover as a writer and as a singer and as a bandleader or co-band leader. We're going down a road, let's see how far the road goes."
Photo Credit: Dave Stapleton
Tracklisting:
1. Black Crow
2. Freeman Square
3. Naughty Number Nine
4. Little Fairy Carpenter
5. Bounce It
6. Only The Lonely Woman
7. Right About Now
8. Not Here / Not Now
9. The Afterlife
10. Goin' Back to Chicago (Digital Only Bonus Track)
Kurt Elling & Charlie Hunter Tour Dates:
May 23: City Winery STL – St. Louis, MO
May 24: City Winery STL – St. Louis, MO
May 25: 3rd & Lindsley – Nashville, TN
May 26: City Winery Atlanta – Atlanta, GA
May 27: The District – Savannah, GA
Aug 5: Newport Jazz Festival – Newport, RI
Sep 21: City Winery – Boston , MA
Sep 23: World Cafe Live – Philadelphia, PA
Sep 24: The Hamilton – Washington, D.C.
Sep 27: Cleveland Museum of Art – Cleveland, OH
Sep 28: The Cabaret – Indianapolis, IN
Sep 29: The Acorn – Three Oaks, MI
Sep 30: Englert Theatre – Iowa City, IA
Oct 1: Parkway Theater – Minneapolis, MN
Oct 3: Jazz Alley – Seattle, WA
Oct 4: Jazz Alley – Seattle, WA
Oct 5: Mississippi Studios – Portland, OR
Oct 6: Yoshis – Oakland, CA
Oct 7: Teragram Ballroom – Los Angeles, CA
Oct 8: Boulder Theater – Boulder, CO
Dec 2: SPACE – Evanston, IL
Facebook – Twitter – Instagram – Website
Missing Piece Group