Movie Soundtrack "SWEETWATER" to be Released on April 14th, 2023 | LISTEN to Keb' Mo's "Taking Me Higher" & WATCH NEW TRAILER!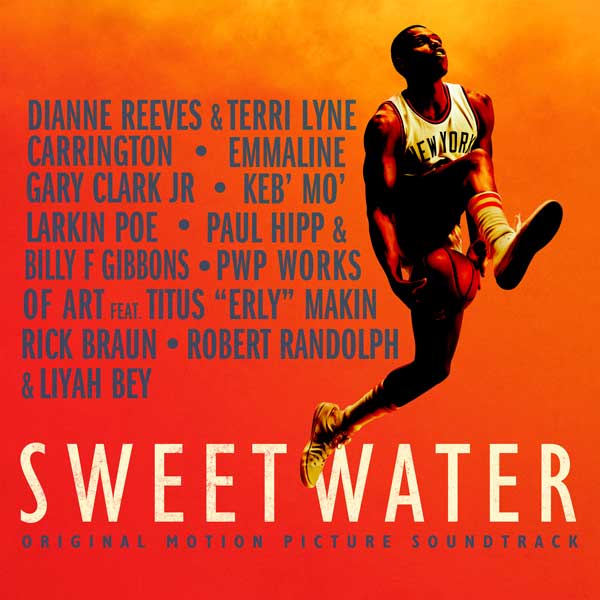 CANDID RECORDS ANNOUNCES THE RELEASE OF SWEETWATER MOVIE SOUNDTRACK
THE STORY OF THE FIRST AFRICAN AMERICAN BASKETBALL PLAYER TO SIGN AN NBA CONTRACT
ALBUM & BRIARCLIFF ENTERTAINMENT'S WIDE THEATRICAL FILM RELEASE SET FOR APRIL 14, 2023
First Single KEB' MO'S "Taking Me Higher" Available March 31, 2023
Keb'Mo', Gary Clark Jr., Emmaline, Larkin Poe, Dianne Reeves, Terri Lyne Carrington, Robert Randolph and more are among the artists contributing to the 12-track album
(March 30, 2023) Candid Records announces the April 14, 2023 release of the soundtrack to the highly-anticipated feature film SWEETWATER. Written and directed by Martín Guigui, the film, set in 1950, tells the true story of Nat "Sweetwater" Clifton, the first African American to land an NBA contract. Newcomer Everett Osborne stars as Clifton, alongside a stellar cast which includes Kevin Pollak, Cary Elwes, Jeremy Piven, Richard Dreyfuss, Robert Ri'chard and introducing Emmaline. Plus special appearances by Gary Clark Jr., Jim Caviezel, and NBA Champion Bobby Portis Jr.
The all-star soundtrack album is a celebration of jazz and blues, and features a variety of styles. From period era standards, to original contemporary tracks inspired by the indelible spirit and courage of Sweetwater Clifton. Classics like "The Man I Love" and "Sweet Georgia Brown" – performed by Emmaline as Jeannie Staples in the film – sit beside powerful new songs inspired by the film, like Keb' Mo's "Take Me Higher", Larkin Poe's "Right Place Right Time", and Terri Lyne Carrington and Dianne Reeves modern interpretation of "Someone To Watch Over Me." The recording's celebrated lineup also includes Gary Clark Jr., Robert Randolf, Liyah Bey, Rick Braun, Paul Hipp, Billy F. Gibbons, PWP Works of Art and Titus 'ERLY' Makin.
Music Producer for the film and a Partner in Exceleration Music, John Burk, stated: "We are very excited to be releasing the soundtrack to SWEETWATER, a truly inspiring story about change and elevation of the human spirit. All of the artists involved have created equally inspired works that act as both key elements of the film and heartfelt reflections of this incredible story and pivotal moment in history."
Mark Wexler, Head of Candid Records stated: "Soundtracks and scores play a crucial part in setting the mood to the overall story of the film. We are thrilled to be part of this powerful movie that will warm the hearts of NBA fans and all Americans alike."
In SWEETWATER Hall of Famer Nat "Sweetwater" Clifton makes history as the first African American to sign an NBA contract, forever changing how the game of basketball is played.
SWEETWATER was shot this past summer on the Warner Brothers lot, Disney Ranch, and various locations in and around Los Angeles.
SWEETWATER Soundtrack Sequence
1. Taking Me Higher – Keb' Mo'
2. Down Home Blues – Gary Clark Jr. and Emmaline
3. It Had to Be You – Emmaline
4. Right Place Right Time – Larkin Poe
5. Sweet Georgia Brown – Emmaline
6. Someone to Watch Over Me – Dianne Reeves and Terri Lyne Carrington
7. A Little More Faith – Robert Randolf and Liiyah Bey
8. Fo' Sho' – Rick Braun
9. The Man I Love – Emmaline
10. What Does It Matter – Paul Hipp and Billy Gibbons
11. To Be First – PWP Works of Art and Titus "ERLY" Makin
12. Get Up – Larkin Poe
EastWest Media