The Verve Jazz Ensemble to Release New Project "All In" on May 26th, 2023 | WATCH NEW VIDEO!
by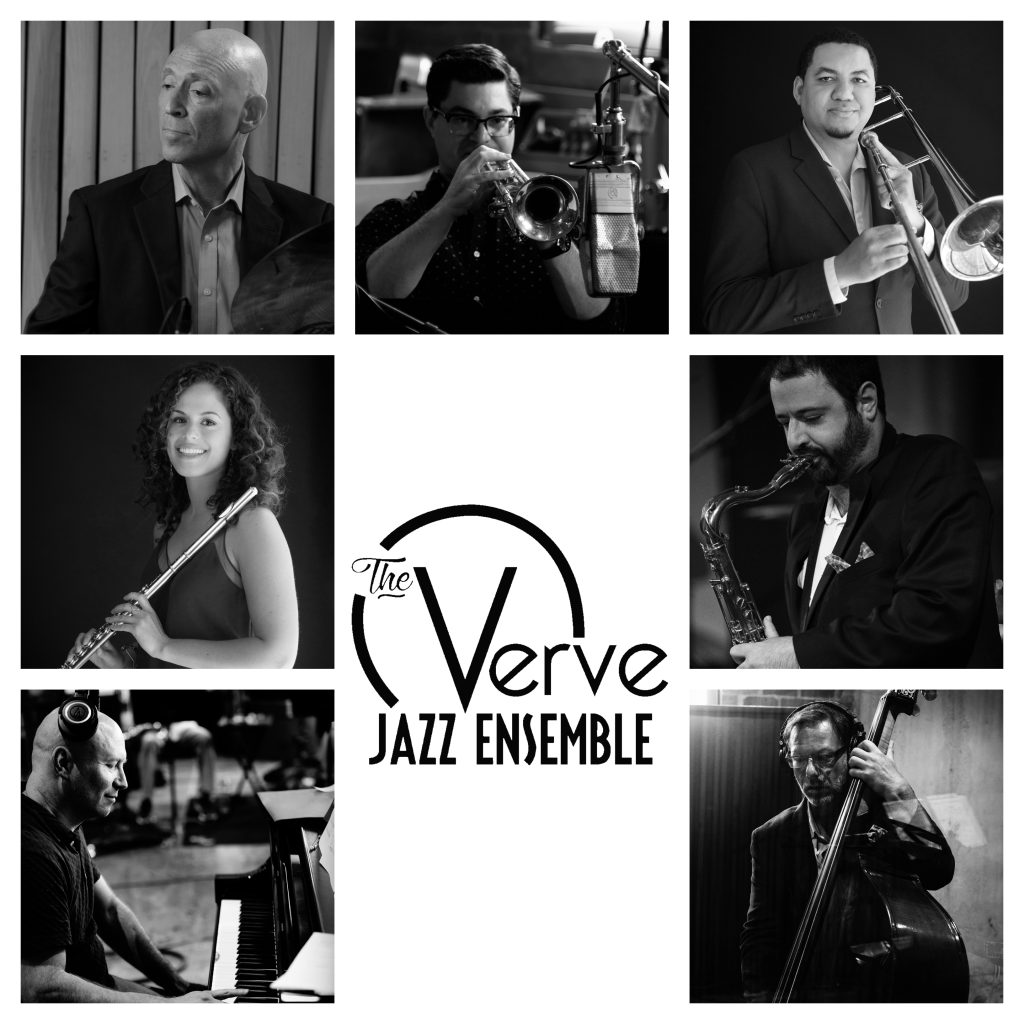 Verve Jazz Ensemble (VJE) Salutes
Panorama of Mid-20th Century Americana on
New Recording — All In
All In Available on all Digital Platforms – May 26
Since 2006, The Verve Jazz Ensemble has been performing and recording original material and heartfelt arrangements of hardbop, Afro-Cuban and Brazilian Jazz in the spirit of Norman Granz's pioneering mid-`50s-birthed jazz label, Verve Records. The ensemble's eighth and latest album, All In, finds seven musicians joyfully exploring the theme of "Mid-`20th century Americana" via two original compositions and eight arrangements of material from the pens of Neal Hefti, Herbie Hancock, Antonio Carlos Jobim, George Shearing, Toshiko Akiyoshi and Jean "Toots" Thielemans. Led by drummer/producer Josh Feldstein (with this release executive produced by VJE trumpeter/arranger Tatum Greenblatt), the New York-based septet dives in for yet another eclectic, dynamic, and deeply satisfying recording.
"Part of the band's mission," said Feldstein, "is to expand the audience of classic instrumental jazz. We identify melodies that even non-jazz pop audiences can easily relate to, groove to. You don't need a degree in music to dig our approach to Jazz," he joked. "Individually, we've all played in contemporary musical contexts," Feldstein added. "But, as The Verve Jazz Ensemble, we move in a direction that's appealing to both radio and to our broad listening audience. The VJE's mission is to bring forward the acoustic jazz artform in a way that both veteran listeners and newcomers to Jazz can easily appreciate."
The 10-song album opens with the title track, All In. This composition was originally penned more than a decade ago by Greenblatt as a jitterbug for a small New York swing group. Here, the song is wholly re-arranged by Tatum as the first of several VJE "big band reductions" for 7-pieces on the album – aiming to reinforce the big band's original role, back in the day, as pop music for dancing.
Next up is the VJE's arrangement of pianist George Shearing's Midnight in the Air – an expansion of a short piece that was an ethereal interlude in its first form. The band then delivers two from the pen of the mighty Neal Hefti: a re-imagined Afro Cuban approach to the Theme from The Odd Couple, and the lovely Pensive Miss, first recorded by the Count Basie Orchestra on the classic 1958 Roulette Records LP, Basie Plays Hefti. Rat Packer Dean Martin's humorous signature Ain't That a Kick in the Head gets a fancy, if not abstract, makeover, followed by a swooning treatment of Jobim's Once I Loved for trombone and flute. Rounding out the album, the VJE changes gears on the next track, featuring an impressive update on Toshiko Akiyoshi's challenging Studio J, followed by Tatum Greenblatt's thoughtful What I Meant to Say Was – set-up as a musical conversation between trumpet and alto sax. The album closes with the one-two punches of Bluesette for piano trio and Dolphin Dance for tenor-led quartet.
The Verve Jazz Ensemble is Tatum Greenblatt on trumpet, Willie Applewhite on trombone, Alexa Tarantino on alto sax/flute, Jon Blanck on tenor sax, Matt Oestreicher on piano and guitar, Elias Bailey on bass, and VJE leader Josh Feldstein on drums.
The Verve Jazz Ensemble started in '06 as a humble quintet in Connecticut playing local restaurants and country clubs before establishing its roots in New York City. It swiftly developed a following over the years which now includes a decade of recordings. And while the Covid pandemic hobbled many a jazz band, the VJE still managed to score with a live album, The VJE: Very Live! in 2021. Now, following a well-received show at the Germantown Performing Arts Center in Memphis, TN, The Verve Jazz Ensemble is pushing forward with more fortitude, spirit of homage, and creativity than before. Observed Feldstein, "This band has arrived at a new beginning, ready to establish ourselves in higher plateaus of acceptance."
All In Available on All Digital Platforms – May 26
ALL IN
TRACK LISTING
All In
Midnight In the Air
The Odd Couple Theme
Pensive Miss
Ain't That A Kick In The Head
Once I Loved
Studio J
What I Meant To Say Was
Bluesette
Dolphin Dance
For more information on The Verve Jazz Ensemble please visit: https://www.verve-jazz.com
Facebook: https://www.facebook.com/vervejazz/
Instagram: https://www.instagram.com/vervejazzensemble/
Twitter: @vervejazzens
Inque Public Relations & Marketing