Jazz Quartet East Axis to Release New Album "No Subject" on Jan. 27th, 2023 | LISTEN!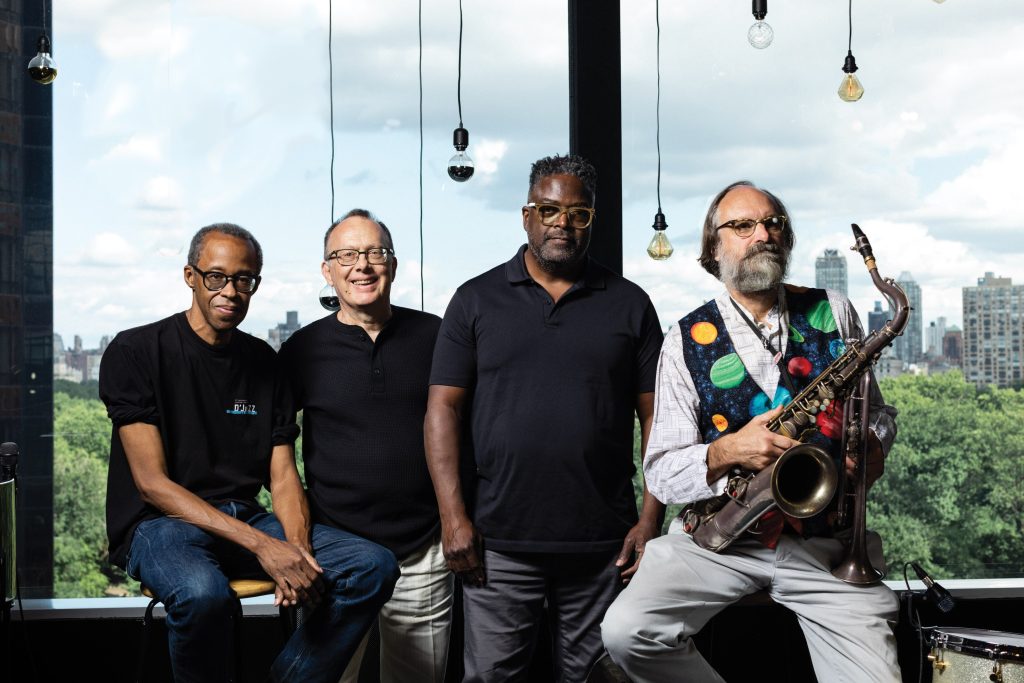 Improvisational Jazz Quartet East Axis Announces Sophomore Album No Subject out on January 27 via Mack Avenue Music Group/Brother Mister Productions
First Album with Multi-instrumentalist Scott Robinson
Shares Single "Metal Sounds"
January 6, 2023: The adventurous New York City quartet East Axis have announced that their second album No Subject will be released on January 27 through Brother Mister Productions, Christian McBride's Mack Avenue Music Group imprint. No Subject will arrive with its first surprise in the line-up, the addition of chameleonic multi-reedist Scott Robinson, who joins founding members Matthew Shipp (piano), Kevin Ray (bass) and Gerald Cleaver (drums) for this exploratory second outing. Along with the announcement, East Axis shared the first single from the record, "Metal Sounds."
"I actually named 'Metal Sounds'", states Ray. "I remember as we were playing the first few minutes, thinking, 'Wow. So this must be our Sabbath, Zeppelin, Blue Öyster Cult groove.'"
When it pops up in one's email inbox, "No Subject" doesn't imply that the attached missive is devoid of content; it simply means the content is unknowable until the message is opened up and delved into. No Subject thus makes a slyly appropriate title for the sophomore release by the formidable jazz quartet. Where these four wide-ranging and inventive musicians are concerned, the shape a piece of music will take is never clear until its performance is well underway.
Robinson may not seem the most obvious choice for a boundary-stretching improvisational band like East Axis, especially for those who known him through his more straight-ahead projects: longtime membership in the Maria Schneider Orchestra and the Mingus Big Band, or as an in-demand instrumentalist on the Dixieland and trad jazz scenes. But through his own ScienSonic Laboratories label he's also released a series of adventurous recordings with avant-garde icons like Roscoe Mitchell, Marshall Allen and Milford Graves.
"When it came time to decide on a new member, we each came up with a list of about seven names," Ray recalls. "Scott was the one name that was common to all three lists. What made him perfect is that we each knew of him from a different context."
Robinson's diversity is what enticed Shipp, whose restless curiosity is always in search of new and unexpected directions. "We didn't really want an avant-gardist in the quartet," the pianist explains. "Scott has been associated with Roscoe Mitchell, but he's also played in the Mingus Big Band and with Maria Schneider, and regardless of the situation he's never a cut-and-paste guy. He's always very authentic in his language and feels at home in a lot of different grooves and settings."
Adaptability was key in this case, as the two-day recording session for the album marked the first time Robinson would play with the quartet – and in some cases the first time he'd even met some of its members. The band gradually found its way as a cohesive unit, and it soon became apparent that the choice was not only right but opened a number of new avenues for East Axis to investigate.
"Scott brought us into directions we didn't expect," Ray says. "From the beginning, Matt, Gerald and I have thought almost as one unit, to the extent that we never have to communicate that much about the music. Scott veered off that by about twenty degrees, and it led us into some really interesting places."
"In this band, the choices we make early on can really determine the shape a piece takes," Shipp adds. "It could be Scott picking up a horn and his initial attack, timbre or dynamic; it could be my harmonic attack, or a downbeat or groove by Gerald. There are tons of choices that every band member can make, but one initial idea can really determine our direction. From there it's a matter of being able to sustain and develop that construct."
Another major shift from Cool With That, East Axis' 2021 debut, is the brevity of many of the pieces on the band's follow-up. The first album included one tune that stretched to nearly half an hour, and only two that clocked in under ten minutes. No Subject comprises a dozen tracks, only two of which squeak past the ten minute mark, with several coming in at less than three minutes.
"We decided we liked playing miniatures," Ray says. "It created a different vibe to see how briefly we could play, especially after the last record."
In its staggering diversity and dauntless sense of discovery, No Subject represents this band in its first days; it remains to be seen how far and in how many directions it can go from here. As Shipp puts it, "We're trying to generate music from multiple premises, multiple points, multiple rhythmic foundations and multiple harmonic foundations. We're not trying to be post-Coltrane or post-Ayler or post-AACM; we're not trying to be post-anything. We're just trying to be four guys with an interest in a lot of different music and some improvisational prowess, that can get together, have fun and generate stuff that hopefully people find interesting and provocative and stimulating to listen to."
Tracklist:
1. At The Very Least
2. I Like It Very Much
3. Somebody Just Go In, Please
4. Sometime Tomorrow
5. Decisions Have Already Been Made
6. Metal Sounds
7. Excuse My Absence
8. I Take That Back
9. To Be Honest
10. Word And Respect
11. See What You Think
12. No Subject
Missing Piece Group