Bassist Dezron Douglas Releases New Single "More Coffee Please" | WATCH NEW VIDEO! New Album "ATALAYA" Arrives Nov. 18th, 2022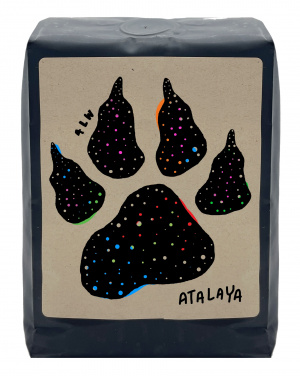 Dezron Douglas Shares "More Coffee Please" Video & Announces Coffee Collaboration With 4LW
ATALAYA Due November 18th on International Anthem
Playing Two Nights at Smalls w/Livestream Nov 25 & 26
ATALAYA is new work by bassist Dezron Douglas, and it is alive. That is, 'alive' in all the ways that jazz is at its best – as a pure and personal expression of Black Music channeled through time-honored traditions by a group of musicians who practice sonic coherence through musical unity. As Dezron puts it in the opening statement of his liner notes for the album: "Mysticism, Magic, Faith, Love, Power, Discernment! These are words that embody the creative process of Music."
Followers of contemporary jazz might recognize Dezron for his bass work behind Pharoah Sanders, Louis Hayes, or Ravi Coltrane. Steady International Anthem listeners might remember him from the New York side of Makaya McCraven's Universal Beings. More recently we presented Force Majeure, Dezron's sublime duo record with harpist Brandee Younger, which compiled the best of livestream performances from their Harlem apartment during the original covid lockdown. That album, which came out in December of 2020, reflected the speed and feeling of the moment while somehow simultaneously distracting from the harsh reality of it. It also captured a very vulnerable, intimate, and real impression of Dezron on double bass, sharing his power and truth without abandon.
ATALAYA, similarly, wasn't processed in the lab, but rather, captured in the room. The realness factor is once again forefront in the sound; but the difference is in the energy and ambition of the music, which reaches for the stratosphere. Again, let's defer to Dezron here: "Welcome to the Black Lion rocket ship."
ABOUT THE TRACK: Anyone who knows Dezron knows how much of a coffee aficionado he is… the highest standards! They also know how high his standards are for melodically massive, limber low end lumber thrums… That is: Bass Lines. Perhaps more than any other tune on his new album, "More Coffee Please" demonstrates Dezron's ability to really rip the double bass… swinging so hard, lifting the band up to full-blown levitation, like caffeine in the bloodstream. "More Coffee Please" is an impressive showcase for the bass, and a beautiful homage to the bean.
ABOUT THE COFFEE BLEND: ATALAYA is a blend of 2 impeccable coffees hailing from Gera, Jimma, Ethiopia. A washed coffee from Telila Yukro Station/Mike Mamo sings with bergamot, black tea and breezy nectarines; while producer Mensur Aba Hika's natural processed coffee resonates with night flowers, oranges and deep velvety mulled wine. Exceptional producers producing undeniably beautiful coffees. The beans for the blend were selected by Dezron Douglas with assistance from Four Letter Word co-founder Ria Neri. Dezron says: "Ria truly knows and loves Ethiopian coffee beans just as much as I do and she has a true and direct connection with the farmers! This love for the entire process of coffee is present in the first sip to the last sip and I'm proud to be a part of this special blend of personal Ethiopian beans direct from the farmer!"
Known for his work with Pharoah Sanders, Ravi Coltrane, Makaya McCraven and Brandee Younger, Dezron is currently on tour playing bass in the Trey Anastasio Band.
Clandestine Label Services