Jazz Guitarist Paul Brown to Release New Album "Promised Land" on July 15th, 2022 | LISTEN!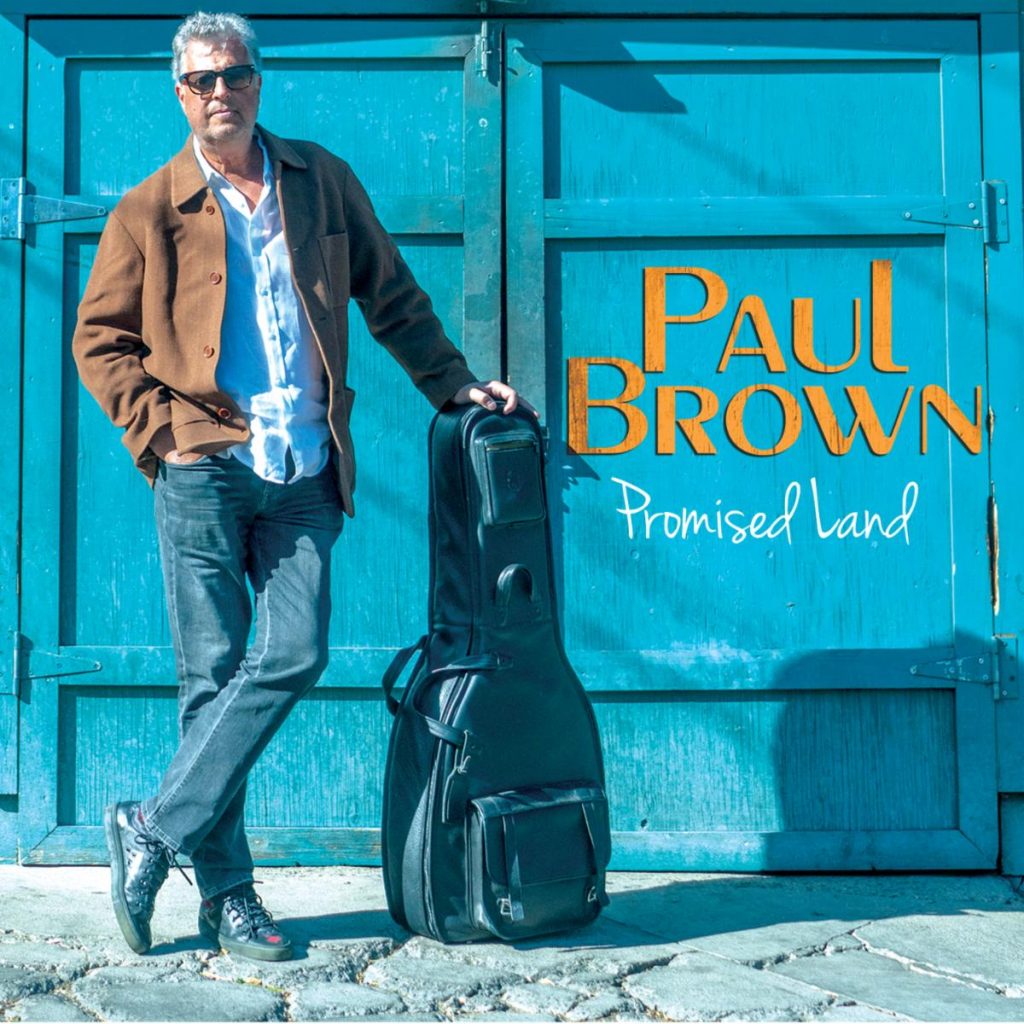 Two-Time Grammy-Winning & Chart-Topping Guitarist/Producer
Paul Brown Finds His Happy Place on Promised Land
Brown's Sophomore Shanachie Recording Featuring All Originals Unites Him with
Euge Groove, Marion Meadows, Shane Theriot & Others
Some say that there is a boundary line to art but few true artists and visionaries conform to that notion. It is no surprise that two-time Grammy-winning guitarist and producer extraordinaire Paul Brown cites both Jerry Garcia and Wes Montgomery as founding influences. Brown, who has amassed 75 #1 Contemporary Jazz radio hits and who has engineered for R&B divas Aretha Franklin and Diana Ross, is somewhat of a free-spirited musical chameleon who comes by it honestly. "I grew up listening to rock and blues and my parents were jazz musicians, so I heard a lot of that music in the house," reflects Brown. "I have always loved soul music and have worked as a producer with many greats like Luther Vandross, Al Jarreau and George Benson." July 15, 2022 Shanachie Entertainment will release Paul Brown's second recording for the label, Promised Land. "The music is very free and open," confides the guitar wizard who took advantage of the downtime the pandemic presented. "There wasn't the normal pressure to make 'hit' songs. Instead it was more of a 'let's take this time we've been more or less forced into and write and record some great music." Brown's relaxed and organic approach resulted in one of his strongest and most authentic recordings to date. The ten-track uplifting and jubilant sonic journey unites Brown with an all-star Contemporary Jazz line up including labelmates Marion Meadows and Euge Groove, as well as Shane Theriot, Jeff Carruthers and others. Danny Weiss, Shanachie Entertainment's Vice President of Jazz A&R states, "Before launching his career as an artist, Paul Brown absolutely dominated the Contemporary Jazz format as its premier producer. Now, amazingly, he has achieved great heights as a solo artist as well. We're honored to be associated with him!"
Promised Land opens with the insatiable and soulful groove of "Secret Sauce," the album's first single. The inviting track is a sumptuous mix of Brown's bluesy chops and crisp guitar lines, flanked by the Memphis-styled and swinging horns of Greg Vail and Ron King. Brown admits that the funky ditty provided ample fun for him to play over. The show-stopping "Hey Dude" pairs Brown with Shane Theriot who plays bass, keys and rhythm guitar. The duo let it all hang out as they concoct a winning trifecta of country-grit, rock-edge and down-home blues. Brown describes "Hey Dude" as a "smooth Beatles type homage." Brown collaborates with Joe Wolfe on the scintillating and percussive "Wolfpack," while the ballad "Elegance," co-written with Jeff Carruthers, creates a moment of serenity, offering a gorgeous and melodious affair that shines a light on Brown's effortless, tasteful and flawless soloing. It is almost as if Brown is singing through his hypnotic guitar lines. "I do approach solos and basic melodies from a singing perspective," admits the Sherman Oaks- based guitarist. "Since my folks were both singers I guess it was inevitable. I like quirky singers like Ry Cooder and Bob Dylan, much to the dismay of my parents," chuckles the guitarist, adding that he is also a Sinatra fan. Paul puts his own vocal chops to the test on the album's title track written by Shane Theriot. "Shane is one of the best musicians that I have ever known. We've collaborated on many projects and have become great friends. He lives in New Orleans and he decided to rent my guest house about two years ago. He wrote "Promised Land" about the change in life that would occur if he did move to LA. It's not only about the geographical place but also the mental state one has to get into to change directions in your life so dramatically. We are all evolving as musicians and people. I was lucky enough to be born and raised here in LA, the promised land of creativity."
Two highlights on Promised Land join Paul Brown with two of his Shanachie brothers, saxophonists Marion Meadows and Euge Grove. Meadows' agile and fluid soprano dances with Brown's buttery smooth riffs on the relentless groove of "Don't Stop" which also features Lew Laing on bass, keys and drums. Brown and Euge Groove have created numerous hits with one another as Brown has produced a total of eight albums for the saxophonist. This time around Brown's wizardry is in full effect on the R&B-laced and dance-inducing "7 and 7." Their telepathic call and response and joyous interplay is an album highlight. The Latin-tinged "Yo Tengo" find Brown on vocals and guitar for this festive, percussive and super-charged fiesta. Brown and company beckons us to "Da Spot" for the feel-good romp, where everything sounds just right. The soulful affair raises the roof as the horns of Ron King and Greg Vail have an unforgettable musical conversation with Brown's spirited riffs answering back to perfect effect. Promised Land comes to a finale with Brown's blues drenched collaboration with Shane Theriot entitled "Round and Round." After all is said and done Promised Land delivers on every front.
"Music is my spirituality and has been my entire life. Everyday I'm either writing, playing, recording or performing and I'm still loving it," confesses Paul Brown. Born in Los Angeles to musician parents who sang with Mel Tormé, Frank Sinatra and Elvis Presley, among others, Brown started playing drums at age five and picked up his first guitar two years later. His influences are as far reaching as Wes Montgomery, Peter Gabriel and Johnny "Guitar" Watson. Brown has been a foundational artist in Contemporary Jazz from since the late 80s. As accomplished as Brown is center stage as a guitarist, he is equally revered for his Midas touch as a producer. Brown's inaugural recording for Shanachie was Love You Found Me in 2010 followed by Soul Searchin' with Larry Carlton in 2021. Promised Land is Paul Brown's 12th album as a leader. Brown plays a mix of guitars on Promised Land including his Stratocaster and his beloved Gibson L5. "The guitar that really changed things for me as an artist is the Gibson L5," explains Brown. "I got it in 1993. I started recording melodies to songs I was writing for other artists and they started to sound like a solo artist all of a sudden in 2004. That guitar turned out to be my soul mate!"
Paul Brown has managed to take us to the mountaintop to see the Promised Land, but for Paul there are still many more miles to log. "I love music and enjoy helping other artists recording and building their careers…there's rhythm and melody to everything in life. It's cool identifying and finding those rhythms and melodies," concludes Brown. "In the end I just try to be positive. Like my Mom always told me, "Reach for the stars!"
Shanachie Records