Jazz Vocalist Hanka G to Release New Album "Universal Ancestry" on Aug. 5th, 2022 | WATCH NEW VIDEO!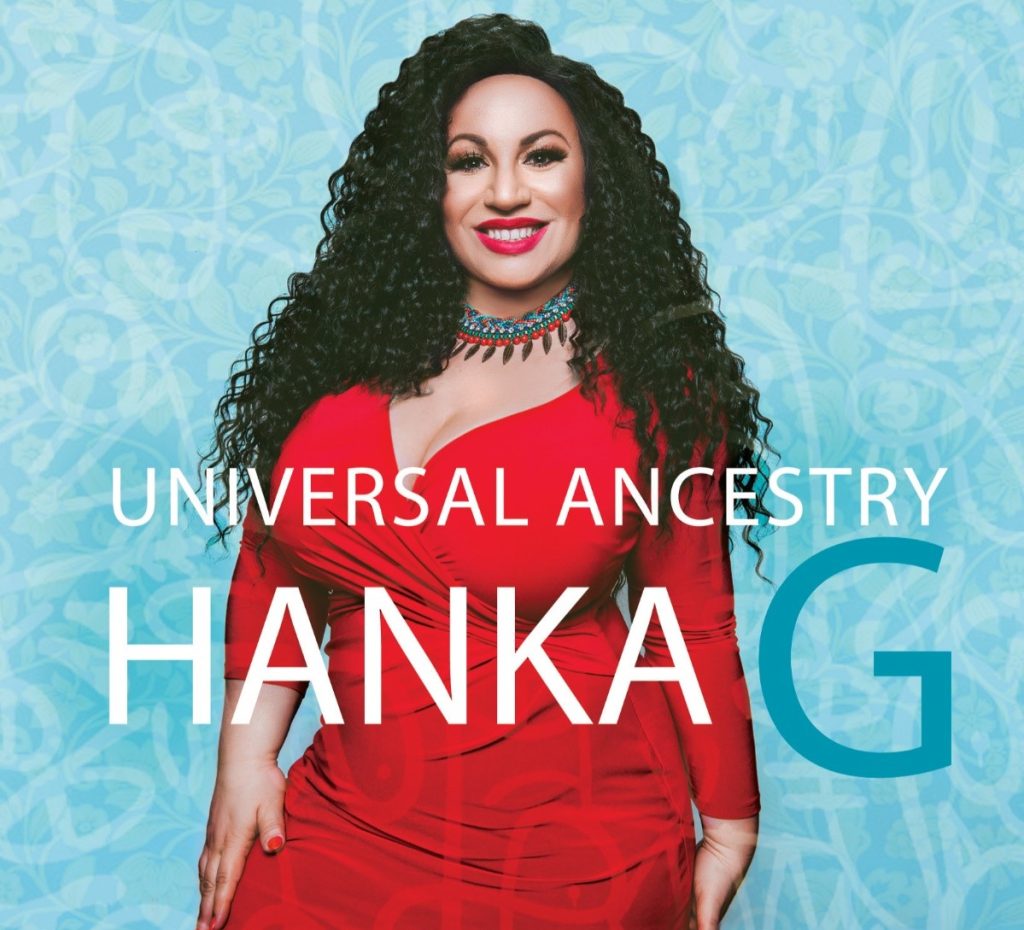 NEW YORK-BASED SLOVAK VOCALIST HANKA G RELEASES
UNIVERSAL ANCESTRY
HER 4th ALBUM – COMING AUGUST 5, 2022 ON CULTURE BRIDGE RECORDS
UNIVERSAL ANCESTRY is the first album recorded and released in the United States by Slovak vocalist and lyricist HANKA G. HANKA has lived in New York City since 2016 where she performs at all the local jazz hotspots. She produced UNIVERSAL ANCESTRY together with three stellar jazz musicians – JAMES HURT, SHEDRICK MITCHELL and RODNEY KENDRICK. HANKA is a soulful singer who stretches the boundaries of jazz with her multi-cultural sensibilities. Her rich, warm tone, improvisational chops, and unique ability to fuse jazz, gospel, R&B, and Slovak folk music has drawn the attention of some of the top names in jazz.
Joined by a truly stellar group of New York-based musicians, the album also features Grammy winning artists SHEDRICK MITCHELL (organ, piano), JAMES HURT (piano, Fender Rhodes), RODNEY KENDRICK (piano), DAVID GINYARD (electric bass), RASHAAN CARTER (electric and double bass), TARU ALEXANDER (drums), and NATHANIEL TOWNSLEY (drums), as well as MARVIN SEWELL (guitars), SHERROD BARNES (electric guitar), ANTOINE RONEY (tenor and soprano saxes), and background vocalists KEESHA GUMBS and TERELLE TIPTON. The album also features Slovakian artists SISA MICHALIDESOVA (flute) and VERONIKA VITAZKOVA (fujara).
HANKA has previously released three albums in Europe, which includes Reflections of My Soul (2007), Essence (2014), and Twin Flame (2017). Essence and Twin Flame were both nominated for "Best Jazz Album of the Year" in Slovakia. Hanka says, "My latest project was framed through the lens of an immigrant in the USA trying to unite people with different musical heritages. Regardless of our backgrounds, we all dream about love, happiness, and freedom."
HANKA's love of jazz grew out of her exposure to the great black American jazz masters. Gravitating to the older African American jazz and gospel generation, she immersed herself in the NYC jazz and gospel scene. On UNIVERSAL ANCESTRY, she delves into diverse cultures and musical genres, imagining what would happen when all the racial and superficial differences that separate people are erased. She pays tribute to the African American women singers that have influenced her, like Phyllis Hyman, who first recorded both McCoy Tyner's "In Search of My Heart" and Pharoah Sanders' "As You Are." HANKA also performs stirring versions of Abbey Lincoln 's powerful contemplation about life, "Throw It Away," and R&B inflected tunes "All the Man That I Need," made famous by Whitney Houston, and "Through the Fire," one of Chaka Khan's signature songs.
Spirituality is very important to HANKA, and she found her spiritual home in the Memorial Baptist Church in Harlem where she was smitten by the great singers lifting their voices to God. She was baptized in the church and joined the choir, becoming the lead alto singer for almost two years, introducing her to the greatest gospel singers and songs. She includes the gospel tune, "Be Grateful" by Walter Hawkins, a major figure in urban contemporary gospel music, and the R&B/gospel song "Someday We'll All Be Free" by Donny Hathaway, paying tribute to all African American people and their struggle for equality.
One of the first singers in Slovakia to fuse Slovak folk music with jazz on her album Essence, HANKA also includes three Slovak folk songs arranged as jazz tunes by James Hurt, who is the first American jazz artist to transform Slovak folk songs into jazz. Besides singing them in the Slovak language, HANKA adds free English translations. "Dance Dance" is a popular Slovak children's folk song arranged with a sexy, R&B feel. "I'm Such a Pretty Girl" is a bouncy, playful tune that HANKA sings in an Eastern Slovakian dialect. "The Bird Has Started Singing" is a doleful song featuring the fujara, a unique Slovakian flute. The instrument, which was used by shepherds in the field, is quite large and allows for overtones, creating a deep, meditative timbre. In a nod to the jazz tradition, HANKA also included one swinger, "Them There Eyes," published in 1930.
UNIVERSAL ANCESTRY is an opportunity for jazz lovers across the country and world to appreciate HANKA's unique blend of musical styles that New Yorkers have been enjoying for the last few years.
UNIVERSAL ANCESTRY will be available everywhere August 5, 2022 on Culture Bridge Records.
Online:
Hankag.com
Facebook.com/hankasings
@hankasings (IG/Twitter)
Mouthpiece Music