Robert Hébert Releases New Holiday Track "Gift of Heart (Christmas in Rio)" feat. Najee & Curtis King, Jr. | LISTEN!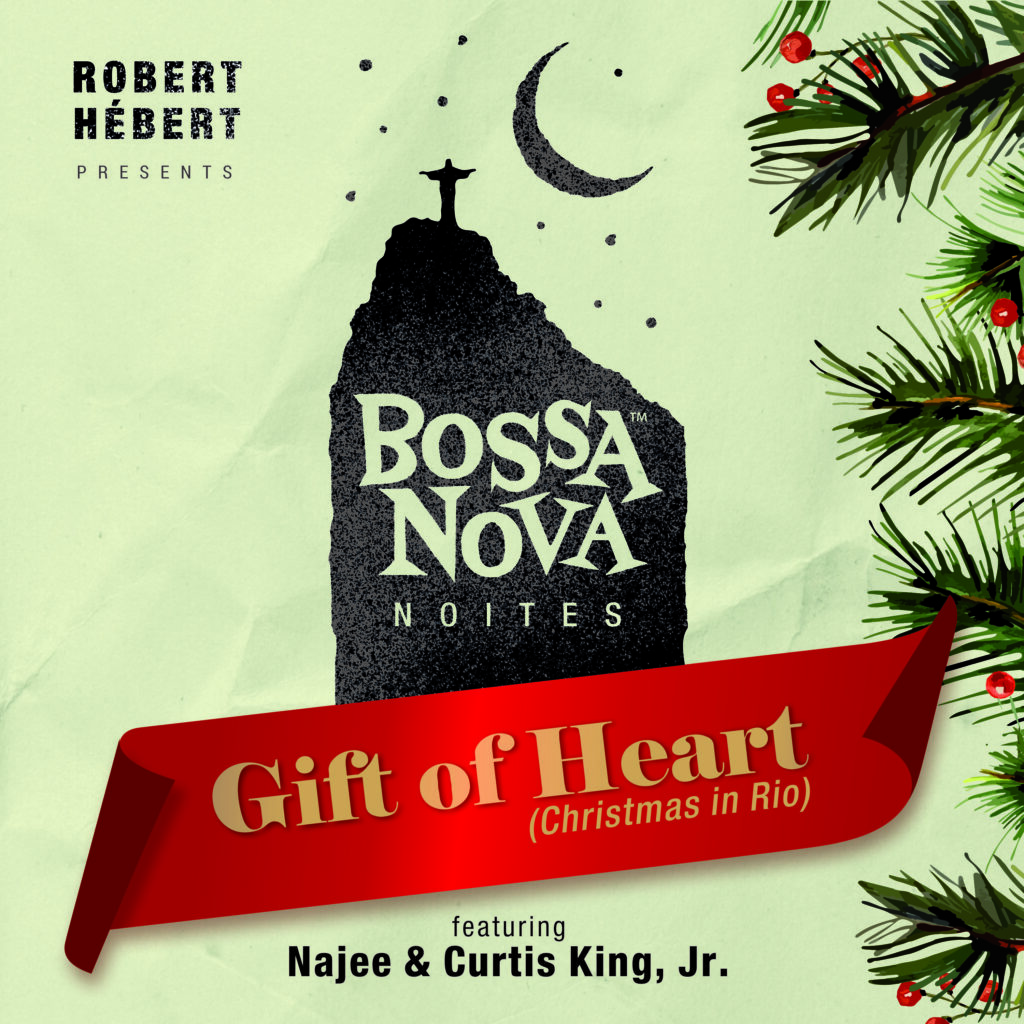 Gift of Heart (Christmas in Rio)
by ROBERT HÉBERT: Bossa Nova Noites
featuring
Najee & Curtis King, Jr.
HAPPY HOLIDAYS from Bossa Nova Noites
"Gift of Heart" (Christmas in Rio) is the special bonus track from Chicago-born Producer & Artist ROBERT HÉBERT's upcoming Spring 2022 album "Bossa Nova Noites: Soul Brasileiros". HÉBERT has spent 2 years crafting his upcoming "Chicago Soul meets Brazilian Soul" double album — that features some of the world's best instrumentalists and vocalists. The album is his on-going homage to his hometown's singular legacy and role in shaping Blues, Gospel, Jazz, Rock & Roll, R&B, Soul and Pop in the world … and is HÉBERT's creative vision to synergize that Chicago Black music legacy with the Brazilian Black music legacy of Samba, Bossa Nova and MPB.
"Gift of Heart" (Christmas in Rio)" features 2-time Platinum album / 4-time Gold album selling American legend NAJEE on Flute — with featured vocals by the great singer: CURTIS KING, JR. Robert Hébert, Najee and Curtis are joined by Brazilians Andre Siqueira, Sergio Melo, Joao Castilho, Diogo Gomes and Marcello Ferreira, and Americans Ron Walters, Jr., Keith Henderson, Frank McComb, and the legendary Chicago Brunswick Records bandleader … the icon Willie Henderson.
Maestro Willie Henderson says: "I like the melodic flow of the song, and the opportunity to work with Brazilian musicians and to merge my natural Chicago-influenced sound with their great Brazilian percussions and melodic styles."
Another Chicago legend, master guitarist Keith Henderson adds: "I started my career with The Emotions and Earth, Wind and Fire in the 1970s. These years later … I am glad to be a part of the foundation of the Brazilian-Chicago soul collaboration. It's a big deal that's been long overdue. I send much respect to my Brazilian brothers from the Chicago side."
Brazilian composer/master percussionist/recording artist Andre Siqueira says: "It's a pleasure to contribute to Brazilian music in the Rio-Chicago fusion. Black music and ancestry, without borders."
Brazilian composer/guitarist/recording artist Marcello Ferreira says: "This song gave me a wonderful opportunity to collaborate with great Chicago musicians, Najee, Curtis, and fellow Brazilian musicians. I was happy to get things started with the melody of the song. We have some interesting ideas ahead …"
And Brazilian composer/master guitarist/recording artist Joao Castilho offers: "It is always a pleasure to mix cultures and make music with great musicians. This is one of the virtues of art, pluralism." (This aesthetic can be heard in Castilho's own solo albums and as a collaborator on songs from other artists).
Jazz Promo Services