Multiple Award-Winning Recording Artists Appear in TWIST2020 Voter Participation Event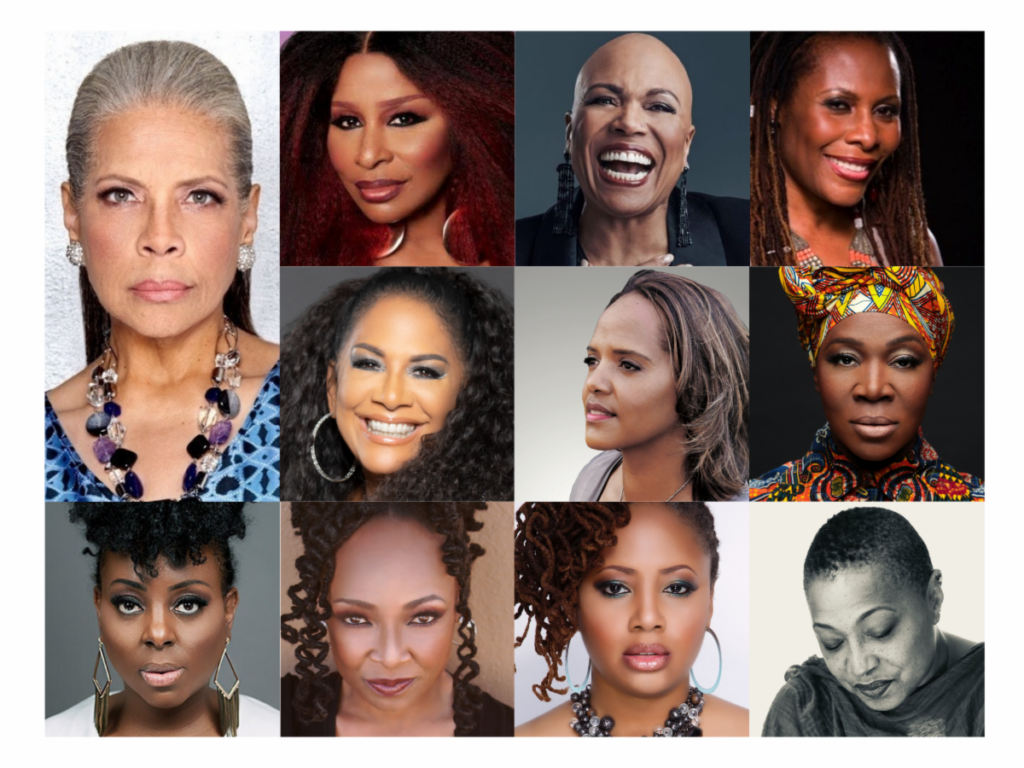 Patti Austin, Chaka Khan, Dee Dee Bridgewater, Brenda Russell, Sheila E., Terri Lyne Carrington, India.Arie, Ledisi, Siedah Garrett, Lisa Fischer, and Lalah Hathaway with Special Guest Angela Davis, the Late Maya Angelou, Appear in TWIST2020 Voter Participation Event
Unprecedented, All-Star Women's
"This Is Why I Vote" Campaign Encourages Voting Ahead of Pivotal 2020 Election
(Los Angeles, CA– October 6, 2020) Multiple award-winning recording artists Patti Austin, Chaka Khan, Dee Dee Bridgewater, Brenda Russell, Sheila E., Terri Lyne Carrington, India.Arie, Ledisi, Siedah Garrett, Lisa Fischer, and Lalah Hathaway have formed TWIST (Tuff Women In Strange Times), a dynamic coalition of superstar female talent to rally voters to the polls for Election Day 2020. Together with special guest, noted activist, academic, and author Angela Davis, they will all appear during a series of special voter encouragement videos under the banner TWIST2020. The series kicks off today, Tuesday, October 6, 2020, with a very special motivational video vignette by the late poet, author, and activist Maya Angelou. The campaign is live on www.twist2020.com, Instagram, Twitter, and Facebook.com. The series will culminate with a live virtual event titled "This Is Why I Vote" on Tuesday, October 20, 2020, at 8:00 p.m. ET/5:00 p.m. PT on www.twist2020.com, Instagram, Facebook.com, and Youtube.com. Viewers are encouraged to use #WeAreTWIST2020 on social media to engage.
The brainchild of Grammy-winning vocalist Patti Austin, TWIST2020 will feature daily vignettes from each of these accomplished women about the theme "This Is Why I Vote," citing the women who inspired them to political action. Sheila E. and Terri Lyne Carrington created special musical underscores for each video in the series; viewers can expect a few special musical flourishes as part of the other presentations. Also part of the series is the all-star video version of the song "L.O.V.E. (Let One Voice Emerge)," previously composed and recorded by Austin, Garrett, and other artists for 2013's Voter Participation Center voter registration campaign.
Austin says TWIST aims to remind voters, particularly women, of the historic power they have to make a difference, especially in light of the September 18, 2020, passing of Supreme Court Justice Ruth Bader Ginsburg. "We've all got incredible stories about a school teacher, our mother, or her mother, or just other powerful women that influence our lives," says the legendary pop and jazz artist. "We've got this election coming up. We have the power of the world in our hands, given to us by the women who came before us."
Each of the participants in TWIST was chosen for her creativity, commitment to community, global awareness, and unique expression of ideas. "There's this marvelous, incredible, sardonic humor that exists between all these women, and a frightening level of respect," Austin continues. "If you've got extra super-duper powers, extra Black girl magic, then we need all of that plugged in together at the same time to empower others. I'm determined to change the mindset around this election."
TWIST2020 is produced by Patti Austin, Tammy McCrary, Julie Bergman, and Gwendolyn Quinn.
For more information on the campaign, visit www.twist2020.com.
ABOUT THE ARTISTS
Patti Austin is a legendary pop, R&B, and jazz singer who began her career at the age of five. Her work includes 20 recordings as a solo artist, and dozens as a featured or background vocalist with Quincy Jones, Dionne Warwick, Toto, Johnny Mathis, Paul Simon, Roberta Flack, Ray Charles, and many others. She recorded two hit duets with James Ingram, the No. 1 pop single "Baby Come To Me" and the follow-up "How Do You Keep the Music Playing;" she also sang "It's the Falling in Love" with Michael Jackson on Off The Wall. She earned a Grammy Award in 2007 for Best Jazz Vocal Album for her tribute album, Avant Gershwin. She has also established the Over My Shoulder Foundation to support the next generation with music and design careers in mind.
Chaka Khan is a ten-time Grammy award-winning singer and songwriter, and philanthropist. Affectionately known worldwide as "Chaka," she is one of the most celebrated musicians in the world. With a rich musical legacy, Chaka has influenced generations of entertainers. She has the rare ability to sing in seven music genres, including R&B, pop, rock, gospel, country, world music, and classical. She is respected by millions of fans and peers for her timeless, classic, and unmatched signature style. Throughout her legendary career, she has released 22 albums with ten No. 1 Billboard charted songs. However, the song that propelled her to stardom was the 1984 chart-topping, Grammy Award-winning mega-hit, "I Feel for You," written and first performed by Prince.
Dee Dee Bridgewater is a two-time Grammy Award winner, a Tony Award winner, and a 2017 NEA Jazz Master, as well as a stage and screen actress. For 23 years, the jazz and pop legend hosted National Public Radio's syndicated radio show, "JazzSet with Dee Dee Bridgewater." She has also served as a United Nations Goodwill Ambassador for the Food and Agriculture Organization.
Brenda Russell is a beloved singer-songwriter who has recorded 12 solo albums. She is best known for mega-hits "Get Here," "If Only For One Night," and "Piano In The Dark," among many others. Her songs have been recorded by dozens, including Oleta Adams, Herb Alpert, Patti Austin, Babyface, Ray Charles, Earth Wind & Fire, Al Jarreau, Patti Labelle, Sting, Donna Summer, Tina Turner, Luther Vandross, just to name a few. Her music has been sampled by Mary J. Blige, Janet Jackson, Jay-Z, and Kanye West. As a co-songwriter of the hit Broadway musical adaptation of The Color Purple, Russell, along with her co-writers, the late Allee Willis and Stephen Bray won a Grammy Award for Best Musical Theatre Album; the trio also received a Tony Award nomination for Original Musical Score. Russell will also see her music transferred to the big screen when the film of the musical comes to screens in 2021.
Sheila E. is a master percussionist, singer, songwriter, author, actress, and humanitarian. A member of the musical Escovedo family, Sheila began her career as a teen and is best known for her work with Prince and her recordings, including "The Glamorous Life," among numerous others. She is the author of Beat Of My Own Drum. The multi-genre artist teaches a series of online drum lessons. Sheila E. continues to perform worldwide and heads up the Elevate Hope Foundation.
Terri Lyne Carrington is a three-time Grammy award-winning drummer, composer, producer, educator, and also the founder of Berklee Institute of Jazz and Gender Justice. She was the first woman to win a Grammy Award for Best Jazz Instrumental Album [2013] for Money Jungle: Provocative in Blue. In 2019, she was granted the prestigious Doris Duke Artist Award in recognition of her past and ongoing contributions to jazz. In 2020, Carrington's album, Waiting Game boasted a triple-crown win in Downbeat magazines International Critics Poll for Artist of the Year, Album of the Year, and Group of the Year, making her the first woman instrumentalist to concurrently win in all three categories in their 68-year history of the magazine.
Siedah Garrett is a Grammy award-winning singer-songwriter and a two-time Academy Award nominee, who is best known for her composition "Man In The Mirror," recorded by Michael Jackson, with whom she toured worldwide and performed the duet "I Just Can't Stop Loving You." She notably duetted with The Temptations' Dennis Edwards on the hit "Don't Look Any Further," and earned a 2008 Grammy for Best Original Song Written for Motion Picture, Television, or Visual Media for "Love You, I Do," from the film Dreamgirls. Garrett recently released "The New Frontier (Say Their Name)," a tribute song to George Floyd and all the other African American men, women, and children who have been murdered by the police.
India.Arie is one of the most prolific songwriters of the 21st century. The four-time Grammy-winning singer/songwriter has received 23 Grammy nominations during the release of her seven solo albums. Her most recent project, Worthy, marks her first full-length solo album in five years and features the R&B hit "Steady Love."
Ledisi is a 12-time Grammy-nominated singer-songwriter, music producer, author, playwright, film producer and now CEO of her record label, Listen Back Entertainment/BMG. Her latest album, The Wild Card, is her ninth studio album. The playwright starred in the theater production of Legend of Little Girl Blue: A Musical Journey into the Lives of Nina Simone and Ledisi, which opened to rave reviews by critics. Ledisi is the author of Better Than Alright: Finding Peace, Love and Power, a collaboration with Essence magazine; and Don't Ever Lose Your Walk: How To Embrace Your Journey.
Lisa Fischer is a two-time Grammy award-winning singer-songwriter with a distinguished career as a first-call background singer who has toured with Luther Vandross, The Rolling Stones, Sting, Tina Turner, Nine Inch Nails, and countless others. Fischer earned her first Grammy Award as a solo artist in the Best R&B Performance category for the single, "How Can I Ease the Pain." She is featured on seminal projects by Lang Lang, Yo-Yo Ma, and Billy Childs has collaborated with the Alonzo LINES Ballet and has a lead role in the Oscar-winning documentary 20 Feet From Stardom.
Lalah Hathaway is a five-time Grammy award-winning singer-songwriter whose recordings span pop, R&B, and jazz. With seven studio and live albums, Lalah, the daughter of the late R&B icon Donny Hathaway, continues to forge new paths in musical expression, particularly the ability to sing chords. She earned her first Grammy for Best R&B Performance for her re-recording of "Somethin'," originally featured on her 1990 self-titled debut album, with the band Snarky Puppy, in which she sang multiple notes at once.
Gwendolyn Quinn Public Relations