Legacy Recordings to Release Special Edition 12″ Vinyl of Maxwell's "Urban Hang Suite" & "BLACKsummer'snight" on Oct. 28th, 2016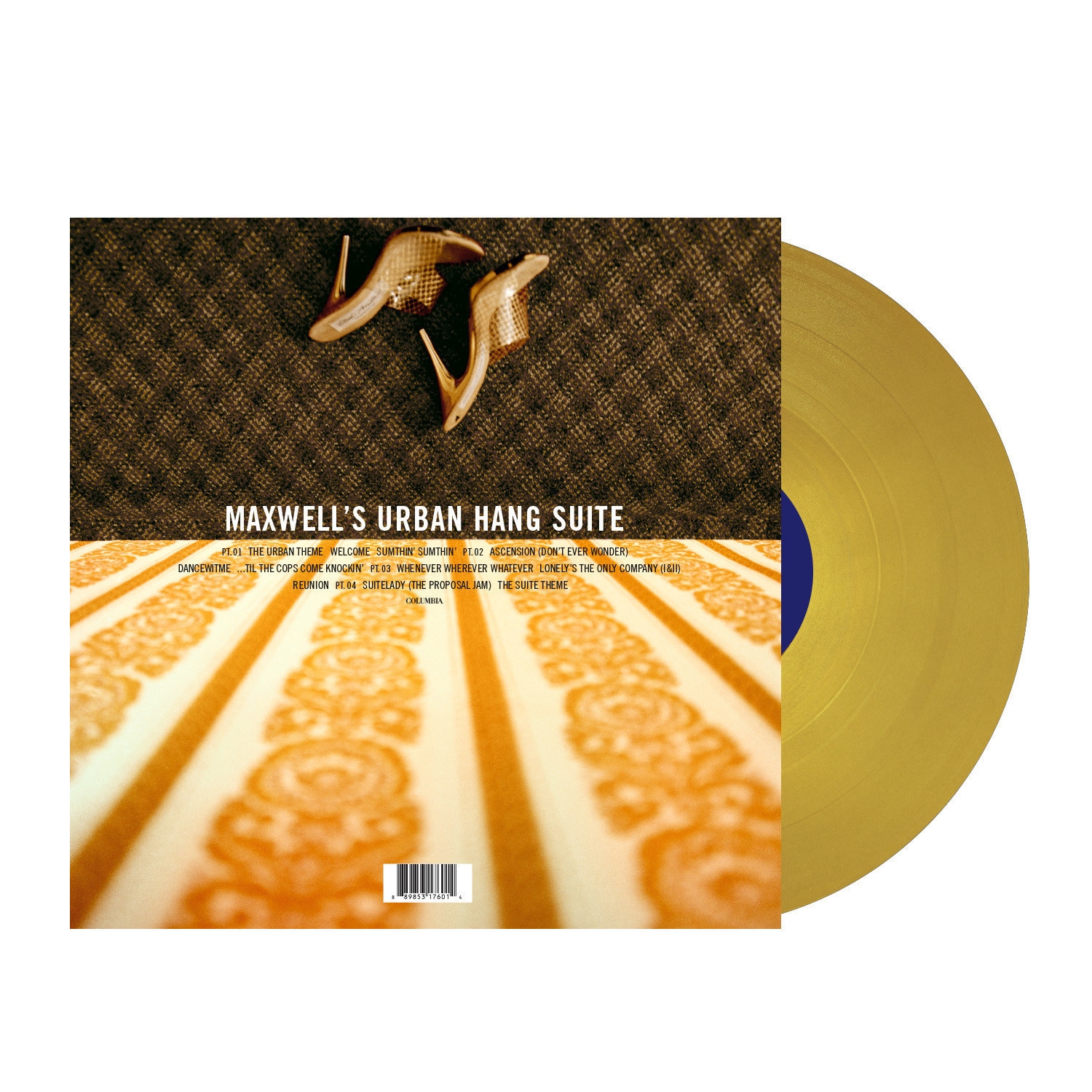 Legacy Recordings Celebrates the Music of Maxwell with Special Limited Edition 12″ Vinyl Releases:
Maxwell's Urban Hang Suite – 20th Anniversary Metallic Gold 2LP 12″ 150gram Vinyl Edition
Maxwell's BLACKsummer'snight – Metallic Silver 12″ 150gram Vinyl Edition (1st Ever US Vinyl)
Arriving Friday, October 28
NEW YORK, Sept. 15, 2016 /PRNewswire/ — Legacy Recordings, the catalog division of Sony Music Entertainment, celebrates the music of neo-soul icon Maxwell with the release of two highly-collectible limited edition 12″ vinyl album titles on Friday, October 28.
Maxwell's Urban Hang Suite
Leading the way on Legacy's Maxwell vinyl reissue project is the 20th Anniversary edition of Maxwell's Urban Hang Suite, the artist's game-changing debut album, a 2LP collection pressed on Metallic Gold 12″ 150gram vinyl with an 8-page booklet that includes rare images from the original album and single photo shoots. Pre-order here: http://smarturl.it/Maxwell_UHS20
The 20th Anniversary 12″ vinyl edition of Maxwell's Urban Hang Suite includes a pair of revelatory new essays: 1) an appreciation of Maxwell and his music by noted R&B scholar, music/culture critic, journalist and filmmaker Nelson George; and 2) a behind-the-scenes reminiscence on the making of Maxwell's Urban Hang Suite penned by music industry veteran Mitchell Cohen, who, as Senior Vice President of A&R at Columbia Records, signed Maxwell to the label and helped shepherd the music from raw concept to full realization.
Maxwell, an iconic singer-songwriter-performer, began redefining classic soul music for a new generation with the release of his critically-acclaimed debut on Columbia Records in April 1996. Fueled in part by the RIAA gold single, "Ascension (Don't Ever Wonder)," and other hits including "Sumthin' Sumthin'" and the classic "Whenever Wherever Whatever," Maxwell's Urban Hang Suite picked up a Grammy nomination for Best R&B Album and went on to achieve US double platinum status in 2002.
In July 2009, the modern R&B and soul master debuted at the #1 spot on the Billboard 200 with his long-awaited BLACKsummers'night, one of the year's most heavily-anticipated event albums. BLACKsummers'night was certified platinum on January 19, 2010.
With BLACKsummers'night, his first studio album in eight years, Maxwell took home his first two Grammy Awards: Best R&B Album and Best Male R&B Vocal Performance (for "Pretty Wings," a 2010 Song of the Year nominee) as well as his first NAACP Image Award (as 2010's Outstanding Male Artist).
Legacy is proud to release the first-ever 12″ vinyl edition of BLACKsummer'snight in the US as a limited edition Metallic Silver collectible pressed on 150gram vinyl.
Pre-order here: http://smarturl.it/Maxwell_Bsn_vinyl
The Legacy Recordings limited edition 12″ 150gram vinyl Maxwell reissues follow in the wake of the release, on July 1, of BlackSUMMERS'night (Columbia Records), Maxwell's fifth studio album and the artist's first release in seven years. The album debuted at #1 on the Billboard Top R&B/Hip-Hop Albums chart, entered the Billboard 200 at #3 and is already generating widespread critical acclaim and fan support.
The multi-platinum soul singer is set to embark on a tour with Mary J. Blige for the first time ever on the co-headlining 'The King and Queen of Hearts World Tour,' playing arenas nationwide. The U.S. Leg of Tour kicks off Saturday, November 5th at Baltimore's Royal Farms Arena and will follow on the heels of a dozen European dates in October. More dates here: http://www.musze.com/tour.html
Maxwell
Maxwell's Urban Hang Suite – 2LP 12″ Metallic Gold 150gram Vinyl
The Urban Theme
Welcome
Sumthin' Sumthin'
Ascension (Don't Ever Wonder)
Dancewitme
…Til the Cops Come Knockin'
Whenever Wherever Whatever
Lonely's the Only Company (I & II)
Reunion
Suitelady (The Proposal Jam)
The Suite Theme
Maxwell
BLACKsummer'snight – 12″ Metallic Silver 150gram Vinyl
Badhabits
Cold
Prettywings
Helpsomebody
Stoptheworld
Loveyou
Fistfuloftears
Playingpossum
Phoenixrise
SOURCE Legacy Recordings