Pianist/Keyboardist Bob Baldwin Returns with New Album "MelloWonder: Songs in the Key of Stevie" on June 16th, 2015 | LISTEN!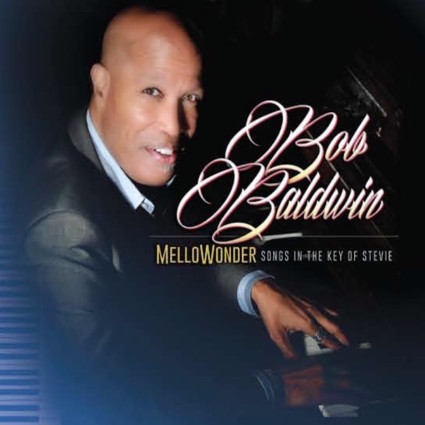 Contemporary/Urban Jazz Keyboardist, Pianist and Songwriter Bob Baldwin Pays Homage to Music Legend Stevie Wonder with the Release of project "MelloWonder": Songs in the Key of Stevie – Coming June 16th, 2015
LISTEN TO "LOVE'S LIGHT IN FLIGHT"!
One of the more consistent and long time purveyors of jazz music, Bob Baldwin, is getting set to step into the limelight again with the release of his 21st CD to date – "MelloWonder: Songs in the Key of Stevie," from City Sketches Inc. on June 16th. The project celebrates the legacy of music legend Stevie Wonder and boasts over 14 tracks of great memorable covers, including "Love's Light in Flight," "Superwoman (Where Were You When I Needed You)," "Love's in Need of Love Today" and much more. The players assisting Mr. Baldwin on the special album are U-Nam, Marion Meadows, Chieli Minucci, Ragan Whiteside, Jorel "J-Fly" Flynn, Tres Gilbert, Dr. Derek Scott, Toni Redd, Stanley Thompson, and more.
Bob Baldwin is constantly on the move. Since 2000, Mr. Baldwin had 7 Top 20 Billboard Contemporary Jazz chartings, traveled all over the world in sharing his love and passion for music with his large fanbase & is still active with his radio syndication program called NewUrbanJazz, with over 453,000 listeners weekly.
T.U.M.S. will keep you posted with additional information as it comes!
Pre-Order "MelloWonder" NOW on Amazon. Also purchase and listen to sound clips now at www.bobbaldwin.com.
Connect with Bob Baldwin:
Facebook: https://www.facebook.com/Baldwin777?fref=ts
Twitter: https://twitter.com/baldwin77
Official Website: http://www.newurbanjazz.com/
The Urban Music Scene.com