Hidden Beach Records Releases Compilation "Hidden Beach 15 For 15" | LISTEN!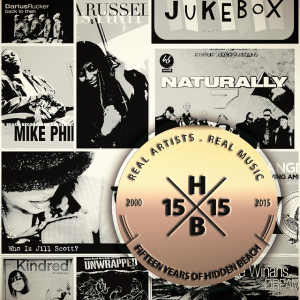 HIDDEN BEACH RECORDINGS CELEBRATES 15 YEARS OF QUALITY MUSIC
BY RELEASING HIDDEN BEACH 15 FOR 15 COMPILATION ON FEBRUARY 24, 2015
Compilation features tracks from Grammy-nominated Angie Fisher, Naturally 7, Darius Rucker, and Jill Scott
Los Angeles, CA- February 24, 2015 – Hidden Beach Recordings is celebrating 15 years of releasing and distributing quality music with its newest compilation, Hidden Beach 15 for 15 available digitally February 24, 2015.
Curated with classic hits from Hidden Beach's extensive roster of 48 albums and over 500 songs from the past and present, the 15 -track compilation includes favorites from the label's breakout artist, Jill Scott, groundbreaking Jazz and Hip Hop fusion series, UNWRAPPED™, Soul Train Award nominated R&B/Soul duo, Kindred The Family Soul, famed trombonist Jeff Bradshaw, 2015 Grammy®nominee, Angie Fisher and others.
"The fifteen tracks presented here chronologically were challenging to put together," explains the project's Marketing manager, Thornell Jones, Jr. "We constructed it so that there is one song representing each year since 2000 and because of this, many of the gems in the catalogue are missed. This collection is like a journey through time and showcases some wonderful, sometimes overlooked performances throughout the label's history. It definitely shows Hidden Beach's commitment to Real Artists and Real Music."
Over the past 15 years, Hidden Beach has attracted an eclectic mix of icons to participate in a variety of recorded work. From Dr. Cornel West to country star, Darius Rucker, to gospel great BeBe Winans to rock legend, John Densmore (The Doors), the independent label has pushed the boundaries of creativity and recording. Standout projects include the historic Yes We Can: Voices of a Grassroots Movement, a music soundtrack created by request to support US President, Barack Obama's 2008 Presidential campaign and inaugural CD – Change Is Now – Renewing America's Promise. Standout studio recordings include Who Is Jill Scott – critically acclaimed as one of the best albums of the 2000's.
Today, Hidden Beach is a multi-pronged entertainment company delivering positive, high-quality, and passionate recorded entertainment experiences. The amplified entertainment company recently released a cappella group, Naturally 7's U.S. debut, HIDDEN IN PLAIN SIGHT, and they're set to release Angie Fisher's highly anticipated debut album later this year.
Hidden Beach 15 for 15 Track Listing
1. Jill Scott – A Long Walk
2. Brenda Russell – Walkin' In New York
3. Darius Rucker – Wild One
4. Kindred the Family Soul – Far Away
5. Jill Scott – Golden
6. BeBe Winans – Have You Ever Had
7. Unwrapped Vol 4. – Treat 'Em Right feat. Mike Phillips, Jeff Bradshaw and Dennis Nelson
8. Keite Young – If We Were Alone feat. N'dambi
9. Unwrapped Vol. 5 – Sensual Seduction
10. Al B Sure! – I Love It (Papi Aye, Aye, Aye)
11. Unwrapped Vol. 7 – Can't Believe It feat. Mike Phillips, Farnell Newton & Trey Eley
12. Glen Scott – Deep In It
13. Jeff Bradshaw – Got Til It's Gone feat. Marsha Ambrosius, TWyse and Brass Heaven
14. Naturally 7 – Need You With Me
15. Angie Fisher – I.R.S.
Dedicated to the Hidden Beach Family (Bonus Track)
Mike Phillips – We Are One