Epic Records to Release Holiday EP "I'll Be Home For Christmas" on Nov. 24th, 2014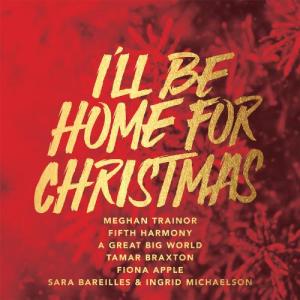 Epic Records Caps Banner Year With The Release Of First Holiday EP Curated By L.A. Reid I'll Be Home For Christmas November 24
FEATURING THE NEW SINGLES "I'LL BE HOME" FROM MEGHAN TRAINOR AND FIFTH HARMONY'S RENDITION OF "ALL I WANT FOR CHRISTMAS IS YOU"
CLASSICS RECORDED BY SARA BAREILLES, A GREAT BIG WORLD, FIONA APPLE AND TAMAR BRAXTON
NEW YORK, Nov. 11, 2014 /PRNewswire/ — Epic Records will unwrap its first-ever holiday EP, I'll Be Home For Christmas, on November 24, 2014 via Walmart, iTunes, and all digital outlets.
Serving as the collections executive producer, L.A. Reid personally curated the tracklisting, creating a cohesive vision. Getting into the spirit of the season, he tapped numerous marquee artists from the roster to participate in this very special and unique seven-song compilation. As a result, I'll Be Home For Christmas is an Epic addition for your holiday collection.
The EP caps off a banner year for Epic Records. The label has provided a launch pad for new superstars, turning young acts into household names over the course of 2014.
Meghan Trainor's "All About That Bass" went quadruple-platinum in less than four months, while seizing #1 on Billboard's Hot 100 for eight consecutive weeks—the longest run at the top for Epic since Michael Jackson. A Great Big World's "Say Something" with Christina Aguilera sold over four million copies and established the group as a ubiquitous pop presence. Fifth Harmony's "BO$$" reached Gold status, and the fivesome garnered the "Artist To Watch" award at the MTV VMA's and "Best U.S. Act" at the MTV EMA's. These achievements also paved the way for their debut full-length Reflection, out January 27. Sara Bareilles's The Blessed Unrest received two 2014 Grammy Award nominations including "Album of the Year", while "Brave" is now double-platinum. This all sets the stage for an even bigger 2015.
Trainor actually wrote and produced the new heartwarming original, "I'll Be Home", herself. Meanwhile, Fifth Harmony make the Mariah Carey classic, "All I Want For Christmas Is You", totally mistletoe-ready. Both tracks begin impacting radio on November 25.
Meanwhile, Fiona Apple breathes new life into "Frosty The Snowman," and Tamar Braxton adds a little soul and R&B flavor to an energetic "Sleigh Ride." Sara Bareilles & Ingrid Michaelson team up for the blissful and beautiful gem, "Winter Song." Fifth Harmony also provide their own take on the Latin staple "Noche de Paz," while A Great Big World send Santa Claus an important message with "I Want A Hippopotamus For Christmas." I'll Be Home For Christmas will undoubtedly warm up any holiday party or night relaxing by the fire. Christmas arrives a month early on November 24.
The holidays finally have the perfect 21st century soundtrack, becoming #Epic in the process!
Tracklisting:
Fifth Harmony – "All I Want for Christmas Is You"
Meghan Trainor – "I'll Be Home"
Fiona Apple – "Frosty The Snowman"
Tamar Braxton – "Sleigh Ride"
Sara Bareilles & Ingrid Michaelson – "Winter Song"
Fifth Harmony – "Noche De Paz"
A Great Big World – "I Want A Hippopotamus for Christmas"
For more information on Epic Records, please visit:
http://www.epicrecords.com/
http://www.facebook.com/epicrecords
http://twitter.com/epic_records
Photo – http://photos.prnewswire.com/prnh/20141111/157910
SOURCE Epic Records